Love tiramisu? Have you tried beeramisu? This beeramisu is created for beer lovers everywhere! Delicious chocolate stout takes place of both the coffee and the liqueur in a tiramisu and makes for the most wonderful version of tiramisu! This is a pushy recipe especially if you have a beer lover in the house!
I learned how to make tiramisu in Italy at a cooking school in Bologna under chef David Berchiatti and since then I've stuck to this recipe adapting it slightly to my equipment. It cannot be faulted and I promise it is the best tasting tiramisu ever! All I did was use beer instead of liqueur and coffee and make it in a loaf tin. A loaf tin tiramisu is great for crowds as it easily portions up the tiramisu into slices.
Tips for Making The Best Tiramisu and Beeramisu!
1 - This is a tip from David and I think the most important one - do not oversoak the savoiardi. Dip it in quickly and then let the excess beer drip off. Tiramisu that is too wet isn't as texturally delightful as a perfectly dipped one. Trust me, it makes a difference with the mouthfeel of tiramisu.
2 - I used a Hope Valley Estate chocolate milk porter beer which I just found at the local bottle shop. Try to find a beer that has actual cocoa in it or a double chocolate stout. This beer also, oddly enough, had a bit of a coffee flavour to it too or maybe it was just the suggestion of it as it was like tiramisu.
3 - My loaf tin was a 23cmx13cmX9cm (9x5x3.5inch) one which fits the tiramisu quantities below perfectly with7 sponge fingers on each row and I made 4 rows of them. If your tin is longer you may need a few more sponge fingers.
4 - Tiramisu should be left to set overnight. I like to make mine 2 days ahead of time. Setting it overnight also allows for a cleaner slice when cutting it up.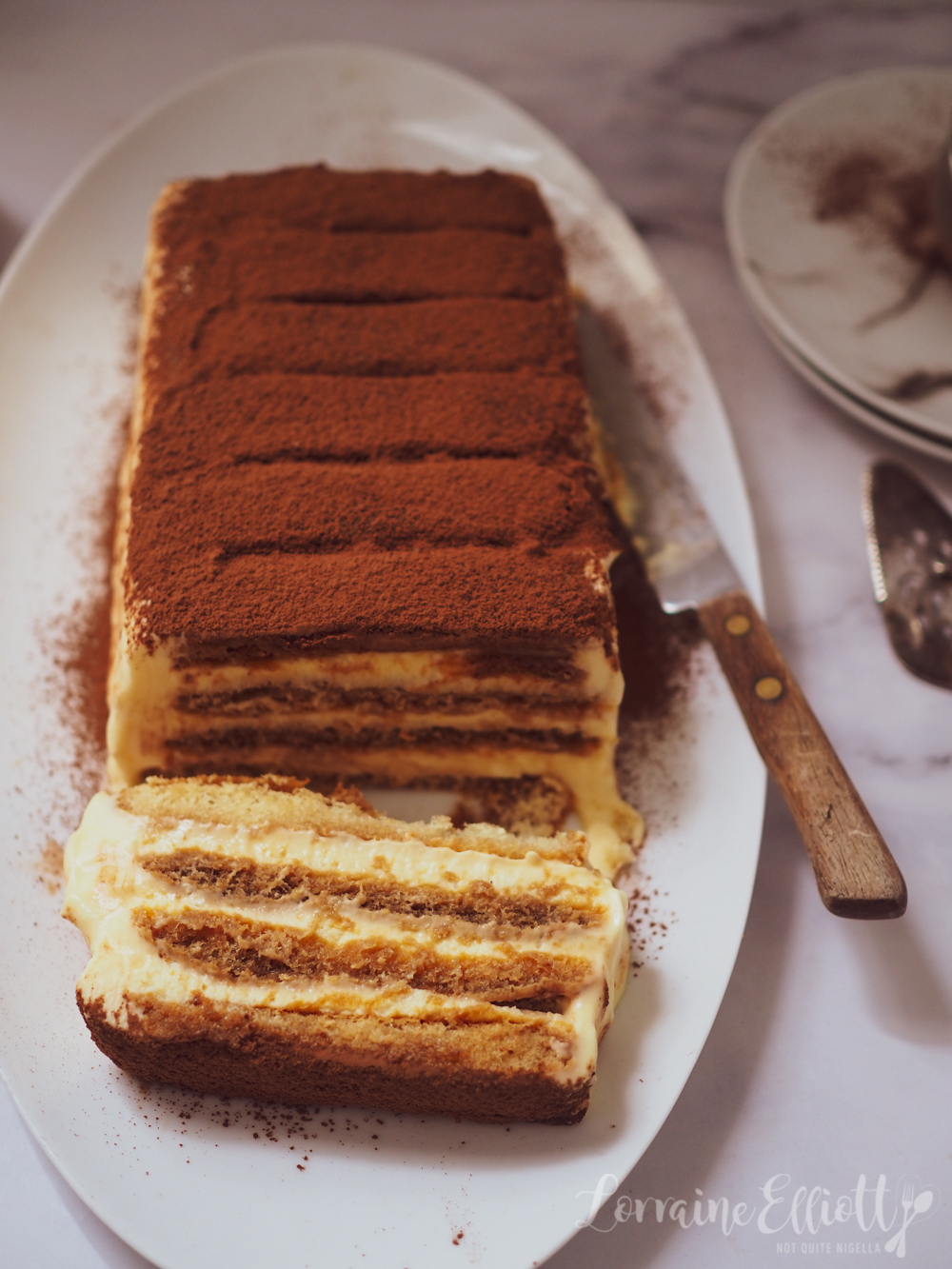 I made this beeramisu for Monica's partner Marco for his birthday. He's a brewer by trade and is a beer enthusiast so when his birthday came around I offered to make the birthday cake. I was so nervous when they were cutting it up because I hadn't tried it before (and I don't know what on earth possessed me to offer to make a cake for a group of people that I didn't know using a concept I had not tried out). However it turned out even better than I could have dreamed and that's why I never stray from David's recipe.
Mr NQN said that he prefers this over regular tiramisu and I'm slightly inclined to agree with him. You really do get the flavour of the beer but it's paired with that lovely creaminess of the mascarpone cream. I couldn't exactly cut up his one because it was a birthday cake so I made another when Sammie, her husband David and dog Teddy Roo came over to our house as David is a big beer fan.
I also discovered that Monica, Sammie and I are all pretty much married to the same sort of men. They're all nerdy, techy guys that love a deep dive into something truly nerdy and esoteric. The more arcane the better really and they all get on well and enjoy nerding out. They also have the same nonchalant attitude to doing things around the house. I was talking to Sammie and mentioned how there is a market for a man finishing school. You know where they learn the basics of life: cook 5 meals from scratch, learn how to do the laundry, stack and unstack the dishwasher and fold clothes. Things that you might take for granted but I know that they struggle with all of these tasks.
As I was telling Sammie about that (we leave each other voice messages through texts) Mr NQN walked into the kitchen and quietly and quite deliberately left his coffee cup on the benchtop. Not in the sink nor in the dishwasher which was just centimetres away but on the benchtop. "You're going to finishing school!" I told his retreating back comically slinking away like a robber in a cartoon.
So tell me Dear Reader, what do you think of my finishing school idea? How about the idea of a beeramisu?
DID YOU MAKE THIS RECIPE? Share your creations by tagging @notquitenigella on Instagram with the hashtag #notquitenigella
Beeramisu
Rated 5.0 out of 5 by 2 readers
An Original Recipe by Lorraine Elliott, adapted from David Berchiatti
Preparation time: 25 minutes plus overnight chilling
Cooking time: 10 minutes
Serves: 7-8
5 egg yolks
150g/5ozs. caster or superfine sugar
360g/12.7ozs. mascarpone, placed at room temperature for an hour
400ml/14flozs. cream
1 teaspoon vanilla bean paste
375ml/13flozs. chocolate porter or stout beer, chilled (you won't need it all for this)
28 sponge fingers (around 230g/8.1ozs)
1-2 tablespoons cocoa powder
Step 1 - Place a mixing bowl and whisk in the fridge to chill and spray a 23cmx13cmX9cm (9x5x3.5inch) loaf tin with non stick oil spray. Line the base and long sides of the tin with cling film with enough overhang to fold the cling film over the top once filled. I put parchment on the shorter sides as it can be a challenge getting all that cling film to line properly.
Step 2 - Whisk eggs and sugar in a double boiler (ie a heatproof bowl sitting snugly above a pot of gently simmering water). Whisk until thick and the sugar has dissolved and no longer feels gritty between your fingers (it will take around 10 minutes). Whisk in the mascarpone until you get a smooth mixture. The mixture now needs to be completely cooled - place it in the fridge until you need it.
Step 3 - Whip the cream and vanilla in the fridge chilled bowl and whisk until soft (not stiff) peaks form. Fold the whipped cream into the mascarpone mix.
Step 4 - Place some of the chocolate beer in a bowl wide enough to dip a sponge finger and dip the biscuit in for a second and do not let it soak. Let the excess drip off and place the savoiardi sugar side down in the tin lining them up. Spread a third of the mascarpone mix over and then repeat with the remaining savoiardi biscuits and mascarpone making four layers of biscuits ending on the soaked biscuits. Fold over the cling film and refrigerate overnight or for 2 nights.
Step 5 - Unfurl the cling film at the top and then place it on a serving platter. Gently upturn the mold and remove the cling film. Dust with cocoa powder and serve.