So it's your birthday and you don't like sweets? I've got a delicious savoury birthday cake for you! This Spring Roll & Noodle Birthday Cake is based on the delicious Filipino Pancit noodle and Lumpia spring roll cake. It's a delightfully festive surprise birthday cake and is a pushy recipe Dear Reader!
I cannot emphasise how fun this cake is to make and eat. For starters you don't need an oven so its' easy to cook and just requires a stovetop. Secondly it looks festive and it's only when you take a closer look that you see it is a savoury cake. From a distance it looks like a charlotte cake with spring rolls instead of sponge fingers.
Big sweet cakes are great for crowds and look beautiful but if you're in a smaller household you may not want an entire cake (or maybe not, you do you! ;) ). Also sometimes people just aren't interested in sweets. Despite the fact that I make so many sweets, I love savoury and my ideal ratio is 90% savoury, 10% sweet. Mr NQN's is the opposite way completely although he eats his sweet in the form of fruit which is probably the only thing that saves him from becoming pre-diabetic.
How to make this spring roll noodle cake: It's actually really easy to put together and you just need spring rolls aka lumpia and noodles aka pancit. For both of these components, a mise en place (having the ingredients cut and prepared) is invaluable. The noodles are super quick to cook. You can also prepare and cook the spring roll filling the day before if you want to spread the effort over a couple of days.
How to construct the spring roll noodle cake: I've got two tips for this cake. I used a 15cm/5.9inch cake tin to place the noodles in because I wanted straight sides and I also wanted the recipient to be able to heat the cake so that it was tastier. Then use a large, thin elastic band around the cake tin to hold the spring rolls in place. Then place a ribbon around it (not a plastic ribbon because they may not heat well) snugly, twice over and remove the elastic band. Then you can place the whole thing in a 160C/320F oven for 20 minutes to heat it all up.
Pancit noodles: Pancit is a dish of noodles cooked in soya sauce of which there are many variations. This is a bihon or vermicelli pancit. Cooking the vermicelli for pancit is so interesting! You basically don't soak the noodles and you add 2 cups of chicken stock, soy sauces and oyster sauce and watch it soften the noodles and evaporate! My mother used to always soak her vermicelli on the counter all afternoon but this is so much easier and tastier. You can use a variety of vegetables for this although carrot is usually used. I used green beans because I didn't have any cabbage and I didn't want to go out to the shops for one item.
Lumpia or Spring Rolls: Filipino spring rolls or egg rolls are usually made using pork, a pork and ginger mince in this case but you can use whatever mince you like. You want to buy the large 21.5x21.5cms or 8.5x.8.5inch spring roll wrappers that come in packs of 20. Wrap the pastry in the same way that you wrap burritos (step by step photos are below).
Other savoury cake ideas: try this smorgastarta or Swedish sandwich cake-here's an individual one and a big one. Also you can use a wheel of cheese as the "cake"!
Monica had her birthday the other day and I offered to make her a cake. The poor thing had had her birthday trip to Queensland cancelled with the lockdown and she watched her dream trip that she had carefully curated dissolve like washed fairy floss in a racoon's hands. Although we are food twins as in we love all of the same food, Monica isn't a big fan of sweets. She might have a spoonful of dessert but she loves savoury.
Even before lockdown Monica and I spend each day sending each other memes, messages of support and pics of food that we want to eat. I consider the meme relationship an important one - it means that I'm thinking about you, I know you and let's have a LOL together. About six months ago, she sent me a pic of a spring roll and noodle cake and I filed it away in my head to make for her birthday. I wanted to make sure that she had a good birthday because I know how miserable a lockdown birthday can be. I commissioned one of our favourite accounts @chipmunksoftiktok to send her a birthday message and asked him to make it go live in time for her to wake up in the morning. She was so happy when she saw it and said that it helped to give her a great start to her birthday (along with the Italian football victory and Marco's gift).
https://www.instagram.com/reel/CRMYciqi5Iz/?utmmedium=copylink
Just before dinner I dropped this cake off at her house and sent her a picture of it resting on the ledge of her cactus. "I left you something xxx!". She ate the birthday cake for dinner and loved it. Her actual gift will be dinner out at a fantastic restaurant, when we can do it again. Hopefully sometime soon...
So tell me Dear Reader, what is your savoury sweet preference? Do you have meme friendships? Would you like a savoury birthday cake?
DID YOU MAKE THIS RECIPE? Share your creations by tagging @notquitenigella on Instagram with the hashtag #notquitenigella
Spring Roll & Noodle Birthday Cake
Rated 5.0 out of 5 by 2 readers
An Original Recipe by Lorraine Elliott
Preparation time: 60 minutes
Cooking time: 1.5 hours
Serves: 6
For Spring rolls
Makes 20 rolls
400g/14ozs. minced pork
1 teaspoon cornflour/fine cornstarch
1/2 teaspoon salt
1/2 teaspoon sugar
1 onion, peeled and diced
2 cloves garlic, peeled and diced
1 tablespoon grated ginger
2 carrots, finely diced
1 stick green onions
300g/10.6ozs water chestnuts, tinned and drained, diced
2 cups baby spinach or cabbage
oil for frying
2 eggs, beaten
275g/9.7ozs. spring roll wrappers (for 20 spring rolls), thawed in the fridge
Egg wash to seal
Salt or pepper to season
4 cups oil
Pancit noodles
500g/1.1lbs chicken thigh meat, sliced
200g/7ozs. prawns, peeled and chopped
2 onions, peeled and sliced
2 cloves garlic, peeled and sliced
1 cup carrot matchsticks
1 cup finely sliced green beans, snow peas or cabbage
2 cups chicken stock
2 tablespoons soy sauce
1 tablespoon dark soy sauce
1 tablespoon oyster sauce
250g/8.8ozs. dried rice vermicelli noodles
2 sticks green spring onion sliced
White pepper
Step 1 - Make the spring rolls. Mix the pork, cornflour, salt, sugar, onion, garlic, ginger, carrot, green onion, water chestnuts and spinach or cabbage in a bowl. Heat a frypan on medium high heat, add a tablespoon of oil and fry the eggs as a thin omelette. Remove from pan, slice up into shreds and set aside.
Step 2 -Add a bit more oil to the pan and add the pork mixture turning to cook it through. Remove from the heat and allow to cool and combine with the fried egg shreds. Taste for seasoning adding more salt or pepper if it is needed. You want this to cool completely before filling the spring rolls (otherwise the pastry will fall apart) and you can make the filling a day or two in advance and keep in the fridge.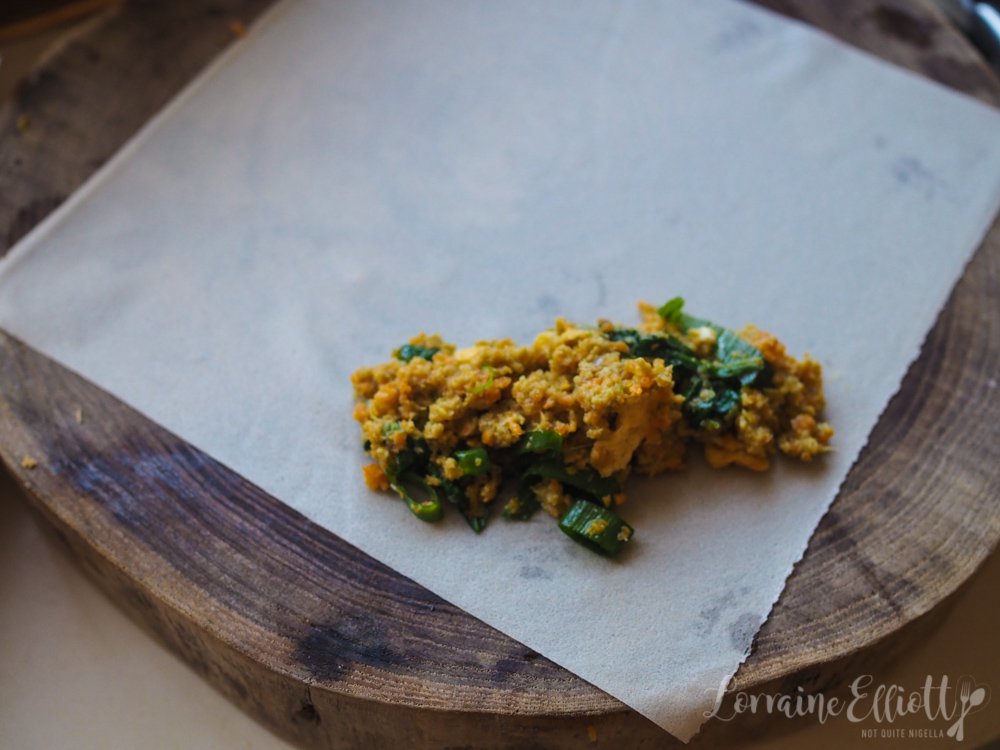 Place the filling in the bottom corner of the pastry
Roll up just under halfway
Tuck in the sides
Brush edge with eggwash and roll up
Step 3 -Cut open the spring roll packet and place under a damp teatowel. Have a tray ready to place the spring rolls on. Take one sheet of the spring roll pastry and place it in front of you like a diamond (rather than a square) and place 2 tablespoons of filling on the bottom corner. Roll up just under halfway and then tuck in the sides (you want the ends to be flat so that they spring rolls can easily stand upright) and roll up sealing the end with egg wash. Repeat with the remainder of the filling.
Step 4 -Line a tray with paper towels Heat oil in a deep fryer or in a heavy pot and when it reaches 180C/350F fry 5 spring rolls at a time cooking for 3-4 minutes until golden all over. Repeat until all the spring rolls are cooked and set aside to cool a little so that they're easier to handle.
Step 5 -Make the noodles. Heat a very large frypan or wok on medium to high heat. Fry the chicken until browned and then add the prawns and cook until they turn pink. Remove from the pan and set aside. Add more oil and fry the onions, garlic, carrot and green beans for a couple of minutes. Remove from the pan.
No need to soak the noodles
Step 6 -Add the chicken stock, light and dark soy sauce and oyster sauce to the pan and bring to a boil. Add the vermicelli noodles and cook for 3-4 minutes. You'll probably think there's way too much liquid but I promise it will soak it all up and the noodles will cook perfectly! When the liquid has evaporated the noodles will be perfectly cooked. Return the chicken, prawns and vegetables back to the pan and toss gently.
Use an elastic band to secure the spring rolls
Step 7 -To assemble the cake, you will need a heat proof bowl with straight-ish sides-I had a 15cm/5.9inch round metal baking tin that I used. Place the bowl or tin in the centre of the plate and fill with noodles. Then place a thin, large elastic band around this and line up the spring rolls tucking them inside the elastic band. Add more noodles so that it looks like it is overflowing and you cover up the bowl. Add ribbon wrapping it around twice and then snip the elastic band and remove. Add candles and serve warm. If you need to heat it, you can place it in the oven at 160C/320F for 15-20 minutes.
Wrap with ribbon (avoid using plastic ribbon)