Sebastien Sans Gluten is a brand new gluten free bakery on Marion Street in Leichhardt that already has a cult following in its short lifespan. This is French chef Sebastien Syidalza's first venture on his own having built up a following at another gluten free bakery over the past few years. Sebastien Sans Gluten features an entirely gluten free menu from buttery, layered croissants, Danishes, pies, tarts and cakes. It is a 100% gluten free kitchen with no cross contamination.
"This is me in a pastry," says Sebastien Syidalza in his soft French accent. He cuts open a buttery, flakey pastry densely topped with sesame seeds and za'atar. The pastry crust splinters and inside hummus oozes out from atop a bed of soft eggplant slices and a spicy jalapeno sauce. I take a bite and it's utterly divine with creamy hummus and then the delicious flavour of the butter.
Sebastien grew up in a city called Guyancourt near Versailles, France of French Guyanan and French West Indies heritage. "I'm the last of 4 children and between 7 to 11 years difference which made me spend more time with my mum than with them," says Sebastien. "I started pastry because of my love of food (growing up I was always in the kitchen with my mum). My best friend was already a Pastry Chef while I was studying accounting but I was always attracted by the things he was making," explains Sebastien. He asked his friend to check with his boss to see if there was a position for him. "Who would not be happy to spend time with your best friend doing what you love?" he says. Sebastien ended up in Sydney as he was in a long term relationship with an Australian woman. "I didn't mind moving from London to Sydney. And here we are, married, baby on the way with a brand new business," says Sebastien.
The last time I met Sebastien was a few years ago when he was the head pastry chef at Wholegreen Bakery in Clovelly. Back then he was working on perfecting a gluten free croissant. Fast forward to a few years later to March 2020 when he left Wholegreen Bakery just before COVID started. He spent time honing his gluten free baking skills and it took him almost a year to find a job that he would love. "Rollers was hiring, being a Tourier myself, the work of dough and croissants especially was really exciting. I learned a lot there, about new trends, variations and about myself too. Not easy to travel Bankstown to Manly everyday but when you love what you do," explains Sebastien. Ironically neither Sebastien or his wife Heidi who looks after the front of house at Sebastien Sans Gluten are coeliac or eat gluten free.
I ask him about which butter and flour he uses and a smile plays on his lips, "That is a secret. I have to have some secrets". The only thing that he will say is that the butter is Australian and the base of the flour is rice flour and he mixes all the blends himself.
All of the pastries are available to eat in in the café or to take away - and a tip the coffee by Black Market Coffee is excellent too. But you may have to get up early to nab these as many sell out early and the bakery closes at noon. Within three days of opening lines trailed outside as his former customers followed him here. Another tip is to visit on weekends as it is also the time when Sebastien may make Paris-brest, giant wedges of apple crumble, eclairs and a larger range of pastries.
I'm all about savoury pastries and the ham and cheese croissant features hand sliced ham that has been marinated in spices. The ham and cheese are baked into the croissant itself with some bechamel sauce. This is pure decadence and I dare you to stop at one bite. Grab them warm from the oven and eat them straight away when that delicate pastry is at its best.
The cinnamon scroll is generously layered with cinnamon sugar while the almond croissant is filled with almond frangipane and is double baked for added crunch.
The banana bread flies off the shelves and is a moist doppelganger for the glutenous maximus version. There isn't the aftertaste of gluten free flour that you can sometimes find in gluten free baked goods.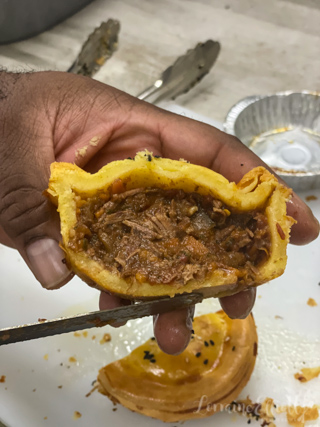 The best sellers however are the pies. The beef has chunks of beef rather than mince with vegetables that lend a sweetness and flavour to the filling. The chicken and leek is a best seller too full of chunky chicken and vegetables and just the right amount of sauce.
And sweets-wise I adore the carrot cake sold as generously portioned double-deckered slices with cream cheese frosting and fruit on top. The cake is light and fluffy and almost sponge light and only tethered to earth with the generous amount of walnuts and carrot inside.
The fruit tart has a creamy, sweet vanilla custard and is very generously topped with glazed, fresh fruit.
The lemon tart is made using an enriched lemon filling so that it holds its shape when cut. And if it tastes a little "extra" that's because he uses a touch of yuzu in his lemon filling. There is also lemon meringue tart with a bouffant of meringue on top.
The most rewarding part is seeing customers like a young girl who had never eaten an eclair before shaking with excitement. Sebastien proudly points towards the sign bearing his name. "That is my name and I'm doing things for me. I have carte blanche," he explains.
So tell me Dear Reader, are you a gluten free eater? Are you a sweet or savoury pastry lover?
Sebastien Sans Gluten
131 Marion St, Leichhardt NSW 2040
Hours: Wednesday to Sunday 6:30am–12pm
Closed Monday and Tuesday
https://sansgluten.com.au/