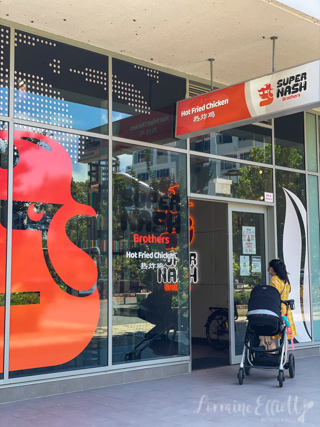 Who's down for some Nashville Hot Chicken? At Super Nash Brothers they do one main thing-hot and spicy Nashville Hot Chicken. This wonderful spicy fried chicken can ordered as tenders, thigh pieces, drumsticks or in their signature "sandos" or burgers.
Nashville Hot Chicken is one of the most delicious versions of fried chicken, especially if you like things spicy. That red is from a healthy dose of cayenne pepper in the coating. The legend goes that it was created in the African American community of Nashville in the 1930's by girlfriend of Thornton Price III, a philanderer and it served as culinary revenge as she added more cayenne pepper than normal in the dish. Sadly her name is lost to history but he liked it so much that he and his brothers opened their own hot fried chicken store called BBQ Chicken Shack café. His family and descendants own Prince's Hot Chicken Shack which operates today. Nowadays it is a popular late night food.
The two men behind Super Nash Brothers aren't actually brothers (the name is a play on the popular Nintendo game Super Smash Brothers). They're Ross Kemp and Joe Avers who visited America in March 2020 just as the world was locking down due to COVID. "Initially the trip was for meetings with a different business we had but shortly after landing our meetings were cancelled. Our flights and accommodation were already booked so instead of changing things up and going home we went on an epic tour of LA's burger scene with none other than Alvin Cailan. We were away for 3 weeks which gave us time to fit in over 50 burger visits. The highlight of the burger tour however was in fact a Chicken "sandwich" from Howlin' Ray's in Chinatown. This is where it all started - we'd never tasted anything like that!" says Ross.
Ross explains, "The number one thing that makes Nashville chicken great is the balance of sweet and spicy within the seasoning blend. This balance is critical for it's appeal. There are a couple of different techniques now out there for making Nashville Hot Chicken and 2 main styles - Oil Dip (traditionally lard) or Dry Rub. The oil dip is the traditional way of making Nashville chicken but in recent years a dry rub has also moved into the mainstream. Our philosophy (like all food) was to inject as much flavour as possible without offsetting the sweet and spicy balance. We do this by combining both traditional and modern techniques."
It's a hot sunny Sunday when Mr NQN and I visit the Waterloo branch (there's also the original outlet in Waitara) and there is a small eat-in area with video games against one wall. The menu is shortish with burgers or "sandos", fries, mozza sticks, tenders and chicken pieces. There's also a vegetarian version made using soy. We decide on the Super Sampler for $59. There are actually four levels of heat from no heat to world's hottest (9m scoville heat units) but I think something got lost in mask translation as I didn't hear this when ordering.
The Super Sampler comes with 2 burgers, 1 thigh piece, 4 chicken tenders, regular crinkle cut fries as well as 2 sauces and 2 drinks of your choice. It's probably way too much food for 2 people in one meal and probably ideal for 3 if someone is willing to take the thigh piece instead of a burger. I choose a can of ginger beer and for nostalgia's sake a Pasito passion fruit soft drink. We get our chicken Super Sampler set to go and eat it in the park just outside where there are several tables to choose from.
I sink my teeth into a burger-it's a small, compact burger with a glossy, shiny garlic milk bun, shredded lettuce, pickles and a thigh fillet of Nashville hot chicken inside. It's delicious, the telltale smoky cayenne flavour there. It's not hot (for me at least) so I suspect we got the Nash signature heat which is just a mild heat.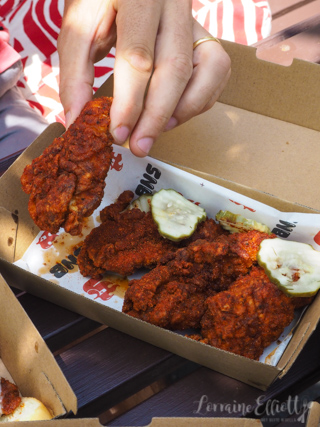 Next I try the tenders, enormous fingers of tender breast perfect for dipping into that peach jam. There are several sauces available and the guy behind the counter steered me towards the aioli and chipotle as the two free sauces but I also want to try the peach jam. I'd say definitely get the peach jam, it's heavenly with the chicken and choose either the aioli or the chipotle but they're both in the same mayo family so you don't necessarily need both. Mr NQN devours these with the peach jam.
The crinkle cut fries are just a bit too cold. I usually ask to wait for freshly fried fries but I forgot and I paid the price for my forgetfulness. Still there's a nice amount of chicken salt on them and I suspect that I'd love these hot.
But my favourite is the thigh piece. I don't need the bun, just a moment with this delicious piece of chicken. It's a boneless thigh served on a slice of white bread, the traditional way of serving it in Nashville. It's so juicy that it's practically dripping and it has a ranch drizzle on top and sweet and spicy pickle chips. And holy heavens if this piece isn't made for a dipping in that sweet peach jam I don't know what is. And if you happen to the the third person in the trio to share the meal and you've sacrificed the burger for this piece, know that you've probably snagged yourself the most delicious prize piece of all.
So tell me Dear Reader, have you ever tried Nashville Hot Chicken? What do you think of it?
This meal was independently paid for.
Super Nash Brothers
29 Amelia St, Waterloo NSW 2017
Tuesday 5:30–8:30pm
Wednesday to Saturday 11:30am–2:30pm, 5:30–8:30pm
Sunday 11:30am–2:30pm
Monday closed
Phone: 0457 357 212