The Tea Cosy in the Rocks is known for their wonderful scones and they are now delivered the scones or picnic packs with sandwiches over Sydney. Their picnic pack includes plain or flavoured scones, fresh strawberries and cucumber and cream cheese sandwiches and an option for a bottle of bubbly for the easiest picnic fare - BYO afternoon tea stand!
The Tea Cosy has been delivered their scone packs for a few weeks now. They were one of my favourite deliveries last year in lockdown and as soon as they announced their new picnic pack that included sandwiches I pounced on it and ordered some straight away. There are three different types of deliveries offered by The Tea Cosy: the scone pack, a picnic pack (scones with sandwiches) or bake at home scones. They deliver to the Eastern Suburbs and City on Wednesdays, Northern Suburbs on Thursdays and the Inner West on Fridays. Pick up from the store in The Rocks is also available but they must be pre-ordered.
The Tea Cosy's owner Ash Kinchin has found this year's lockdown different for a number of reasons, "When we went in the first lockdown we were one of the first to start delivering. I will never forget what those first few weeks and months were like. The streets were so quiet, people were scared and there was zero cars on the road. It felt like a zombie apocalypse. This time there have been people outside constantly, queuing for coffees, walking dogs, and the roads were full of cars. The police presence is so much more though this time than last lockdown, delivering to some areas of Sydney you felt the tension. I'm so glad they lifted the lockdown LGA areas. I don't think that was healthy, and it was creating a divide."
This lockdown has seen an increase in business as people become more comfortable buying things online and customers often use her scone deliveries to lift the spirits of others. "About 50% of the deliveries we do are presents, and I think that is something that wasn't there as much the first time. Our product offering is different this time as well. Last lockdown we were doing basic scone packs, but this time we have changed our scone flavours up every week. We have also added our bake at home packs which have been a huge hit."
Changing the scone flavours proved key and also keeps her staff motivated and employed, "When we started delivering again in July I made a decision to commit to a different flavour every week. Truthfully I didn't expect it to go on this long (who did?) so I thought it would be a good way to keep my boys employed working on new recipes. Being committed to a new flavour every week made us be creative. I knew customers were looking to see what's next so we had to do it!" says Ash. They created strawberry scone week when they heard about the strawberry surplus. They included a punnet of strawberries with every order and within the scones themselves and went through 300 punnets of strawberries. The most popular scone flavours so far have been butterscotch and Winter Spice and Ash plans to keep the weekly changing scone flavours when the tea room reopens.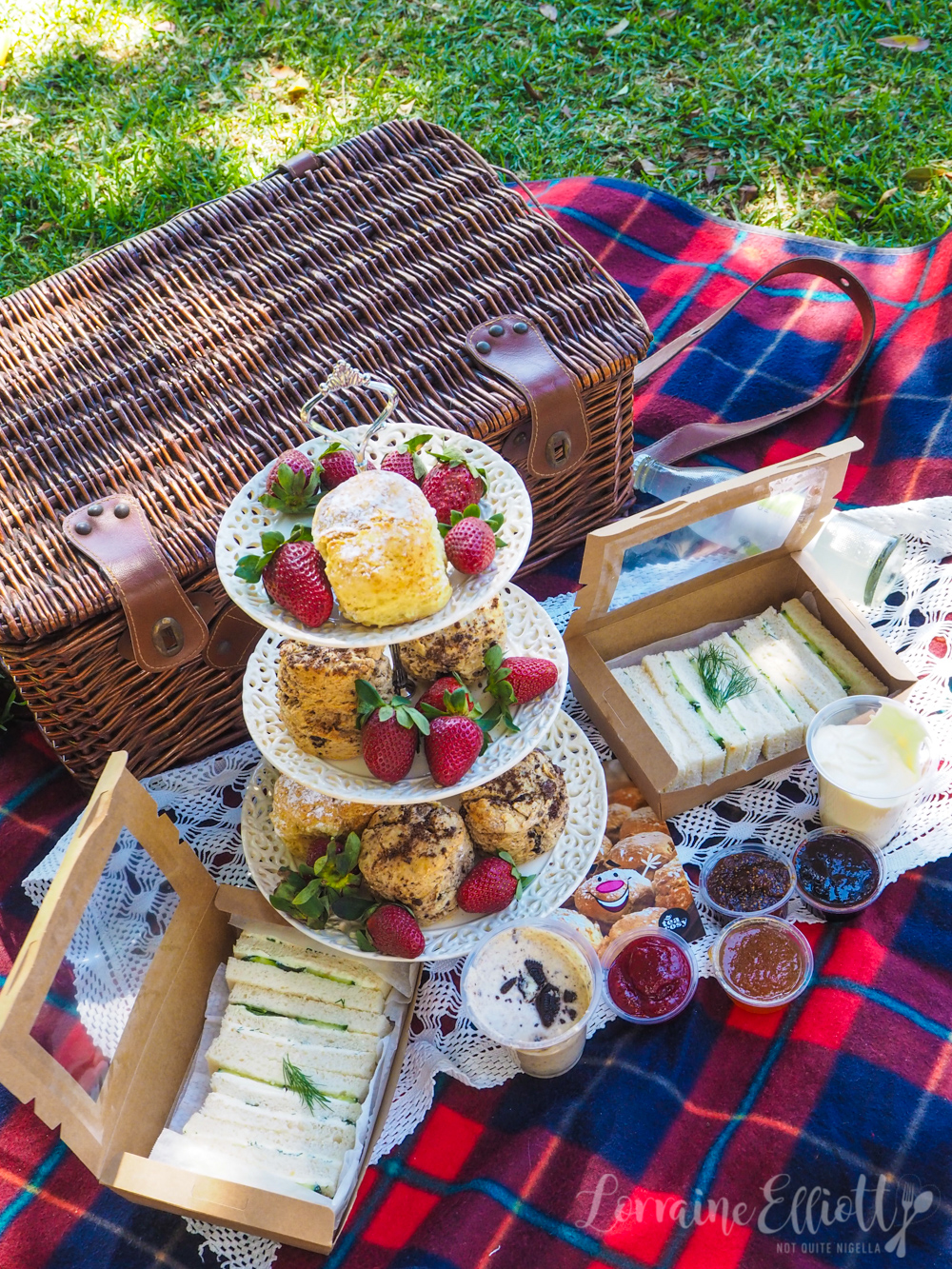 Planning picnics is strategic. The number one most important thing is the weather so once we saw the forecast we picked the sunniest day and planned around that. Monica lives in the Inner West and The Tea Cosy delivers to the inner west on Fridays so I paid for it and got it delivered to Monica. I ordered both plain and flavoured scones. The picnic pack includes 4 scones, 2 different jams, double thick cream and 4 fingers of cucumber, cream cheese and dill sandwich and a punnet of strawberries for $45 delivered. A bottle of Prosecco can be added for $25 and you can also add more scones onto your order.
I unfurl my picnic blanket and set up the three tier stand and wait for Monica to arrive on her new motorbike with the picnic pack. This week's flavoured scone is cookies and cream each and there's a tub of plain clotted cream and cookie dough cream. The cookies and cream are Oreo flavoured in both the scone and the cream. Monica and I both like the scones are they aren't overly sweet in themselves and it's the cream and jams that add the sweetness. In terms of jams we have rhubarb & raspberry, fig and blood plum and apricot and vanilla. I love the apricot jam with the thick cream on the plain scone but the rhubarb & raspberry and cream is also delicious on the cookies and cream scone.
As for the sandwiches (my favourite part of afternoon tea) they come nestled in damp paper towels and parchment so that they don't get dry and stay wonderfully fresh. They are crustless double finger sandwiches with a layer of cream cheese and cucumber. Absolute afternoon tea sandwich perfection!
Will the beloved scone delivery continue? "At this stage we are planning to continue with the delivery service indefinitely. We may take a little break over Christmas but I think there is a market for our deliveries moving forward. Our own staff do the deliveries and although that makes things a bit more complicated I think it's a nice way to deliver and gives us the control over how our products travel and our drivers get to know the places and the people. I'm not keen on using any mega delivery companies as there's a lot about them that leave a bad taste in my mouth. I think you can't control your brand with those companies and it's not a nice experience dealing with them, as the end user or for the restaurant. Also let's not talk about that 35%!" says Ash.
She has confidence that The Rocks will bounce back too once lockdown lifts. "Last time The Rocks bounced back amazingly and the demographic on the street completely changed. All the business owners freaked out thinking that no international tourists would mean no people in the Rocks, but with the shift in peoples thinking about leisure, The Rocks is a great option. It really is made for al fresco options especially when the markets start up again. Being 100% owned by the government The Rocks can throw some serious money into re-vitalising the area. The Rocks was better than ever after last lockdown and I'm confident it will be the same this time," says Ash.
So tell me Dear Reader, if you had to choose (and it's a hard decision), do you like the sandwiches or scones best with afternoon tea? Have you gifted any food to friends during lockdown?
This food was independently paid for.
The Tea Cosy
7 Atherden St, The Rocks NSW 2000
http://theteacosy.com.au/menu/