If you're looking for a delicious kid-friendly Halloween snack then look no further than these Halloween Frankenstein burritos! Made with spinach tortillas (because Frankenstein!) and filled with a nutritious mixture of vegetables and a delicious vegan spread this recipe makes 15 BOO-ritos and to power your tribe of trick or treaters all night long!
Did you make this recipe?
Share your creations by tagging @notquitenigella on Instagram with the hashtag #notquitenigella
Frankenstein BOO-Ritos!
An Original Recipe by Lorraine Elliott adapted from an idea from Peas & Crayons
Preparation time: 40 minutes
Cooking time: 30 minutes
Makes 15 BOO-Ritos
Serves: 15 people
Oil for drizzling

400g/14ozs. sweet potatoes, peeled and diced

2 onion, peeled and cut into 8 crescents

250g/8.8ozs cooked white rice

250g/8.8ozs. cooked brown rice
1 white onion, finely chopped
400g/14ozs garlic toum (see recipe here)
400g/14ozs. tin corn, drained
400g/14ozs. tin black beans, drained
200g/7ozs sun dried tomato slices in oil, drained
3 tomatoes, chopped
1/2 cup finely chopped coriander
15 Spinach tortillas
To decorate
15 triangular corn chips
30 rounds of cheese (vegan cheese) cut out
30 slices of carrot
30 pieces sliced black olive
1/2 red capsicum, sliced into 30 smiles
Step 1 - First roast the sweet potato and onions by placing on a parchment lined tray and drizzling with oil and roasting at 180C/350F for 25-30 minutes or until caramelised. You can do this 2-3 days ahead of time and keep in the fridge until needed.
Step 2 - Mix the two types of rice with the sweet potatoes, onion, toum, corn, black beans, sun dried tomato, tomato and coriander. Season with salt and pepper. Heat the spinach tortillas either in a frypan or microwave. Place two scoops of filling and fold up on the top and bottom and then the sides to create a rectangle. Secure closed with a toothpick.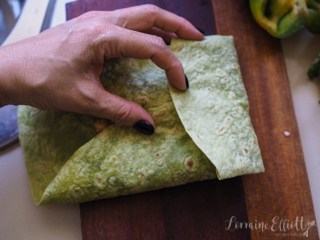 Step 3 - Turn over and place the cheese eyes, carrot and olives and capsicum smile. Break off the pointy parts of the chips to create jagged hair. Serve or wrap up in greaseproof paper to prevent drying out.