Simulation Senpai is chef Chase Kojima's chirashizushi and sashimi takeaway business that started during COVID-19 2020. It features gorgeous boxes of the freshest sashimi and chirashizushi that people can takeaway. Chirashizushi is a bed of rice topped with a range of sashimi and these boxes are as pretty as they are delicious. And now Simulation Senpai has a permanent home in Darling Square.
Like many in the hospitality industry, chef Chase Kojima was greatly affected by COVID-19. He had gone from being the chef at Sokyo, Chuuka and Kiyomi to doing nothing. He says, "COVID in 2020 closed doors. I felt hopeless and unimportant in society as the government didn't let us open. Only the doctors and essential workers had work. I had some money saved for any crisis so I wanted to just use this time to rest."
During this time he thought of ways to make money and they actually didn't involve his long career as a chef. "I had plans of trying to stream myself playing computer games on twitch and trying to do some YouTube. I wanted to get into e-commerce. I had been working on Simulation Senpai as my channel for the simulation chef/gamer. I felt I can probably reach an audience and following as I'm somewhat naturally funny. Maybe (he says laughing)." Hence he had the name Simulation Senpai (Senpai means teacher or master).
Still, that venture didn't seem quite fit right. "I felt this was only going to benefit myself and I have many staff that didn't have any work and I wanted to try see if there was anything I can do to help myself and others. At the same time I wanted to eat some sushi so I went to the fish market and made some sushi. I Instagrammed what I was making and I was getting DM and comments if it was available to order! So I did. It was a massive success," says Chase.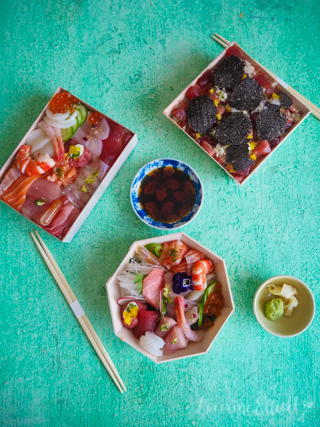 He was selling the boxes from a temporary location in Pyrmont. Customers would pre-order and pay a few days ahead for limited runs of boxes and turn up at a set time to collect their orders from an open window. It was so successful that it continued until December 2020 when they stopped as he searched for a permanent site.
In May 2021 with COVID 2020 a somewhat distant memory for many, he opened up a permanent location on the ground floor in the Exchange building in Darling Square, just near the Novotel Darling Square hotel. Now customers can order online and come by during lunch and dinner to pick up their boxes. There are no limited numbers and the menu has expanded considerably. You can choose the time for pick up and they request that customers keep to that time slot to ensure that the boxes are as fresh as possible.
The boxes are made up of a delectable range of chirashizushi on rice (chirashi means scattered although these are more perfectly placed) and boxes of sashimi. The most popular is the Hoseki Bako and Wagyuchin don with seared A5 Japanese Wagyu, tuna-taku tartare, premium sea urchin and senpai secret egg sauce served over sushi rice with pickled ginger. They use Emi no Kizuna premium sushi rice from Ibaraki prefecture as their sushi rice. Apart from sashimi toppings there are also cooked topping like enormous U8 prawns or eel and grilled egg as well as miso soup. If you're feeling fancy there's an option to add 5 grams of truffle or 20 grams of sea urchin.
I ordered three boxes and although Mr NQN did raise an eyebrow at the cost of it all once he tried it, all complaints were muted. We start with the most popular box, the Hoseki Bako which is 15 pieces of fish and seafood handpicked by Chase served over sushi rice with pickled ginger, premium wasabi, and soy sauce. It's substantial and one box would easily be enough for one person. It has a wonderful range of textures and fresh seafood. I love the tiny raw prawns, the tuna in various cuts, the minced raw salmon and raw tuna and pops of salmon roe too.
This is the sashimi version of the Hosekibako box above with 15 pieces of cooked and raw prawns, fish and squid with pickled ginger, premium wasabi, and soy sauce. There is no rice with this so if you're feeling hungry the Hoseki Bako would fill you up more.
And lastly, just because it's winter and 'tis the season for truffle, we try one of the new boxes the Black Truffle Chu-Toro Don. Chūtoro is medium fatty tuna found between the skin of the back and belly of thw tuna fish. Fat-wise it sits between ōtoro (the prized fattiest part) and akami (the most common type of tuna found at sushi restaurants). This box is also pitch and texture perfect with a wonderful range of textures. The Japanese Mountain yam or yamaimo puree has a slippery, slimy texture to it so prized by the Japanese (like Nattō or fermented soybeans) and gives the medium tatty tuna cubes and fine tuna marinated in a secret sauce a contrasting texture. There's also finely diced pickled daikon and a layer of shaved black truffle on top and it comes with a creamy egg yolk sauce to drizzle over it.
Oh and Chase also has a discount code, a very pointed "FUCOVID".
So tell me Dear Reader, if you had to carve out a new career, what would it be?
Simulation Senpai
The Exchange, Darling Square, Haymarket NSW 2000
Tuesday to Sunday 11:30am – 2:30pm, 5:00 – 8:30pm