Welcome to my 2021 Christmas feast Dear Reader! This year was a mix of my favourite foods from an Italian Christmas, Australian and Finnish Christmas. Think a rich, rolled pork belly porchetta with stuffing, buttered crispy potatoes, crab cannelloni and a Finnish beetroot Christmas trifle salad and a Finnish Christmas tart. And just to add to the drama this Christmas there was a dramatic twist that sent our best laid plans awry!
For the last two years life has been a little surreal but this year's Christmas looked to be on track. At the beginning of the month we planned to have the very last Christmas at our apartment before we move to our new house. We would have my family and Mr NQN's and it was going to be squishy but manageable. But then COVID reared its ugly head again and we were forced to move it to my parents house with their outdoor covered deck because we were dealing with COVID and La Nina at the same time. Everyone agreed to get rapid antigen tests and we talked to everyone about staying safe in the preceding week to Christmas. Mr NQN and I cancelled all our indoor eating dates as did the Elliotts.
But then I received a phone call. You know the saying about the best laid plans?
It was early in the morning when my mother called. My sister Blythe had woken up with a sore throat and a headache and was already awaiting results of a COVID test. We learned that the three of them had been out and about even up to the days before Christmas and had been to yum cha just the day before. "But she's been travelling all over Europe," my mother weakly protested, as if this proved that she was immune. If there is one thing COVID has taught us is that you can be careful, think of yourself as educated on the topic but then your own idea of COVID safe is different from others.
So sadly Christmas at their house was cancelled and this would be the second Christmas in a row that I wouldn't see my family. We scrambled to find another outdoor venue to have Christmas with the Elliotts who were actually doing as we were and laying low before Christmas. Monica kindly offered me her outdoor area and garden as she would be having Christmas elsewhere. We could access it via the side gate to keep everyone safe and wouldn't even have to go into their house.
So on Christmas Eve it was an outdoor Elliott Christmas dinner with me, Mr NQN, his mother Tuulikki, his sister Araluen and his brother Manu. Everyone was so excited to see each other. It was a bring a plate affair. Most of the food I made wasn't vegan (because it was designed to feed my side of the family who no longer cook) but we learned that Manu wasn't a strict vegan any more and returned to being a vegetarian. He had seconds of all of the food, sometimes thirds polishing off dessert.
So onto the food! All I wanted this year was porchetta, the rolled Italian pork roast. It's very Australian to have ham at Christmas but I love porchetta and roast pork so much more. And my favourite bit? The crackling, I mean look at that crunch! My butcher gave us a separate rind to crackle and it was super crunchy. I paired the pork belly porchetta with roast potatoes. I used my favourite crunchy roast potatoes subbing duck fat for ghee.
Crunchy Crackling
Stuffing is one of my favourite part of a roast meal and this time I made an apple, bacon and pecan stuffing. This is great in sandwiches with the sliced pork belly, a thin spread of applesauce and some mayonnaise.
We always need seafood on a Christmas table so I included a crab cannelloni with over 1 pound or half a kilo of crab meat - it was a special occasion after all. The cannelloni shells are filled with crab, ricotta and sauteed leeks and then layered with bechamel sauce and parmesan.
As tempting as it is to make it an all meat affair we do need vegetables and I made a feta stuffed pepper dish using both red and green long peppers. Valentina found these gorgeously Christmassy peppers for me. Not only are they simple (literally just stuff and bake) they're also so festive looking and absolutely delicious.
The last savoury dish was a dish that celebrated Mr NQN's Finnish background. It was a take on the Finnish Rosolli beetroot salad but served in a trifle bowl with a few more layers added to it. I added some soft oak lettuce layers and an egg salad on top of potato salad and a pickled cucumber and beetroot salad.
Dessert was supposed to be the Viennetta but with a hot day and no freezer I brought some delicious One.more chocolates and a Joulutorttu Finnish Christmas Tart. They polished off all of the tart and we all pulled apart the One.more chocolate tree with our hands gleefully. Sadly Dear Reader Matilda's divine Italian Christmas Cookies that are always a feature at Christmas didn't quite arrive in time but that just means that there will be a treat waiting for me at the post office.
Manu and Mr NQN wearing Christmas colours
Araluen and Manu wearing their One.more chocolate baubles
Because the porchetta was meant to feed more I wasn't sure what to do with all of it. But then Monica came up with a suggestion. Every year Monica cooks a meal for her neighbours, a couple of eccentric older brothers who would otherwise eat McDonalds for Christmas. She suggested that I put together some platters for them so I wrapped up some porchetta, stuffing, potatoes, crab cannelloni and salad and walked next door to them. "It's the house with the windchimes," she said.
That was an understatement. There were enough windchimes to outfit a small shop. And when I reached the door I was greeted with so many door knockers I didn't knock which one to pull. I pulled one, then another but there was no answer. Perhaps they were watching on the other side of the door wondering who this masked stranger bearing platters was. I left the food for them on the bench and hoped that they would get it before it spoiled. I was relieved to hear that they did and they thanked Monica profusely the following day. We packed up half a dozen boxes of food for my family too and delivered it to them to eat on Christmas Day.
And of course there's no Christmas without a funny Elliott Christmas tale. Talk at dinner inevitably turned to COVID and we discussed buying Rapid Antigen Tests. Tuulikki went online to buy some and she searched and found some on ebay thinking, "Oh these are a good price!".
Araluen said, "Tell them what you bought!" stifling a laugh.
"Well I bought Breath Alcohol Rapid Tests!" said Tuulikki giggling and hiding her face in embarrassment. So if we ever need to do a breathalyser to check our alcohol limit we can go to her. "It sounded similar but I was missing the word Covid," she said shrugging her shoulders.
So tell me Dear Reader, how was your Christmas? Was it crazy? Did it feel very Christmassy? How have you managed the COVID landmines?
DID YOU MAKE THIS RECIPE? Share your creations by tagging @notquitenigella on Instagram with the hashtag #notquitenigella
Pork Belly Porchetta
Rated 5.0 out of 5 by 6 readers
All Original Recipes by Lorraine Elliott
Preparation time: 20 minutes
Cooking time: 2 hours
Serves: 12-15 people
3.7kg/8lb pork belly, boneless with rind on, slashed on the rind
1/3 cup rosemary
3 tablespoons salt flakes plus extra
2 tablespoons fennel seeds
1 tablespoon black peppercorns
Extra slab of rind
3-5 tablespoons salt
3-5 tablespoons oil
Step 1 - Heat the rosemary, salt, fennel seeds and peppercorn in a frying pan for 2 minutes or until fragrant. Place in a spice grinder or mortar and pestle and grind.
Step 2 - Slash the meat and rub the herby salt mixture all over the meat side. Roll up and secure with kitchen string. Place in the fridge uncovered on a rack overnight.
The butcher said that they slashed the rind but it wasn't quite deep enough as you can see
Step 3 - Preheat oven to 240C/464F and take the pork belly and rind out of the fridge 1 hour before you want to start cooking it. Rub extra salt and oil generously all over the skin getting into the score lines on the pork and rind. I do this over the sink so that the drippings on the pan don't end up too salty with the salt that falls off. Place on a tray in the hot oven to blister for 30 minutes. The crackling rind should be finished. Then continue cook the porchetta at 180C/350F for 1 hour 45 minutes. Allow to rest for 30 minutes and then slice it.
Please note: cooking temperatures for pork belly are 30 minutes to score at 240C/464F and then at 180C/350F 35 minutes for each kilo/2 lbs of pork belly.
Bacon, Apple & Pecan Stuffing
Preparation time: 15 minutes
Cooking time: 40 minutes
Serves: 8-10
2 large onions, peeled and finely chopped
3 cloves garlic, peeled and finely chopped
200g/7ozs. bacon, chopped
1 apple (around 100g/3.5oz), cored and diced (small dices)
50ml/1.7flozs. brandy
400ml/14flozs. cream
275g/9.7ozs brioche, diced
1/2 cup/75g/2.7ozs. toasted pecans, chopped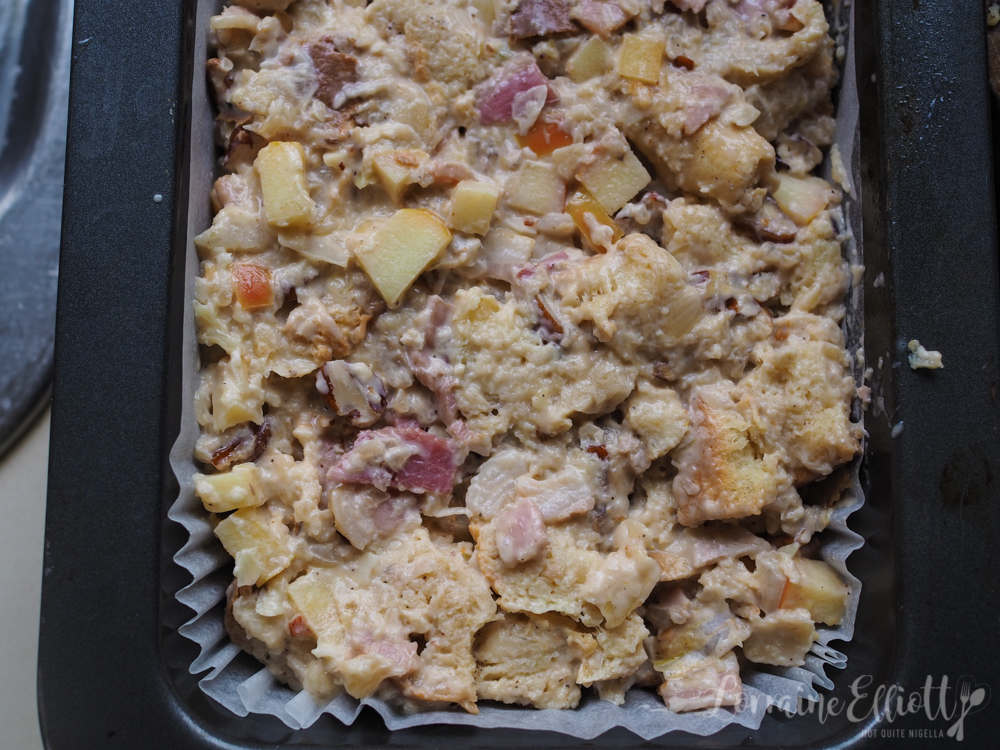 Step 1 - Preheat oven to 180C/350F and grease and line a medium sized loaf tin. First cook the bacon for 3-4 minutes and then add the onions and garlic and cook until soft and the bacon starts to brown. Add apple and brandy cook for 5 minutes or until starting to soften. Add the cream, brioche and pecans and mix to combine and heat through.
Step 2 - Spoon into the dish or tin and cover with foil and bake for 20 minutes. Remove foil and raise temperature to 200C/400F and bake uncovered for 10 minutes.
Crab & Leek Cannelloni
Preparation time: 30 minutes
Cooking time: 1 hour
Serves: 10
1 leek
2 tablespoons butter
2 tablespoons oil
250g/8.8ozs cannelloni shells
For bechamel sauce
100g/3.5ozs. butter
100g/3.5ozs. flour
4 cups/1 litre/33flozs. milk, hot
1 teaspoon mustard
1/2 teaspoon salt
150g/5ozs grated mozzarella
1/2 cup grated parmesan cheese
Step 1 - First make the bechamel sauce. Melt the butter in a medium sized saucepan on medium heat and add the flour and stir with a spatula cook for 1 minute. Switch to a large whisk and add the milk gradually whisking to keep it smooth. Add the mustard and salt. You can also make bechamel sauce in the Thermomix which is how I like to do it. Just place the butter, flour, milk, mustard and salt in the Thermomix and set to 10 minutes/90C/speed#4.
Step 2 - Preheat oven to 200C/400F and oil a lasagne dish. Spread a third of the bechamel sauce on the base of the dish. I dip the cannelloni shells in water just to hydrate them a little first. Cut the top bright green dry part off the leek and split the leek down the centre and cut into half moons. Make sure to rinse the leeks well as dirt can get trapped inside them. Sauté the leeks in the butter and oil until soft. Mix with the crab meat and ricotta and place in a piping bag. Cut a large hole to fit the cannelloni size and pipe into the shells and place on top of the bechamel layer.
Step 3 -Pour the remaining bechamel sauce over the cannelloni and sprinkle with parmesan cheese and cover with foil. Bake for 20 minutes and then remove the foil and increase the heat to 200C/400F and bake for 15 minutes until golden.
Valentina's Christmas Feta Stuffed Peppers
Preparation time: 20 minutes
Cooking time: 35 minutes
Serves: 8
8 long red and green peppers (around 100g/3.5ozs. each)
100g/3.5ozs ricotta cheese
1 clove garlic, peeled and finely grated
Step 1 - Preheat oven to 180C/350F. Cut the tops of the peppers but keep these. Scoop out the seeds with a long handled teaspoon from the peppers and lid. Blend the feta, ricotta, garlic and oregano and place in a piping bag and pipe this mixture into the peppers. Place a cherry tomato in the top to prevent the cheese mixture from spilling out and place the "lid" or top of the pepper back on.
Step 2 - Drizzle with some oil and place in a baking dish and bake for 35-40 minutes.
Finnish Beetroot Christmas Trifle Salad
Preparation time: 30 minutes plus cooling time for vegetables
Cooking time: 20 minutes concurrently
Serves: 10
800g/1.7lbs. potatoes, peeled and boiled in salted water, cold
500g/1.1lbs beetroot, roasted (I bought it already roasted for convenience as I was making all the food), cold
8 eggs, boiled and peeled
1 cup pickles, chopped
200ml/7ozs. sour cream
100ml/3.5flozs. pickle juice
Oak Lettuce
Step 1 - Chop the potatoes into chunks and mix with 1/2 cup of mayonnaise in a bowl. Chop beetroot up and place in another bowl. Mix the pickles, sour cream and pickle juice together to form a dressing and dress the beetroot in this. Then chop up the eggs and mix with 1/3 cup of mayonnaise and 1 teaspoon of mustard in a third bowl.
Step 2 - Start with a layer of oak lettuce leaves in the bottom of your trifle bowl. Then add the potato salad, then another layer of lettuce leaves. Then add the beetroot salad and then the egg salad on top. Keep covered and chilled until serving.