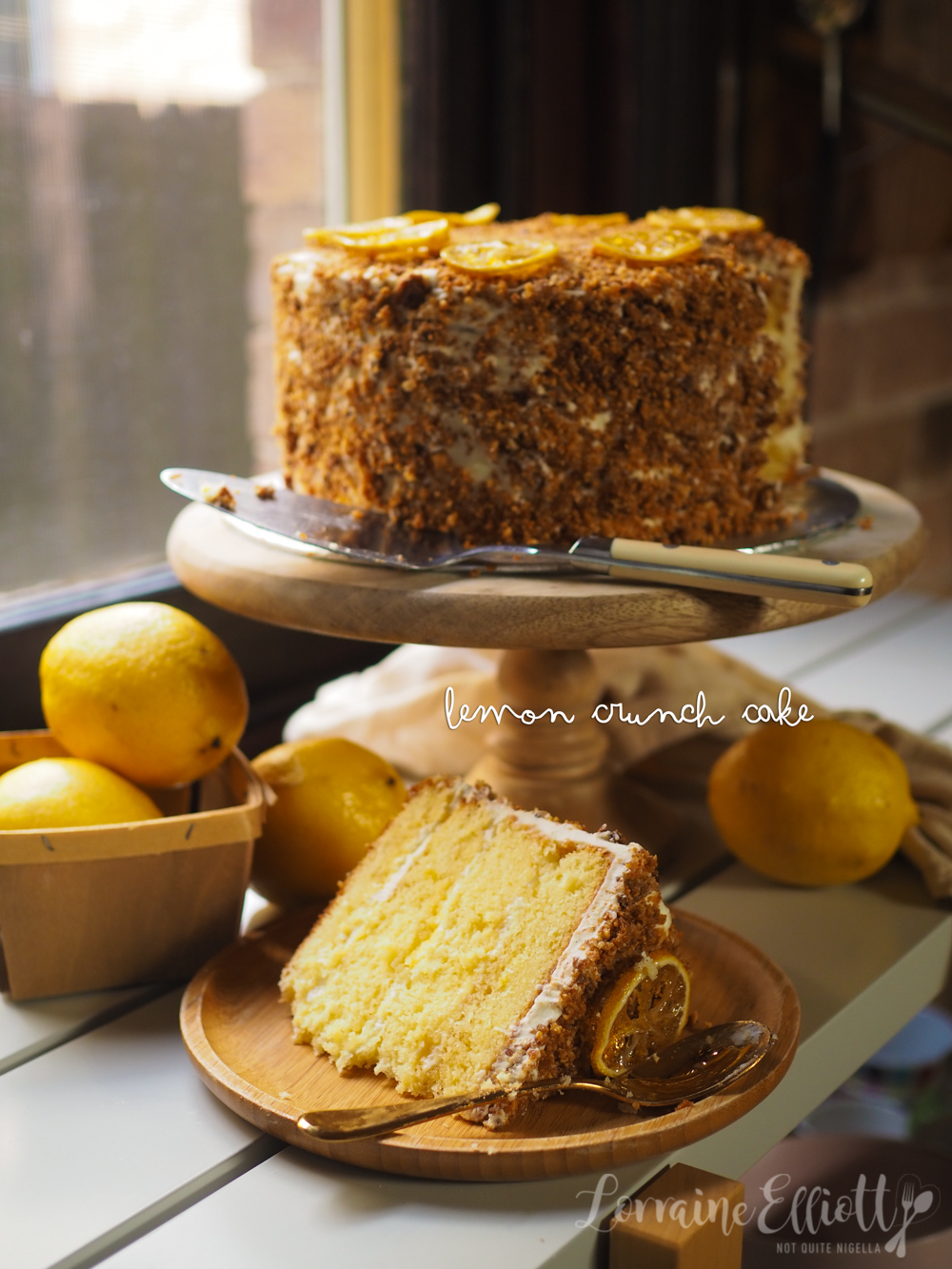 Dear Reader, this lemon crunch cake is a dream come true! A wonderfully moist and soft lemon butter cake is spread with lemon syrup, lemon curd and vanilla whipped cream and then smothered in cream and top with candied lemon slices. The finishing touch is the buttery, crunchy almond crunch layer that makes this cake so addictive! I called her Liz Lemon after one of my favourite television characters. This is a pushy recipe Dear Reader!
Lemon Crunch Cake at its most basic is a soft moist butter cake (in America they use yellow box cake), layered with lemon curd, whipped cream and a crunch outer. This cake is for when you want to make something spectacular. It's not the simplest of cakes but in its favour the crunch, candied lemons and lemon curd can be done ahead of time, up to a week if you want so all you have to do on the day you want to make it is bake the cake and smother it with the simple whipped cream frosting. I made this even easier by doing it in the Thermomix which made fast work of it. I've given conventional directions and Thermomix directions below.
The origin of Lemon Crunch Cake is up for a bit of debate. Some say that it comes from Hawaii, others say San Francisco. Coffee Crunch Cake seems to be popular in San Francisco where it is sold at Blum's while Lemon or Pumpkin Crunch seems popular in Hawaii. In San Francisco it was said to have been invented by by baker Ernest Weil in the 1940s when an employee overboiled candy and he found a new life for the toffee by using it around a cake. It remained their most popular cake until Blum's closed in the 1970's where it was called the Koffee Krunch Kake. Nowadays people head to Japantown to Yasukochi's Sweet Stop where one of the co-owners Hatsy Yasukochi was taught how to make the coffee crunch cake from a former Blum's employee.
Over in Hawaii where Lemon Crunch Cake reigns supreme it was said to have been invented by Norman Hideo Asao, a baker at Alexander Young Hotel in the 1950's. It is now available at the Alley Restaurant at Aiea Bowl as well as many places on the islands. The Hawaiian version uses nuts in their crunch, pecans specifically as well as lemon curd between the layers. My version is really more inspired by the Hawaiian version of lemon crunch cake. I also spread mine with lemon syrup and lemon curd but balanced the whipped cream with vanilla for aroma instead of lemon essence as I felt like there was already plenty of lemon in the cake's layers.
If the layers of homemade candied lemons and lemon curd are too much you can omit the candied lemon decoration on top, use a basic sugar syrup and buy the lemon curd. You do want to assemble this closely to when you serve this or at least add the crunch before you serve it as it does get soft over time. I'm all about outsourcing when I can especially at times when things get too much.
We've had a really stressful couple of weeks but this week things got better and I was able to make this cake without feeling as though I had an anvil on my head. Firstly we finally sold our apartment! It was an interesting auction campaign. A friend of mine had a dream one where she sold her apartment in a week after the first open house. Her real estate agent was one of the rare ones. He said that he could get her a price between X and Y and when someone offered her X she was all set to say yes. But then her real estate agent said that he would get the higher price of Y and he procured it with smart negotiation. She told me how wonderful and efficient he was so I took his number and gave him a call. Unfortunately he wasn't able to handle our apartment because it was in a different area but he said that he could recommend his colleague nearby.
That's how we ended up with Mandy. At the beginning Mandy was very posititive saying that she could get us between X and Y and we agreed to get a stylist in to stage the apartment to make it look its best. However once we signed things changed. She and I never meshed. She was never available and never called when she said she would. The open houses didn't do very well and the rain didn't help - every single open house was wet and nowhere looks great in the rain and nobody wants to come out when it's flooding.
We got an offer early on. It was woefully low and the woman justified her low price but telling us a list of things that she would have to change. She'd have to paint the walls (yes, most people do), she'd have to replace the doors (I doubted it, they were very nice and expensive doors), she had to replace the kitchen (definitely not true, it came with a pyrolytic oven and Caeserstone benchtops) and they were all things that seemed like personal taste and it sounded like she wanted a brand new apartment that she could customise. "I think she's negging us," I said to Mr NQN, the dating term where someone give backhanded compliments and criticism to lower your self esteem so you feel like you can't do any better.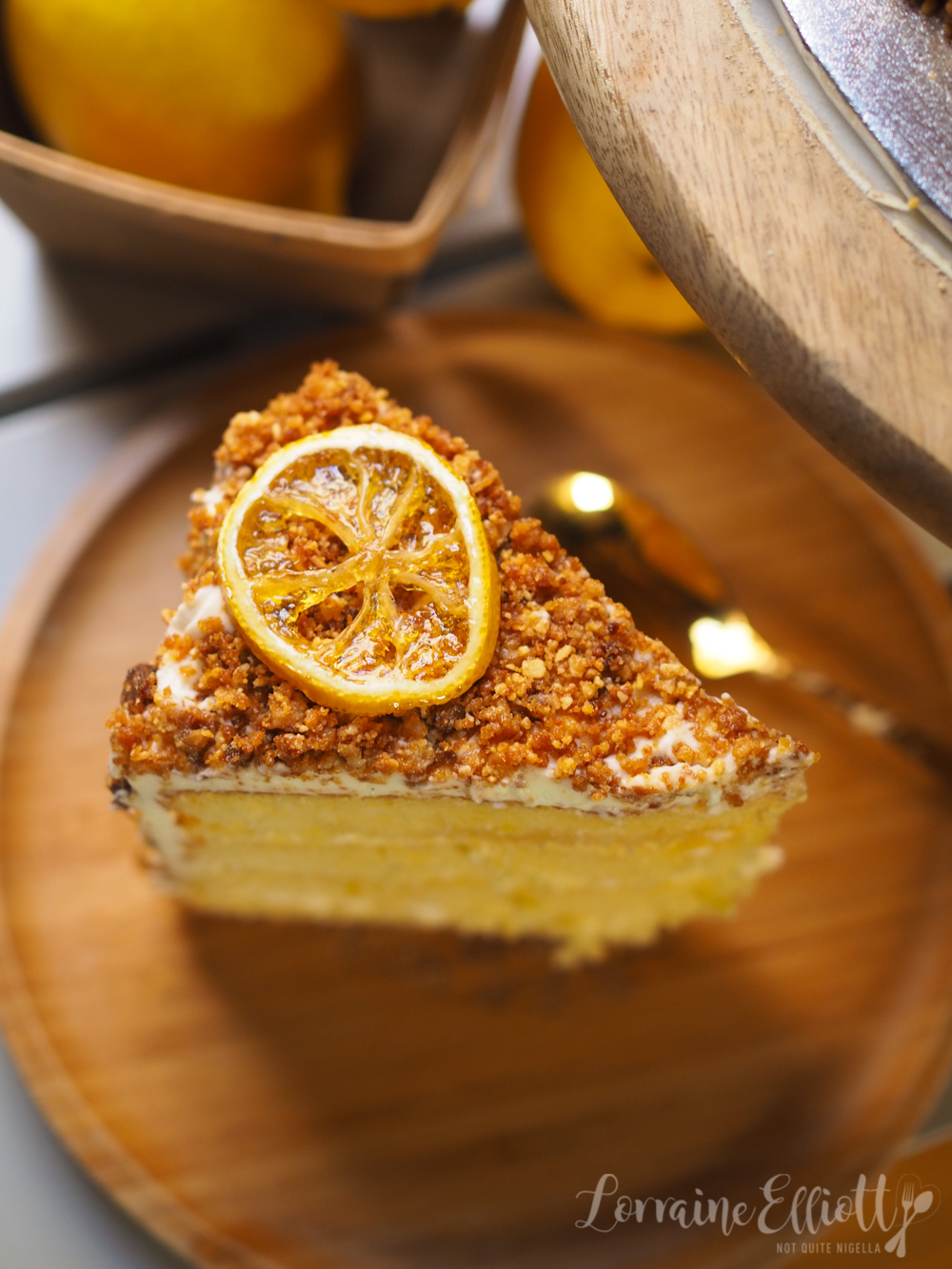 Mandy urged us to take these offers seriously and to not go to auction which I thought was slightly ridiculous. I pushed back on her saying, "What about the price you promised us? That's why we signed with you," and we stood our ground. I was quickly growing disillusioned with Mandy and a real estate agent friend suggested seeing what other properties she was looking after. I did a quick search and saw that on the same day of auction she had a much bigger house to sell so it sounded like she may have been focused on the bigger sale. Also her personal commission on $50,000-100,000 is only a few hundred dollars for her but that is obviously a lot of money for us.
I hate the whole real estate game especially in Sydney because it is so dog eat dog and our bad luck continued as someone threw a spanner in the works. The apartment block two floors above us decided that they wanted to sell immediately. They listed their apartment 3 days before the auction and offered an alarmingly low price to our interested buyers if they bought before our auction. Mandy managed to talk them out of buying and instead they came to our auction.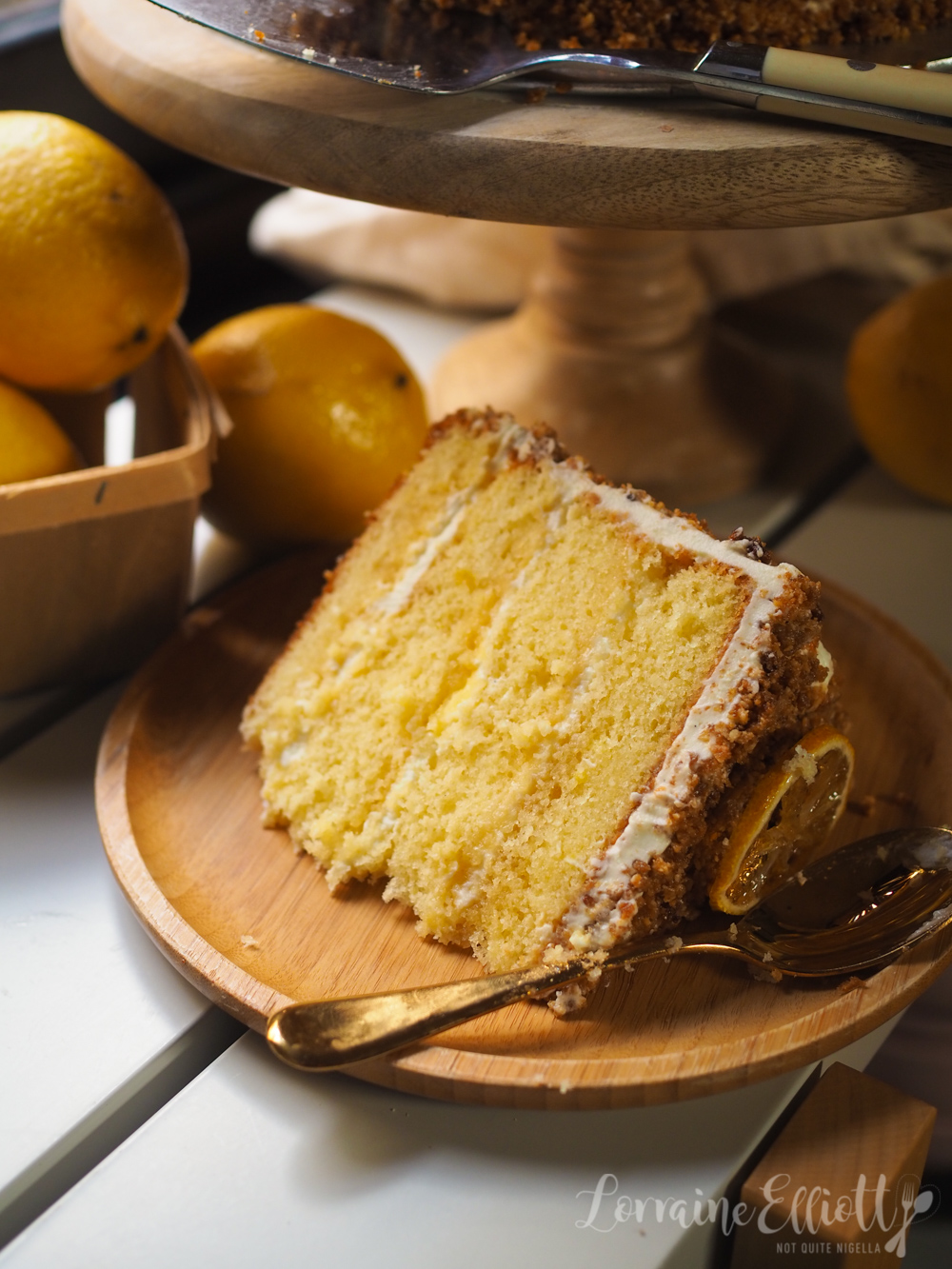 "I just want a sunny day," I said to Mr NQN. And luckily, on the day that we had it, it was one sunny day out of a string of gloomy, rainy weather. We had three registered bidders and around 30 people turned up for the auction including the low baller woman. We agreed on a reserve and we were off! The three vied against each other and it was a close race but eventually two fell away and we sold the apartment to a father who was buying the apartment for his daughter. It was on the lower end of what Mandy was promising and it was really such an opposite campaign of what my friend experienced but we were so happy that it sold to a really nice family. The girl that bought it said that she isn't much of a cook at all so the spice cupboards and pyrolytic oven may go unused but no doubt she will have wonderful memories there. And we can get on with renovating the kitchen here!
So tell me Dear Reader, have you ever tried a lemon crunch cake? Have you had any stressful times selling a house or did you have a dream campaign?
DID YOU MAKE THIS RECIPE? Share your creations by tagging @notquitenigella on Instagram with the hashtag #notquitenigella
Lemon Crunch Cake
Rated 5.0 out of 5 by 3 readers
An Original Recipe by Lorraine Elliott
Preparation time: minutes
Cooking time:
Serves: 8-10 people
Almond Toffee Crunch
75g/2.6ozs. flaked almonds
75g/2.6ozs. shortbread biscuits or Nilla wafers
100g/3.5ozs. brown sugar
60g/2.1ozs melted butter
For Lemon Curd
2 egg yolks
80g/2.8ozs. caster or superfine sugar
55g/2ozs. butter, cubed
100ml/3.5ozs lemon juice
For Candied Lemons & Syrup
1 small lemon
1 cup/220g/7.7ozs. caster or superfine sugar
1 cup/250ml/8.8flozs water
For Cake
360g/12.7ozs. cake flour*
4 teaspoons baking powder
Pinch of salt
250ml/8.8flozs buttermilk
1/4 cup lemon juice
2 teaspoons vanilla bean paste
Zest of 1 lemon, finely grated
215g/7.6ozs. butter, room temperature
150g/5ozs. caster or superfine sugar
4 eggs, room temperature
Cream Frosting
600ml/20flozs. cream
1/4 cup icing sugar, sifted
1 teaspoon vanilla bean paste
To make 1 cup of cake flour measure 1 cup of plain all purpose flour and replace 2 tablespoons of the flour with cornflour/fine cornstach. Whisk well.
Step 1 - For Lemon Cake line the base and sides of 2x20cm/8inch round tins and preheat oven to 160C/320F/ gas 3. Sift the flour, baking powder and salt in a large bowl and make a well in the centre and set aside. In a jug place the buttermilk, lemon juice and vanilla together and whisk.
Step 2a for a stand mixer - Beat the zest, butter and sugar until light and fluffy, around 5 minutes. Add the eggs one at a time and beat until well combined and you don't feel any grains of sugar in the mixture when you rub it between your fingers. Gradually add the egg mixture to the bowl of flour and alternate with the buttermilk mixture folding in well until there are no lumps.
Sugar and lemon zest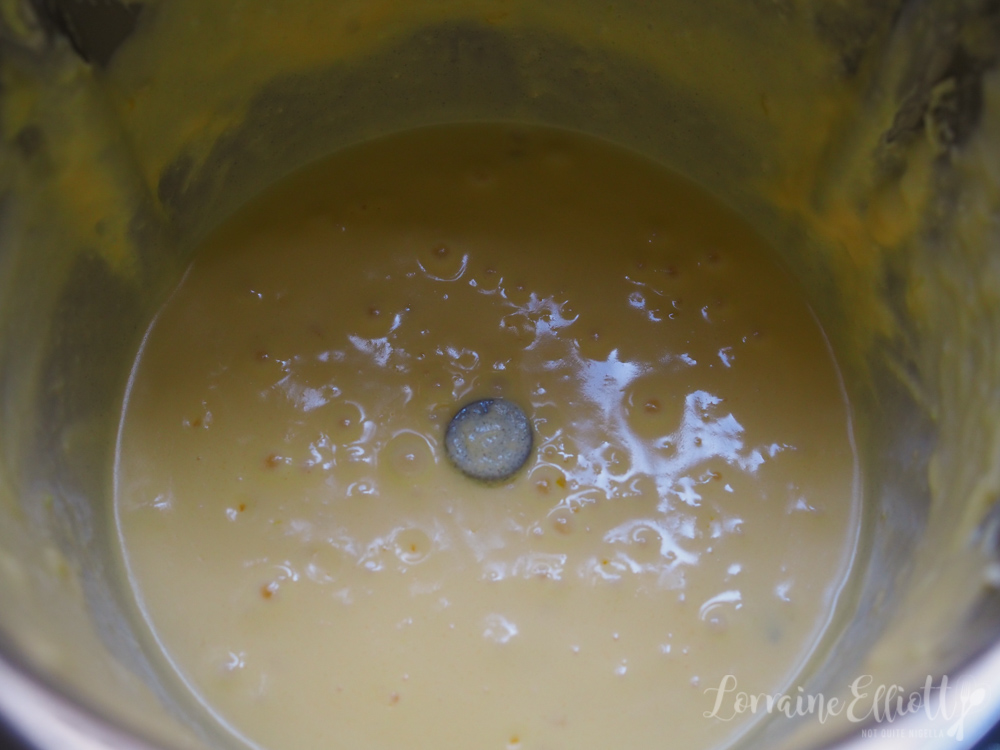 After adding eggs
Step 2b Thermomix directions - Peel the lemon zest and then place in the Thermomix bowl and set to 20 seconds on speed 10. Add the butter and sugar and set to 45 seconds speed 4. Scrape down the sides and set to another 45 seconds speed 4. Add all of the eggs and set to 30 seconds speed 4. Then add the flour mixture and buttermilk and set to 10 seconds speed 4.
Step 3 - Divide the mixture in two evenly, scooping it into the prepared tins. Bake for 40 minutes or until lightly golden on top and the centre is done (press a finger gently to the centre of the cake and it should bounce back). Cool in the tin.
Almond crunch before baking
Golden almond crunch after baking
Step 4 - To make the almond crunch (can be made up to a week ahead) blend the almonds, shortbread, sugar and butter together in a food processor and spread out and bake on a large parchment lined tray at 180C/350F for 10 minutes. Turn the mixture over to get an even browning and return to the oven for 5-8 minutes until the whole tray is toasted and crunchy. Cool completely and then break up into tiny pieces (place it in a ziplock wrapped in a tea towel and use a meat mallet or rolling pin to break it up).
Step 5 - To Make Lemon Curd (can be made up to a week ahead) place all of the ingredients (yolks, sugar, butter and lemon juice) in a large microwave proof bowl and heat on high power for 1 minute whisking between each minute. It will take around 4-5 minutes total and it will be ready when you whisk the mixture and bubbles form. Pass through a sieve and cool completely and place in a jar. It will thicken upon cooling. Store in the fridge.
Step 6 - To Make Candied Lemons & Syrup (can be made up to a week ahead) place a small pot with the sugar and water onto the boil and melt the sugar. Slice the lemon thinly and place in the sugar syrup and bring to a gentle simmer for 10 minutes or so until lemon slices have turned translucent and glassy. Drain the syrup and place in a jar and place the lemon slices on parchment in a container in the fridge.
Step 7 a for a stand mixer- To make the cream (make this just before assembling) place the mixer bowl in the fridge for 10 minutes beforehand. Using the whisk attachment whip the cream, sifted icing sugar and vanilla bean paste together until fluffy (do not overbeat).
Step 7 b for Thermomix To make the cream (make this just before assembling) place the Thermomix bowl in the fridge for 10 minutes beforehand. Add the icing sugar and set to 10 seconds speed 7. Then add the cream and vanilla bean paste and add the butterfly attachment. Set to 45 seconds speed 4.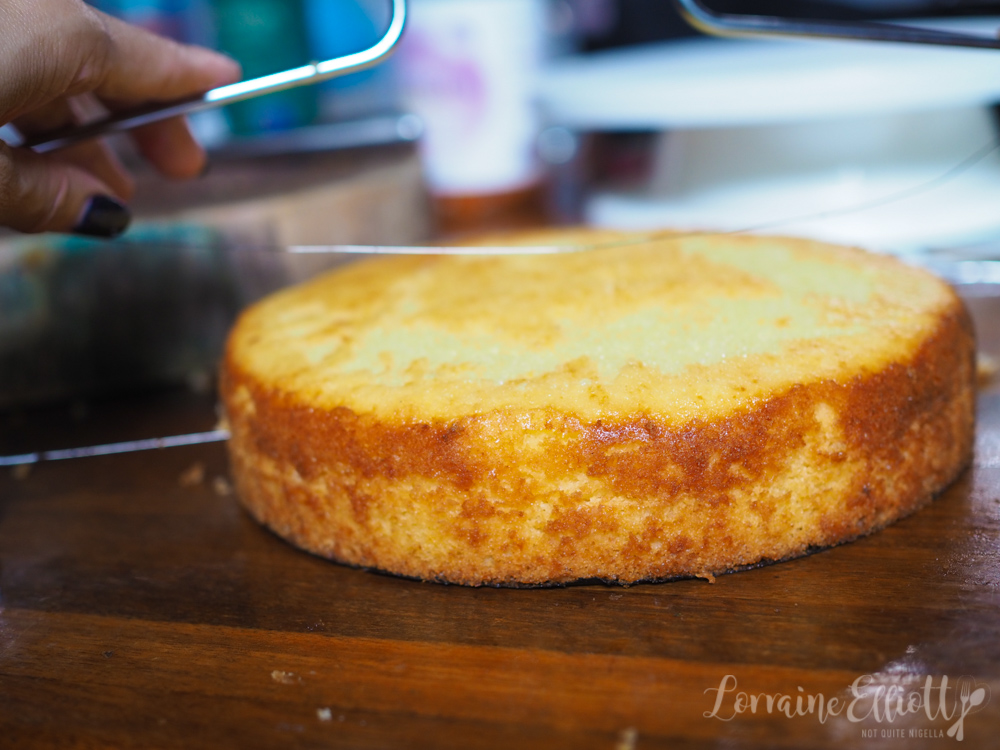 Step 8 - Slice each cake in half using a cake leveller. Place one slice onto a cake disc and brush with the syrup and then spread with the lemon zest. Spread with a thin layer of cream and then repeat using the remaining cake layers, syrup, lemon curd and cream.
Brush with lemon syrup
Then spreading with lemon curd
Then cream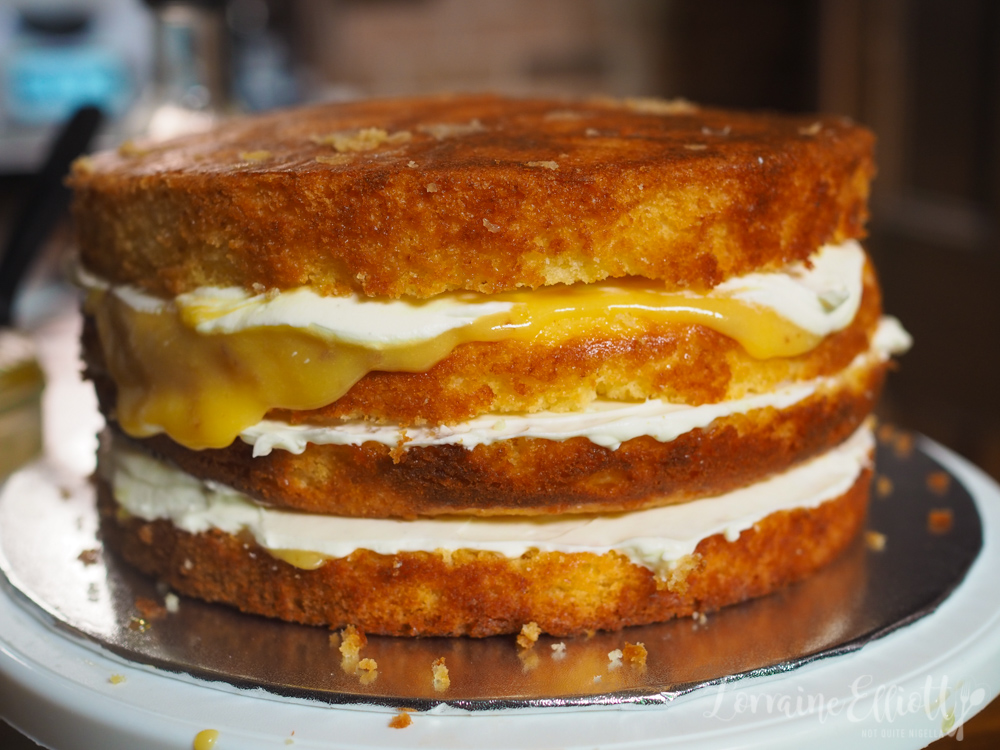 Step 9 - Spread whipped cream on the sides and top of the cake using a cake scraper to get the outside even and smooth (it doesn't have to be totally smooth). Add almond crunch onto the sides and top - I use a small spatula to scoop it up and run it upwards along the cake. Add candied lemon slices on top. Keep in the fridge.
Rough whipped cream finish
Dragging almond crunch up the sides with a spatula