Blackberry jammy sweetness and the tartness of lemons. This moist, soft lemon cake is brushed with lemon syrup before being sandwiched with blackberry buttercream and blackberry jam! I called her Theodora.
Nothing excites me more than really good produce, bestowed by nature, gifted by a friend. My friend Monica recently gave me some Meyer lemons from her tree. Home grown lemons are a treat-they're full of juice and seeds (for jam making) and Meyer lemons are a sweeter version with a strong aroma to them. Nothing like a lot of commercial lemons (which seem reluctant to give up their juice).
I decided to pair a moist layered lemon cake with blackberries. Not that they're in season but I liked the colour contrast and flavours between the two. I knew I had guests coming over and you know that always means cake.
I have a little update on the tiniest member of the household. Teddy Elliott is settling in nicely. Toilet training is an ongoing task with him as he learns and forgets but he is really trying his hardest to be good. He is a born comedian - cheeky and hilarious at the same time. He has taken a major liking to my fuzzy pink boots and at least once a day he will run into the bedroom to retrieve one of them to place in his bed. His talent is the ability to do things at lightning speed without anyone noticing. Basically my dog is a ninja.
Case in point. At 11pm one night he stole into the bedroom while I was in bed and took one of the boots. He hot pawed it out of there, past Mr NQN who was on his computer and lay it in his bed. I saw a flash of cream and I went to have a look and saw him innocently sitting with my boot. I retrieved it, went back to bed and turned out the light.
Two minutes later I heard a laugh from the other room. "Guess who went back for another pink boot?" said Mr NQN. Yup ballsy Teddy had somehow slipped through a small gap in the bedroom door and silently taken the boot again without me knowing.
Along with being adorable, he is quite exhausting too so things have fallen by the wayside. Housework, cleaning and cooking all take a bit more time as he needs attention. This cake that should have taken an afternoon took two. But would I have it any other way? No :)
So tell me Dear Reader, what is taking up most of your time lately? Have you ever tried Meyer lemons?
DID YOU MAKE THIS RECIPE? Share your creations by tagging @notquitenigella on Instagram with the hashtag #notquitenigella
Lemon Blackberry Cake
An Original Recipe by Lorraine Elliott
Preparation time: 75 minutes
Cooking time: 30 minutes
3 cups cake flour
1 teaspoon baking powder
1/2 teaspoon bicarb soda
Pinch salt
1 cup milk
2/3 cup Meyer lemon juice
113g butter
1/2 cup oil
1 cup caster or superfine sugar
Zest of 2 lemons
4 eggs, room temperature
Lemon syrup
1/2 cup lemon juice
1/2 cup sugar
Blackberry Buttercream
75g/2.7ozs. butter, at room temperature
2.5 cups icing or confectioners sugar, sifted
2 tablespoons milk
A few drops blackberry flavouring (I use LorAnn brand)
Purple food colouring
To assemble
150g/5ozs blackberry jam
1 punnet fresh blackberries
Step 1 - Preheat oven to 160C/320F and line 5 rectangular baking trays with parchment. Whisk the flour, baking powder, bicarb and salt together. Add the lemon juice to the milk. In an electric mixer beat butter, oil, sugar and zest together until pale and fluffy (around 3-4 minutes).
Step 2 - Add eggs one at a time beating well between additions. Then on the lowest speed or by hand, add in the flour mixture in two or three lots alternating with the milk mixture. Divide among the five tins and bake for 20 minutes or until the centre springs back when touched.
Step 3 - While it is baking, make the lemon syrup. Boil the lemon juice and sugar together until slightly reduced and syrupy (don't make too thick). Allow to cool.
Step 4 - Make the buttercream. Beat the butter until smooth and then add icing sugar and blackberry flavouring and purple colouring and beat until fluffy.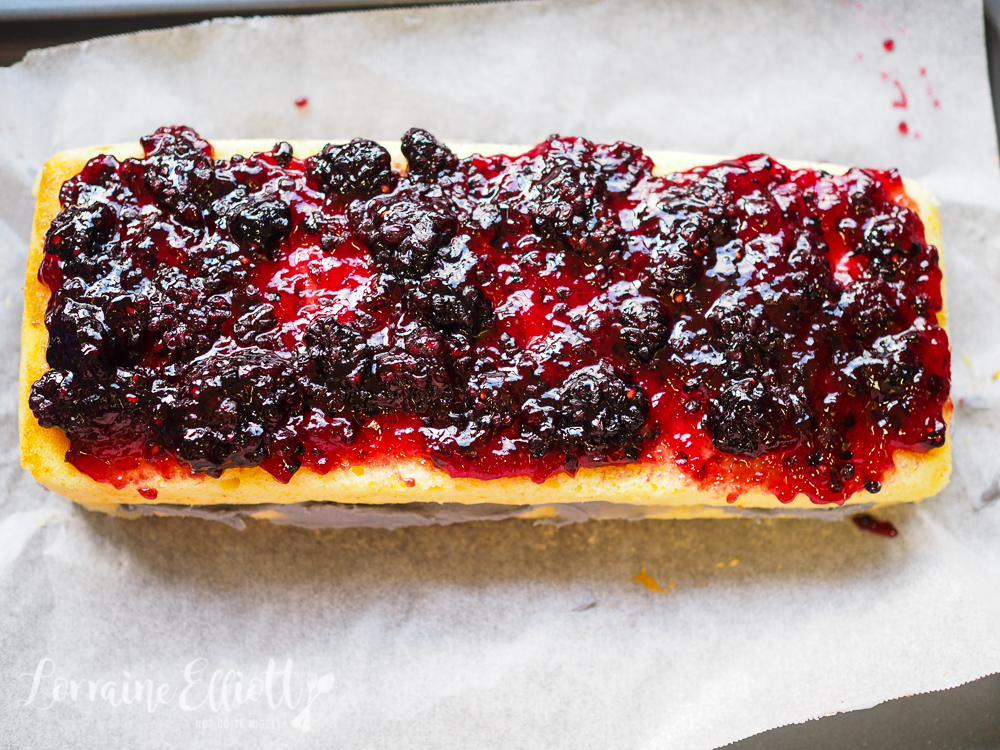 Step 5 - Place one cake layer on a plate and brush with syrup. Spread with buttercream and then place another layer on top and brush with syrup and then spread with blackberry jam. Repeat with buttercream and jam brushing syrup on each layer. You can trim the sides on this cake to make it neater (I freeze the cake for 1 hour just to firm it up before cutting). Top with fresh blackberries.