Corn is one of the most versatile vegetables. It can be used in savoury and sweet dishes in myriad ways. Here you'll learn the best ever way to cook corn as well as make a Mexican street corn salad, corn fritters, the best chicken and corn soup and sweetcorn ice cream!
Did you make this recipe?
Share your creations by tagging @notquitenigella on Instagram with the hashtag #notquitenigella
Once I discovered this way to cook corn I haven't cooked it any other way. Once you try it, you can see how Mother Nature designed the corn cob to be cooked this way too!
This Mexican street corn salad went crazy because you Dear Reader loved it so much that you shared it. It's that wonderful combination of cheese, lime, chilli and corn that makes you want to keep eating it! Oh and it takes 5 minutes to cook too!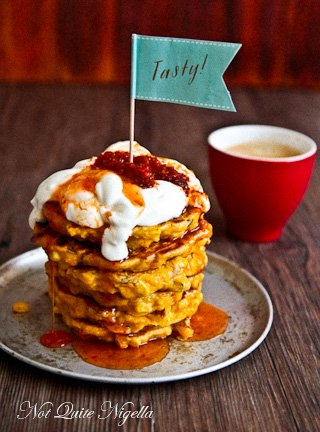 Have corn, think corn fritters! Why go out to a cafe when you can have a cafe breakfast at home in your pyjamas? These fritters are packed with delicious corn kernels and get a flavour dollop from sweet chilli and sour cream!
I know, I sound crazy but hear me out (and no this isn't an April Fools joke!). If you've ever visited Asia you'll know how popular sweetcorn ice cream is! Just try it at least once and I promise it won't be the last time.
I get so many messages about this soup especially when the weather turns cold. It really is the best chicken and corn soup out there. Not only that but it's easy too!
So tell me Dear Reader, how do you like to eat corn? How do you cook it?