Chicken adobo is one of the easiest and yet most delicious chicken dishes you can make. A Filipino dish with the simplest of ingredients that you probably have in your fridge, it comes together with little effort but maximum flavour. Don't you just love it when that happens?
There aren't that many Filipino restaurants in Sydney and so far I've only visited two although I'm not sure why there are so few when the food is so tasty. An adobo cooking style involves marinating beef, pork or chicken and then cooking the meat in the marinade.
I tried this adobo chicken at the Asylum Seekers Resource Centre. Readers may know that I volunteer there by making them lunch once a month. But at Christmas the staff and clients there delighted us by cooking dinner for us volunteers!
Every single dish had a description with what it was, the country that it came from and the client's name. Everything was absolutely delicious, without exception and they had some wonderful rice dishes, lamb kofta, curries, a gozleme station and a chicken adobo. I polished off every grain of rice on my plate which I don't usually do and then went back for seconds.
I spoke to the lady that made the adobo and asked her for a recipe. Like my mum she doesn't usually cook with measures so she gave me a rundown of the ingredients and her method and then suggested that with the other items we just adjust them to taste. It's fantastically easy the two flavourings are really just soy sauce and oyster sauce, two very easy to find ingredients and yet after it all comes together you can't help but feel a bit of pride about something tasty being so simple!
So tell me Dear Reader, have you ever tried Filipino food? How about an adobo?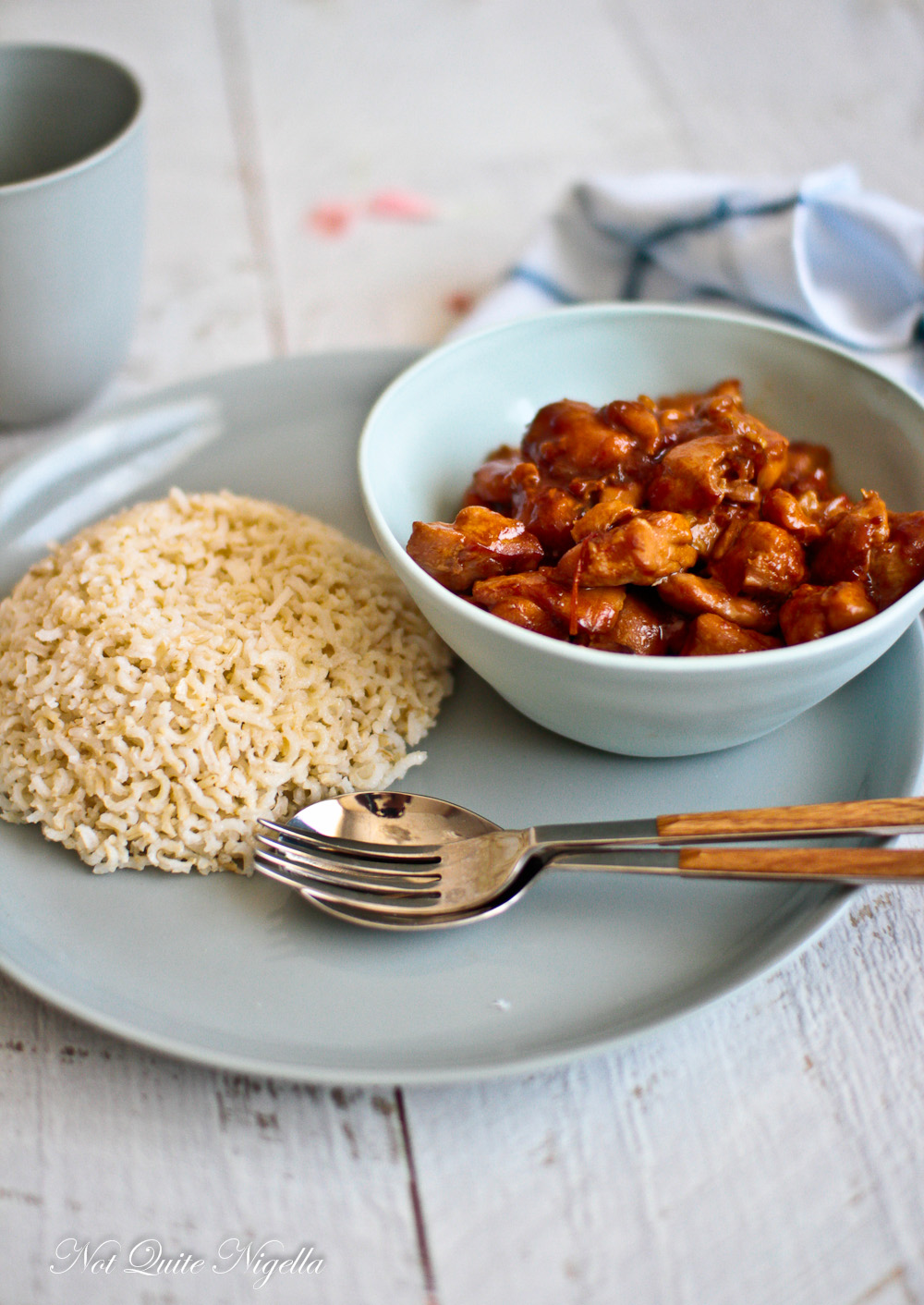 DID YOU MAKE THIS RECIPE? Share your creations by tagging @notquitenigella on Instagram with the hashtag #notquitenigella
Chicken Adobo
Serves 4-6 with rice
Preparation time: 10 minutes
Cooking time: 45 minutes
Oil for frying
2 onions, peeled and sliced
4 cloves garlic, peeled and smashed
2 large tomatoes, sliced
2kg/4.4lbs. skinless chicken thighs, cut into pieces (or you can keep them whole)
1/2 cup soy sauce
1/3 cup oyster sauce
1 tablespoon dark soya sauce (optional, for a darker colour)
2 teaspoons sugar
2 tablespoons white vinegar
Step 1 - Heat some oil in a large pot and then saute the onions and garlic on medium high heat for 3-4 minutes on medium high heat until fragrant. Add the tomatoes, chicken, soy sauce and oyster sauce.
Step 2 - Place lid on the pot and simmer on a low medium heat for 15 minutes, then remove the lid and stir and simmer for 30 minutes. Add sugar to taste and then spoon vinegar over the top but do not stir. Serve with boiled rice.