Pistou is a rustic French-ish deli and restaurant that serves cheese, charcuterie as well as a small but tasty menu of food and a list of wine and cocktails. This casual French bistro focuses on Provençal style food at reasonable prices and is located at the South end of King Street. So what is the food like?
It was belated birthday dinner for me and Queen Viv. I left it up to Queen Viv to suggest where to go and she suggested Pistou for our dinner as she had dined there a few weeks prior. Pistou is named after pistou, a Provençal sauce made from garlic, basil and olive oil. It is a cousin of pesto although Pistou is typically not made with nuts.
Pistou restaurant is located on the South end of King street and space is welcoming and service friendly with rosy walls, hanging herbs and chillis and marble tables and a wall of wines along the back. We take a seat at a small table for four, balance our drinks on the bench behind us and survey the food and wine menu.
The wine list has around half Australian and half French wines with a focus on minimal intervention wines. Queen Viv and Miss America always go for sparkling wine and I feel like a Kir Provencal, a version of Kir Royale made with Prosecco instead of champagne, Rinquinquin and a raspberry. I love the use of Rinquinquin which is a peach liqueur for a change from creme de Cassis or Chambord.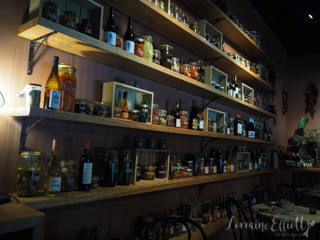 They suggest the Feed Me menu but Queen Viv isn't a big eater so we go a la carte. Whilst the essence is French (the owner Jules Bouillon is from Provence) there are Spanish and Italian influences on the menu too.
We start with the pickled eggplant, a whole eggplant baked until soft and served on a bed of ricotta and toasted cashews and hazelnuts. We love the piquancy and creamy texture of the eggplant that goes well with the creamy ricotta while the crunchy nuts add a moreish texture to each bite. I scoop some of it up on a piece of bread and it's soft enough that it's like a dip.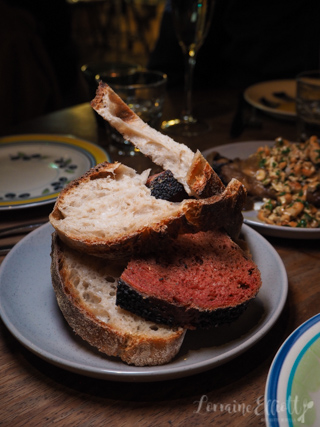 Another favourite dish is the mushroom ravioli. Luckily for us there are four fat parcels of ravioli stuffed with wild mushrooms and drizzled with truffle oil and hazelnuts. This is a dish that is all about winter flavours and aromas.
Make sure to save some bread for the mussels. They have a wonderful garlic, onion, wine and tomato based broth given intesity from the Mallorquina chorizo. Mallorquina is a soft, spicy, smoky spreadable salami that injects the sauce with a lovely depth of smokiness.
All of the dishes were staggered as the waiter suggested as we are sharing and the last one to come out is the duck breast with pickled green grapes, a rich jus and celeriac puree. I do like this dish, especially the celeriac and jus although I think I prefer the other dishes just that little bit more.
While the dishes are well sized they're not enormous which leaves room for dessert. Miss America ordered this as soon as he heard it read out but when they set it down he looks puzzled. "This isn't what I thought it would look like," he says as he was expecting a tart. It's cherry sauce, crumbled ginger biscuits and dabs of mascarpone and nuts. It's actually delicious and well balanced and as someone that loves crunchy textures I really enjoy this.
Ok I'm going to admit something now. I'm not a huge profiteroles person because often they're not freshly filled and the choux becomes soft and wet. It happens. But these chouquettes appear to be freshly filled with creamy mascarpone and smothered with a rich dark chocolate sauce and lots of toasted hazelnuts. When they set this down Queen Viv purrs, "It's glistening. It is positively pornographic with those nuts." We enjoy every bite of these and spoons scrape the plate of the last bits of chocolate sauce and nuts.
So tell me Dear Reader, have you eaten much Provencal food? Are you a fan of profiteroles?
This meal was independently paid for.
Pistou
601 King Street, Newtown, NSW
Tel: 0404463221
Wed-Thu 5pm-late
Friday 12pm - late
Saturday: 11am till late + counter till sold out
www.pistou.com.au