Metisse is a luxury French degustation restaurant from chef Opel Khan. It's a restaurant that sees him cook with his sous chef daughter Lucinda. On offer is a 6 course degustation with a premium or classic wine match or non alcoholic drink pairing. So what is this luxe degustation like?
The restaurant's name Metisse is a reference to Chef Opel Khan's family and means 'Mixed Race' in French. He explains, "I am Bangladeshi Australian, my wife is Australian so our daughters are metisse." At Metisse he shares a kitchen alongside his daughter Lucinda. "Lucinda is a mini-me and working together with Lucinda and Jasmine my other daughter who runs Acqua e Farina as manager is the best thing to happen in my last 30 years of cooking and running restaurants," says Opel.
Metisse sits where Gastro Park was for many years. There is one menu available - their luxury degustation with 6 courses filled with ingredients like lobster, caviar and beef for $300 per person. I arrive and the gentleman at the door presses a button to let me in and greets me by name. It's quiet this Thursday night and there's one other table. The young, French white gloved staff are solicitous and deferential.
The room is sexy and decked out in blacks and was designed by Opel himself. An enormous pearlesecent chandelier hangs down above and I slide into one of their two booths. Glass cloches cover flower arrangements. Chef Opel has had a long career spanning across three decades working in hospitality. He moved to Sydney from Bangladesh in 1988 as a business migrant with his family and by the age of 21 he was the owner of 6 restaurants in Sydney.
With the food there are a couple of options for wine-a classic wine pairing is $150 pp while a premium wine pairing is $300pp and you can also get a non alcoholic drink pairing. Plant based eaters also have their own menu at $175 per person.
They bring out a little stand and ceremoniously place the menu on there which is a touch I absolutely love because I always like referring back to the menu. They bring out a bowl of rose petal scented water. This is to wash our hands because we are eating the amuse bouches with our hands. "Should I tell them how tasty it was?" says impish Mr NQN.
Left to right: Mademoiselle Fizz $25 Spiky Flower $15
My choice is from the non alcoholic pairing menu and you can order any of these drinks separately. The Spiky Flower has lychee puree, elderflower and lemon. Elderflower and lychee are a lovely match and the sweet fruit is tempered by the light sourness of the lemon. Mr NQN enjoys his Mademoiselle Fizz with Gin, rose, lychee, vanilla, lime, elderflower and tonic.
Caviar, White truffle custard
The amuse bouches comes in four parts with a surprise additional amuse bouche. First I start with the ceramic oyster shell and matching spoon with a scoop of white truffle custard topped with Beluga caviar from Iran. It's an exquisite bite, creamy and aromatic with pops from the caviar.
Lobster, avocado snow
Mr NQN isn't one for really expressing himself but when he finishes the lobster amuse bouche he says quietly, "Very nice" which is his version of fireworks. The lobster is served with cucumber and avocado snow. It's perfectly portioned to eat in two spoonfuls and is fresh, creamy and delicious with perfectly cooked tender lobster and delicately icy snow.
Tomato marshmallow
There's an extra amuse bouche in the form of a tomato marshmallow served on a white, ceramic tower. It melts in the mouth, the tomato giving it a subtle tanginess.
Pea macaron, toasted coconut
The pea macaron is more meringue in texture with a soft beetroot mousse filling. The mousse melts in the mouth while the meringue has a chalky texture lingering and sticky on the palate.
Palate Cleanser
They bring out a teapot and pour some delicious herbal chicken bone broth that resets the palate.
Mosaïque
The Mosaïque is a stunning dish. Made with raw bluefin tuna, ocean trout and kingfish with charred vegetables in between each fish it is finished with large flakes of smoked salt and a beurre noisette spooned over the square at the table that gives it a glistening sheen. This is beautiful both to look at and to eat but best if you get some salt in each bite to season every mouthful. How this stunning visual effect is created is a trade secret for them.
Fruits de Mer
The next course is described as their version of a seafood platter. It featured a grilled Yamba prawn, octopus carpaccio, salmon confit fillet and a grilled sea scallop with lobster cappuccino. Each is perfectly cooked and sized for a few mouthfuls and I particularly like the sweet scallop with lobster cappuccino and caviar.
Canard
We are now seguing into the hot courses. The duck breast is air dried for 48 hours so that the skin is crispy and luscious. It is served with a duck leg confit pithivier and a disc of orange tangerine reduction to balance the rich duck. I love the duck as is, savouring the unctuousness of the skin.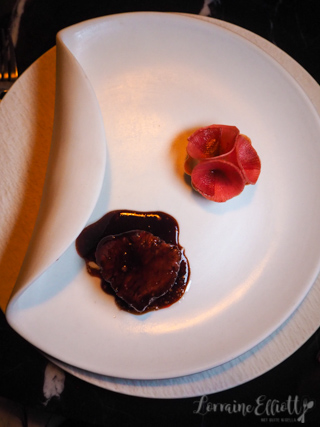 Bœuf
Our last savoury dish is the Wagyu beef score 6+ fillet with a salt crusted celeriac tart with fermented radish. The beef is so tender with a rich, intense sauce and is paired with paper thin tart case filled with silky celeriac purée and radish flowers that counters the intense richness of the beef.
Pre Dessert
The pre-dessert is a bowl of Greek yogurt foam with cucumber granita that is light and refreshing. Mr NQN would like this for breakfast every morning although I give him zero chance of getting this.
Dessert
Dessert comes in the form or a chocolate ganache cake paired with cardamom ice cream and a crunchy chocolate browned butter honeycomb patterned crisp with edible gold powder on top. This dessert is rich but beautifully aromatic from the cardamom and the hazelnutty aroma of the beurre noisette. I particularly love the crisp.
Petit Four
The petit four comes out with Mariage Freres tea. It's a very tangy passion fruit jelly chocolate pearls on top for a little crunch.
The meal is stunning and polished but when I look around the quiet room and see it empty I'm filled with a tinge of sadness. Without an a la carte option a degustation can be a hard sell on a cost of living strapped city like Sydney and an area like Potts Point where neighbourhood gems rule.
So tell me Dear Reader, what do you think of degustations? Have you reigned in spending lately?
NQN and Mr NQN were guests of Metisse but all opinions remain her own.
Metisse
5-9 Roslyn Street Potts Point, NSW 2011
Tuesday to Sunday 5:30 pm to late
Ph : 02 8590 7698
https://www.metisse.com.au/