On a cold July weekend we go on a pilgrimage to one of our favouite winter destinations: the Blue Mountains. We go to the very place where decades ago Christmas in July started, stay at the newest Blue Mountains hotel, enjoy Christmas dinners and go on a scenic new ride that has to be seen to be believed!
"It looks like summer out there," I say to Mr NQN as we are driving to the Blue Mountains. The weather gods have blessed us with a clear sunny day, a serendipitous treat considering the rainy weather of late and while it looks sunny outside, the weather is actually a chilly 2°C/35.6°F. Perfect for a visit to the Blue Mountains.
It's lunchtime by the time we reach the Kyah Hotel in Blackheath. What was previously Redleaf Resort, a 1970's motel, has become very popular with visitors to the mountains and in particular families as weekends are booked months ahead. The 46 rooms have been revamped with pastel pink and green shades and large potted cacti are a feature giving it a Palm Springs meets the mountains vibe.
We pull into the car park and Teddy Elliott pops his head up from the back seat as a cavoodle runs past the car straining at the lead and dragging his pint sized owners along with puppy determination and energy. Teddy is coming along this weekend as the Kyah Hotel is also dog friendly.
We arrive just in time for lunch, Christmas lunch that is, and Laura pulls up beside us a few minutes later to join us on this weekend. Lunch is at Blaq, Kyah's restaurant and every Saturday in July they have a two course Christmas lunch along with a glass of mulled wine or sparkling wine for $85 per person. We opt for the mulled wine, a delicious way to warm up. We pull the crackers on the table, don our paper crowns and listen to the Christmas music while eating the Turducken. It's not a traditional turducken with a turkey stuffed with a duck and chicken. The meat has been removed and chopped and then rolled into a roulade with crispy skin on the outside. The vegetables come from the hotel's gardens and there are parsnips and Jerusalem artichokes and a fantastic pudgy little Yorkshire pudding too.
Dessert is Christmas pudding served warm with custard. On the side is a delicious Baileys and raisin ice cream. Alas Blaq isn't dog friendly so furry friends will either have to be left in the room or you can brave the elements and eat at one of the outdoor tables.
We check into our rooms after lunch. Check in is at 3pm and there is a cute little cart in the lobby with goodies available for purchase but the lobby doesn't have an area for people to sit down and wait for other at (that's the Blaq bar and restaurant). There is still some construction taking place as they gradually open up different sections of the hotel. The General Manager is Blue Mountains bred Mate Herceg who is also the chef at the restaurant. He was formerly the executive chef at The Hydro Majestic Hotel.
My room #118 is in the front wing with the three wings Wimlahm, Meehni and Gunnedoo named after The Three Sisters. The key code access takes a little getting used to but it's handy as no key is needed. The room's colours are contemporary and echo the on trend vibe of the rest of the hotel with pastel pinks and greens and arches in the design. The rooms sizes are decently sized (considering its motel origins) with wide, large windows and blockout curtains.
The king bed is fairly comfortable although the pillows are quite firm and large. The room is simply furnished with one chair, a bar fridge, no desk and not a lot of storage so it is best for 1 or 2 nights stay. The mini bar is full of interesting offerings from their bar and local businesses. To keep you warm (or cool) there is a split system air conditioner in every room (tip: bring slippers if you get cold feet as the parquetry floors can be chilly).
I did find the bathroom to be a bit of a challenge - whilst they had delicious smelling products (I bought some before I left they smelled so lovely), a good shower head and towels the bathroom can be very cold in winter without any form of heating or indeed an extraction fan to keep condensation at bay. Also the taps were very reactive and went from hot to cold very quickly. Both the bathroom and the room itself can be a bit dark.
There is fast and free wifi available and free parking within the hotel grounds and the tv has Netflix and Stan (you will need your own account). USB charging points are located at handy spots near the bed and the fridge. The extra $50 for the dog or cat friendly room is more a cleaning fee and you get the use of two bowls for the dog or cat. There is one quirk about the Kyah and that is that the rooms are not automatically serviced. To have your room cleaned you need to place a door hang on the outside of your door when you leave or your room won't be serviced. Unfortunately neither Laura or I are the type to read the information sheets so we missed this.
That afternoon we head off to Leura to do a bit of shopping before our big adventure that afternoon: Scenic World's Beyond Skyway. At 5.15pm once all of the visitors have left Scenic World, Beyond Skyway guests arrive, get harnessed up and start their own cable car adventure. Once the cable car stops at around 270 metres above the Jamison valley you climb up onto the roof of the car. From there you can enjoy 360 degree views of the Blue Mountains including the Three Sisters and Orphan Rock that are illuminated below.
This experience is for a maximum of 4 people and was designed by Scenic World's owner and engineer Anthea Hammon who has dreamed of creating this ride for years. As someone with a morbid fear of heights I wasn't sure if I would just pop my head up and then retreat back down to the relative safety of the cable car but the staff are patient and reassuring and you don't have to do anything you aren't comfortable doing.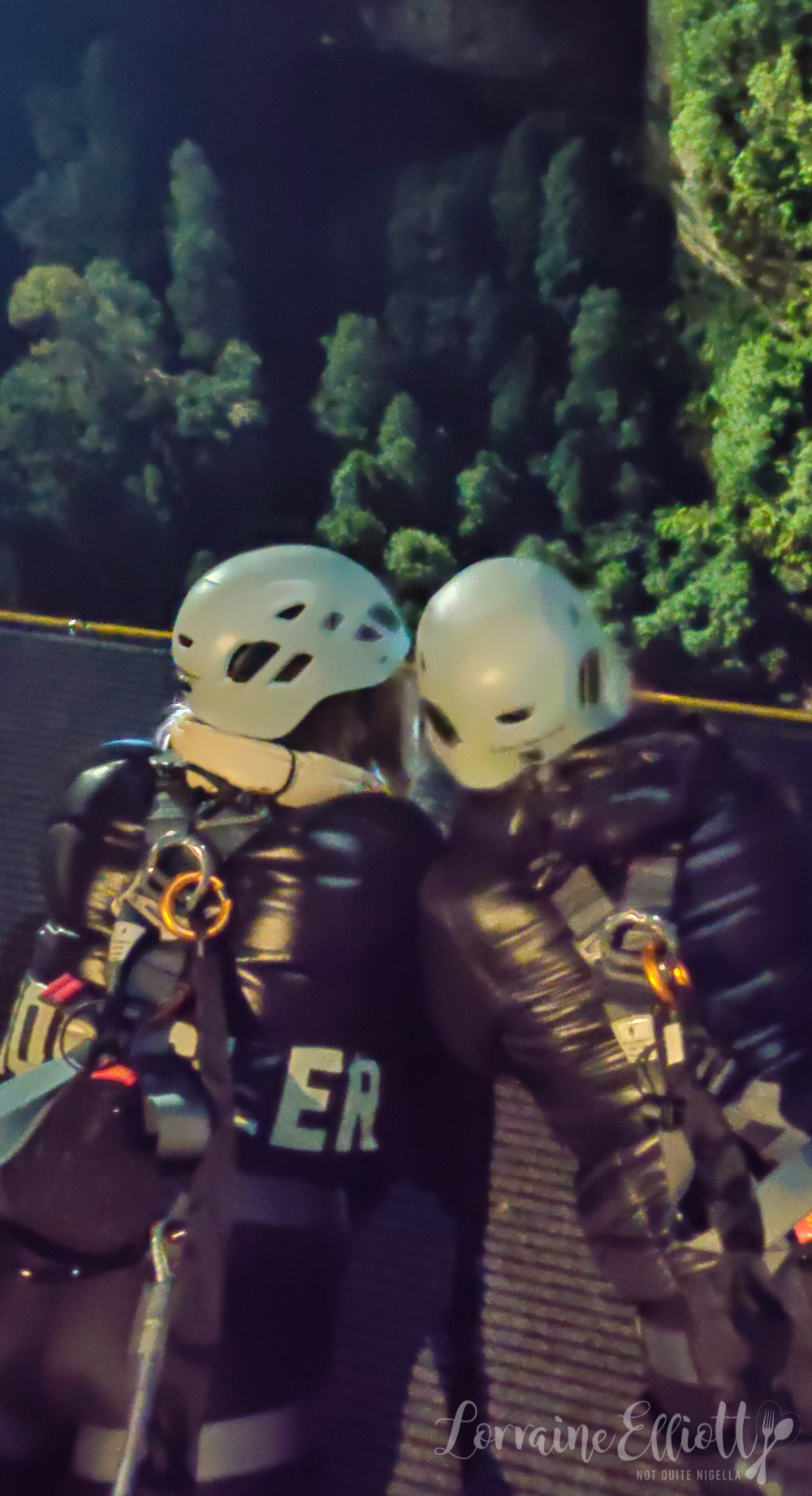 Before going out we watch a safety video and then staff help you get harnessed up. We are given warm gloves and heat packs and our phones are secured in a pouch on a lanyard. Our guide Byron will also take plenty of photos. We are also firmly tethered to the cable car itself so that we cannot go far and certainly not over the edge. Mr NQN goes up the ladder first followed by Laura and then me. I've never climbed a tall ladder before so the first few minutes are spent not even looking out but sitting down on a bench up there clutching the railings and getting used to it all.
Sky high selfies
Perhaps sensing nerves and hoping to distract us, Byron offers us hot chocolates. Soon after I unfurl my fingers and let go of the railings and slowly venture out towards the edge. We couldn't imagine a better night for it as there is very little wind and it's crystal clear. Laura and I take lots of pictures up there while Mr NQN stays put in the centre of the cable car unwilling to go towards the edge. Before long our 30 minutes is up and we are headed back down the ladder. Byron pops open a bottle of Mumm champagne and we toast to an incredible experience.
We bid Mr NQN godbye as he heads back to the hotel to have dinner and look after Teddy. Laura and I head towards Mountain Heritage Hotel in Katoomba. The Mountain Heritage hotel looks lifted straight from Europe. It is here that in the 1980's the then owner Garry Crockett first started the Christmas in July tradition in the Blue Mountains. A group of homesick Irish travellers came to stay and wanted a Christmas dinner which he obliged with and for the past 42 years the hotel has celebrated Christmas in July.
Each Friday and Saturday night in July the hotel serves a Yulefest 5 course Christmas dinner available at the Jamison Views restaurant. It's $145 a person and has to be pre-booked and paid ahead of time. It's fairly busy tonight although it is a large room and there are still plenty of tables free. We are given a rather odd table behind the violinist and harpist which seems strange given that there are plenty of empty tables by the window. Service from the waitstaff is lovely and friendly.
We start with an amuse bouche of stracciatella cheese with rosemary, cucumber pickles and dill and then segue onto the courses. You do have to allow time for these as there can be sizeable gaps between courses so you are best to settle in for a few hours. We pull the Christmas crackers and put on the paper hats and in between courses Laura does the jigsaw puzzle from one of the crackers.
Food-wise some courses work really well like the lamb cutlet with soubise and onions which is lip lickingly good while other courses like the dessert are a bit unusual like the dollop of meringue and a small segment of plum poached in botrytis. A lot of the courses do need quite a bit of seasoning added to them.
Planning your next trip? Ensure you have the right coverage with HeyMondo travel insurance that includes COVID-19 protection. Plus, if you use our link, you'll receive 5% off the price. Find the best deals on flights from all airlines in various currencies with SkyScanner and set up alerts to get notified when prices drop. For reliable transportation options, look no further than 12Go Asia, offering train, bus, ferry, and flight transfers worldwide. Book your transportation now and enjoy a stress-free journey.
When you purchase through these links I will get a small commission at no cost to you. Thank you for supporting me! :)
That doesn't stop us from having a great time especially with the musicians playing Christmas music. After dinner Laura and I go back to the hotel and open up our Christmas presents that we bought for each other.
The next morning we go for breakfast at Blaq. There is a continental buffet included in the room rate that has a good amount of offerings from toasted granola, yogurt, fruit, ham, salami and dukkah rolled cream cheese as well as dips, pastries and bread. Coffee, tea and items from their a la carte menu are extra.
The rainy Sunday means one plan and one plan only: a massage followed by afternoon tea at Lilianfels in Katoomba. When we arrive it is drizzling and I make my way downstairs to the health retreat past the indoor pool and change into one of the robes provided and sip lemongrass tea in the rainforest themed waiting room.
My masseuse Earl administers an aroma massage with beautifully scented oils unknotting all of the stress on my neck, back and hands with firm pressure. By the time he is finished I am jelly and slowly make my way upstairs for afternoon tea in the lobby lounge with Laura.
The lobby lounge is the place for some of my favourite memories travelling to the Blue Mountains and I've had afternoon tea here more times than I can count (and even with the Elliotts). Today we take a seat by the window with the garden outside and start with glasses of champagne. I select a Lady Grey tea while Laura has English Breakfast and they serve La Maison Du The loose leaf tea. Nothing feels better than sinking back in a high back chair with a cup of tea on a rainy day. Especially when accompanied by afternoon tea.
The sandwiches are plentiful and varied. The egg salad is a triple decker sandwich on soft bread while the poached chicken and spinach is in a wrap. The salmon comes out as a roulade and there's also a hummus tart topped with capsicum. There's also a crunchy freshly fried calamari ring with sweet chilli sauce which is a nice hot choice. The chicken is the clear favourite for both of us but we enjoy all of the savouries. As for the scones, they're enormous and come as plain or fruited with some delectably good double cream and house made berry jam. I pile so much jam and cream on top that I can barely see the scone.
Sweets-wise we nibble on the custard filled choux, caramel and macadamia slice, mango pudding with raspberries, madeleines and yuzu meringue tart. Before we know it we've spent four hours whiling away the time here and are reluctant to leave but make time for a bit of antiquing in mist filled Katoomba before heading back to the hotel to relax and have dinner.
That evening we are dining at Blaq at the Kyah. Mr NQN and I had previously eaten at Blaq and my favourite picks were the raw platter, fish, steak, lamb and polenta chips. This time as it's just Laura and I as Mr NQN had to head back to Sydney Sunday afternoon to make it back for work Monday morning, we try different dishes as Laura doesn't eat red meat.
Mountain Mary and Kyah Colada $18 each
The cocktails at Kyah are as always fantastic from the "Mountain Mary" with double shot Karu Chipotle Vodka, smoked tomato juice, Worcestershire, celery, olive, pickle to the "Kyah Colada" with Mac by Brookies, spiced rum, pineapple juice, macadamia milk, head of coconut foam, lime and dehydrated pineapple.
Roasted Szechuan eggplant, freekeh, smoked almonds, labneh $21
Unfortunately the raw platter is sold out so we ordered the Szechuan eggplant that comes as three slender halves of Japanese eggplant with dabs of labneh, crunchy smoked almonds and freekah. This is absolutely delicious with a variety of textures and flavours and I could happily have eaten this all to myself.
NSW line-caught kingfish ceviche tostada, avocado, jalapeño, lime, white corn tortilla $26
The kingfish is tangy and fresh with salmon roe and avocado slices on top and there is also a whole corn tortilla that you break up and top with the kingfish and avocado. The tostada is very tasty although it is a bit on the small side and best for one person.
Miso and mushroom broth, broad beans, buckwheat noodles, organic tofu, local mushrooms $29
We both really enjoy the miso and mushroom broth that is very rich in flavour. The soba noodles are a bit soft so I'd recommend getting those separately and dipping them into the soup Japanese-style. The slices of organic tofu and local mushrooms add texture and goodness to this nourishing soup. And with some sweets from afternoon tea in our fridge and some snacks that we bought, we make our way back to our rooms for a late night dessert and snack party!
So tell me Dear Reader, would you do Beyond Skyway? Do you like the idea of cold weather Christmases?
NQN was a guest of the Kyah, Scenic World and Lilianfels spa. All other experience and meals were independently paid for.
Kyah Hotel and Blaq
13-17 Brightlands Ave, Blackheath NSW 2785
Phone: (02) 4787 8108
https://www.thekyah.com.au/
Beyond Skyway and Scenic World
Corner Violet Street & Cliff Drive, Katoomba NSW Australia
https://scenicworld.com.au/
Lilianfels
5/19 Lilianfels Ave, Katoomba NSW 2780
Phone: (02) 4780 1200
https://www.lilianfels.com.au/