Hello Kitty Town has arrived at Sydney's Darling Square! From now until the 29th of April, 2022 Darling Square in Haymarket plays host to a world of Hello Kitty. There's an art installation, a giant inflatable Hello Kitty as well as shops and restaurants selling Hello Kitty themed food. So what is it like and is it worth going along? Come and take a look at Hello Kitty Town!
It's a steamy, sticky Friday night and Laura and I are headed to check out Hello Kitty Town. We were very intrigued by it as I didn't know anyone that had been and not a lot of people seemed to know about it so we had to have a look for ourselves. The first thing that tells us that we aren't in Kansas anymore is the giant inflatable Hello Kitty. Everyone is busy taking selfies near Kitty although you have to remain a certain distance away from her. Next to Kitty is a small art installation of less than a dozen artists' Hello Kitty posters near it. The main Hello Kitty business is really with the food options and some of the restaurants and takeaway businesses have anything from a single Hello Kitty item to an entire menu devoted to Hello Kitty.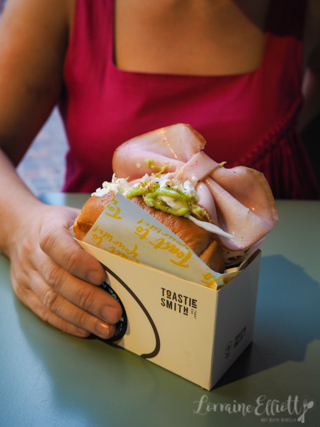 Our first stop is at Toastie Smith for a little pre-dinner toasted sandwich (because that's how we roll). A couple of weeks before we went Laura had sent me screenshots of all the food that she wanted to try and her top item was Toastie Smith's Hello Kitty smile sandwich with an adorable pink bow made out of sliced ham on top. For the sandwich there's a choice of filling from bacon, wagyu beef, chicken, kimchi pork on garlic toast with cheese, slaw and avocado. We choose the chicken and they make it fresh and although the poster price says "From $6.50" it's actually $13.95. When they bring it out it looks sort of like the picture but the bow is a bit askew. The girl behind the counter sees our furrowed brows and offers to fix it for us and it comes back looking perfect. It's very tasty-soft with a chicken fillet filling with plenty of sauce, filling and soft bread.
We head towards a Auvers Cafe for our main meal as they have a whole Hello Kitty menu. "OK just letting you know, the wait might be about 40 minutes," says the guy taking names for tables. I swear he is channeling Mean Girls and if he had long hair to flip he would. "Okaaay dude, settle down," I mutter under my breath. "And like we can't see that the restaurant is mostly empty!" whispers Laura eyeing off all the empty tables. So off we go to buy a drink from Bubble Nini. There are two drinks here, a strawberry one and a matcha one and as I'm a bit of a strawberry freak we opt for the pink Hello Kitty Strawberry Yoghurt Crush which is layers of strawberry and natural yogurt. It's cute, not overly sweet and perfectly refreshing although quite a meal in itself.
It turns out five minutes after we put our name down at Auvers they call us to let us know that our table is ready. Not exactly 40 minutes but it's nice to sit down as we've been on the move all day. At Auvers there's an entire menu devoted to Kitty, the cat that is really a little girl. Most of it is sweet, there are five sweet options and one savoury and since we are visiting at dinner time we choose the burger plus a few sweets.
There are two mocktails available and we liked the look of the Kitty Paradise made with fresh raspberries, grenadine, pineapple juice with pink ribbon and marshmallow (there's also supposed to be a red sugar rim). It's sweet, very sweet and probably too sweet for both of us but as we hate anything going to waste, we pack it up for Mr NQN who is at home who drinks it in about 12 seconds.
The Gudetama or Lazy Egg burger doesn't really have an egg on the burger (apart from the salted egg mayonnaise). The top is actually made of a cheese sauce with a Gudetama face drawn on it. Underneath the cheese blanketed milk bun there's chicken katsu fillet with lettuce, tomato, salted egg mayonnaise and chips. The chips are amazing and very moreish. I think they're just regular fries but double fried so that they're super crispy. While you can't exactly pick up the burger because of the cheese on top you can eat it with a knife and fork. I find it a bit too intensely cheesy which is saying something because cheese is one of my favourite foods. I prefer the chips dipped in the cheese sauce and the topless burger. The chicken katsu fillet is excellent - moist and crunchy.
The Kitty Pancake is for strawberry freaks like me. It's three strawberry souffle style pancakes, lychee mascarpone, strawberry sugar crisp, meringue and a pink mochi ice cream in the centre on top. It's very sweet but quite addictive. The soufflé pancakes are a bit firmer than they look but it's pure strawberry heaven. They're also quite substantial so I'd recommend sharing this among 2 or 3 unless you are really, really famished.
The cheesecake is a small, single serve baked New York cheesecake with an almond biscuit crust and vanilla chantilly cream, edible glitter and Kitty's face printed on fondant on top. The cheesecake part is nice but the crust is way too thick, around the same thickness as the cheesecake so we end up leaving most of that behind (and we notice tables around us do the same).
The night is getting late but we head towards Robo restaurant which is located at the southern-most end of Darling Square. I was expecting Robots because of the name but it's basically a tap screen self ordering menu like the type you'd find at McDonalds. They seem to be doing a fast trade fulfilling uber eats orders and it takes some time to make our Hello Kitty bao fresh. You can have either a pork or beef filling and I go for the pork. Laura and I both wondered whether our Kitty would indeed look like a Kitty because from some of the pics on Instagram, some looked great while others looked a bit odd.
I open up the box, "Ooh it's a pretty kitty!" I exclaim. She looks picture perfect and is filled with a slice of pork belly, shallots and hoi sin sauce. Kitty is also not that large for $11.80. The pork belly inside is a bit more firm than I would like. Usually pork baos are so moreish because the pork belly melts in tune with the soft bao.
"Should we try that pink cheese creation?" says Laura and I nod yes because we never say no to chicken wings. We head over to Steam Mill Lane to Wing Boy to try some pink cheese sauce chicken wings. Steam Mill Lane is buzzing and we grab an outdoor table at Wing Boy and order our wings. Service is really lovely and helpful and we order the wings and a drink. What appeared as calamine pink cheese sauce on their Instagram comes out as hot pink cheese sauce. The wings are dusted with a dry seasoning and then come with a tub of hot pink cheese sauce. They're not bad but maybe it's because we're too full and out of practice with food adventures but after one we pack it up to take home to Mr NQN, the food repository.
We take the cue to leave when it starts raining out the Hello Kitty festival because cats of course don't like getting wet.
So tell me Dear Reader, would you enjoy a Hello Kitty festival like this? Which dish did you like the look of best?
All food was independently paid for.
Hello Kitty World
darlingsq.com/hellokittytown/offers