Tipo 00 is a pizzeria on Darling Street in Balmain. There you'll find pizzas with classic and native Australian ingredients made by a pizzaiola who has worked across many of Sydney's pizzerias. And the base? It's an incredibly thin, crisp base made with a long ferment dough!
It's a Friday night when Monica, Marco, Mr NQN and I arrive at Tipo 00 with the dogs in tow. Tipo 00 is owned by Romano Pugliese and Gigi di Sarno (and it is unrelated to the restaurant of the same name in Melbourne). Gigi (Gianluigi) is the pizzaiola in the business and he hails a small town at the base of Mount Vesuvius, Naples. The wedge shaped building is covered in graffiti by artist Thomas Muir who embedded some of the family's favourite phrases and native Australian flora in the design.
Gigi's 25 years of experience has seen him make pizzas at Bella Bruta, The Dolphin, Pizza Madre and Frankies by the Slice and it's at the latter that he met Romano, who is Australian born to Italian immigrant parents. This culminated in this restaurant Tipo 00 that opened in April 2022. The name Tipo 00 references the flour that is used in pizzas that is a super finely ground flour with high protein that creates a stretchy but tender pizza crust. "00" references the grinding level - 00 is the finest producing a powdery texture while 2 is the coarsest grind.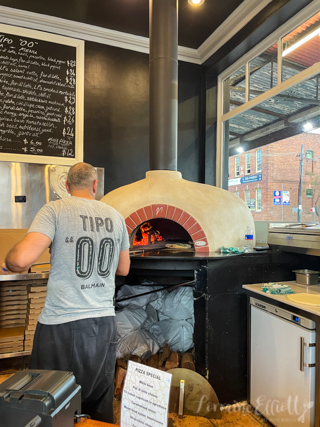 At Tipo 00 they use Australian flour for their pizzas, a special blend of Tipo 00, wholewheat flour and third flour that is a secret. All are milled specially for them. Gigi explains that he doesn't use Italian flour because when it is frozen and sent over it changes the flour. The dough is fermented over a 4 day period and the end result is an easier to digest pizza.
Monica had already tried the pizza at Tipo 00 and raved about the bases. She loved their thin crispness without a wet centre (truthfully I don't mind the Napoletana style wetness at all). On the menu there are 7 pizzas plus 1 kid's pizza and 1 special as well as 2 salads and 2 desserts. The pizza with the native ingredients is a vegan one with bush tomato relish, saltbush seed, lemon myrtle and nutritional yeast. It's mostly a takeaway restaurant but there are also tables on the outside.
Balmain $34
The first pizzas we ordered were Monica's favourites when she last ate here. The Balmain pizza is named after the suburb and also the Balmain bugs that sit atop this red pizza. There's a good amount of balmain bug meat, fior di latte, black pepper, lemon and chilli oil and shredded sorrel on top. It's a lovely pizza, with an artfully thin base and puffy crust. The base is really the key with these pizzas and the crusts are also delicious to eat - you can also buy mild house made chilli oil or a spicy mayo to dip the crusts in.
Mortadella $29
My favourite pizza is actually the mortadella. I don't usually like white pizzas as I love tomato so much but this one has fior di latte, black pepper, LP's smoked mortadella, olives tapenade, fermented shishito peppers and chilli oil. Not only is this strikingly beautiful ("I can't stop taking photos of it," I say like a total lunatic) but the thinly sliced mortadella on top and the olive tapenade with the minced fermented shishito peppers give this such a perfect pop of flavour.
Salamino $28
It's round two of our pizzas and our next two choices are the spicy salami pizza and a vegetarian. The Salamino is a red pizza with LP's salami cotto, fior di latte, black pepper, chili oil, stracciatella & basil cream in a hatch pattern. I liked it but I think I was hoping for a bit more fire to this (it's also entirely possible I am broken as far as chilli is concerned).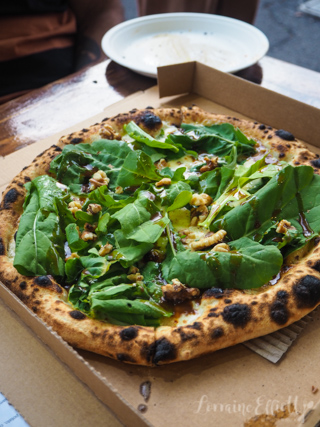 Formaggi $26
The white pizza is again a favourite. We don't often order cheese pizzas as they tend to be super rich but this cheese pizza with pecorino, fior di latte, goat curd, black pepper, balsamic honey, arugula, roast walnuts has the perfect balance of flavours and textures. The roasted walnuts give this pizza a lovely crunch and the wild rocket and balsamic honey gives this a lovely tang as the cheese can be quite rich.
Amaretti & sourcherry, custard, crumble $18
The desserts come ready made in takeaway containers. The first is the amaretti with sour cherries, custard and crumble on top which is well balanced, especially when you get a sour cherry. Marco remarks that the serving size is for 2 regular people or 1 Marco he likes it so much.
Panna cotta $12
The panna cotta comes in two flavours: salted caramel or mixed berry. The panna cotta is a firmer one with a thick jammy berry sauce on top. But all I'm thinking is whether we should order another pizza to go!
So tell me Dear Reader, do you like white pizzas? Do you have a standard pizza order?
This meal was independently paid for.
Tipo 00
413 Darling St, Balmain NSW 2041
Monday to Friday 4:00pm - 10:00 pm (closed Tuesdays)
Saturday 12:00pm 10:00pm
Sunday 12:00pm 9:00pm
https://tipo00balmain.com.au/