Tipsy Cake is a delicious "cake" spiked with alcohol and is a cousin of a trifle. Tipsy Cake was revamped by chef Heston Blumenthal where he soaks buttery brioche balls in a dreamy sauternes and brandy spiked cream. It's perfect for a New Year's Eve celebration thanks to that incredibly delicious cream - you will start the year with a totally indulgent treat!
Tipsy cake originated in the mid-18th century. If you google tipsy cake you'll see a really wide range of cakes but at their simplest they're cakes soaked in alcohol. Some versions of tipsy cake call for layers of cake wedged together with cream and flaked almonds resembling a tower, others are slices with feathered icing on top, others sponge cakes layered with cream.
Around 10 years ago Heston Blumenthal created a tipsy cake for his restaurant Dinner that looks entirely different from all of them. Heston's Tipsy Cake is made with incredibly buttery brioche buns soaked in an incredible spiked cream served in individual cast iron pots with a wedge of spit roasted pineapple on the side. It is by all measures delicious.
Heston's recipe version is very complicated and involves using kitchen equipment that most of us don't have. I find that while chefs make great ideas and food, their recipes are quite bonkers and out of reach for most mortals that have regular kitchens so I decided to make a scaled down version. We are making our own very buttery brioche buns but the process is much simpler than his (his requires time in the freezer). Apart from the overnight proof it's actually quite straightforward and it's very cool when the cracks appear on the bread. And there's no need for a spit roast to roast your pineapple because you can make grilled pineapple in an oven and then a grill.
I tried the cream while the brioche buns were baking and instantly fell in love with its brandy custard or rum and raisin ice cream vibes. Nothing can ever go wrong being soaked in this. Sitting in a bath of this would be entirely delectable. This recipes makes quite a few individual dishes of tipsy cake although I do think each dish is best shared between two as it can be quite rich so feel free to halve the recipe if you want to.
How are you enjoying this weird week between Christmas and New Years? I hope you're all having a relaxing time. This is exciting because it is our first holiday season with Milo. Ever since we went away to Hawaii and boarded Teddy and Milo with a dog sitter the dynamic between the two dogs has changed. Before Hawaii Teddy didn't really take to his adoring but boisterous little brother but now it's like the two dogs have bonded over a shared adversity.
While they have two very different personalities they genuinely care for each other. When less experienced Milo gets into a power situation with another dog at the park Teddy comes bounding over and barks at the other dog. And when Teddy got car sick and started vomiting Milo gave him space and then let out this quiet "Are you ok?" type of questioning meep. Milo also follows Teddy around like he hung the moon in the sky. Milo is actually a much less naughty dog that Teddy ever was. Milo strives to be a good boy all the time whereas Teddy just does what he wants and is very stubborn.
There was only one thing that proved vexing for Milo. The delicate situation of...toileting.
Almost every day Milo would leave us a "surprise". Puppies need to go much more often than adult dogs and even though we'd take Milo out regularly at the same times to toilet he would still have accidents inside. It got to the point where a sleepless Mr NQN had had enough and said to me, "I've had 3 hours sleep," and suggested in his cloud of fatigue that we couldn't keep Milo which is obviously not an option. He's my son. Milo was sent from the heavens for me. He smells like pineapples, cake, cookies and potato chips (all of my favourite things) and I take that as a sign that he was meant to be mine.
I explained that Milo wants to be a good boy but we have to enable that and the best solution was to get a doggy door. Mr NQN wasn't as keen to get a doggy door but after a sleepless night and ruined carpet we decided enough was enough. Peter ended up installing it in the side of the house which was easier and cheaper than replacing the whole glass pane.
"You've now got keys to the house!" we told them excitedly. We coaxed them through the door with treats and it didn't take long for them to learn how to use it. And ever since I'm very happy to report that there have been no days where accidents have occurred inside!
So tell me Dear Reader, are you on holidays? How are you enjoying your holidays? Would you like this version of tipsy cake?
Did you make this recipe?
Share your creations by tagging @notquitenigella on Instagram with the hashtag #notquitenigella
Tipsy Cake
An Original Recipe by Lorraine Elliott
Preparation time: 70 minutes plus overnight resting time
Cooking time: 2 hours concurrently
Serves: 5-6 individual serves
550g/19.4ozs bread flour plus extra for rolling
1/2 cup/125ml/4flozs water
5 eggs, room temperature
1 tablespoon/15g/0.5oz instant dried yeast
50g/1.7ozs caster or superfine sugar
250g/8.8ozs butter, cubed, softened
1 teaspoon fine salt
1/2 cup/125g/4oz butter, melted but not hot
3/4 cup/165g/5.8ozs white sugar
For Spiked Cream
250ml/8.8flozs cream
40g/1.4oz caster or superfine sugar
40g/1.4oz brown sugar
50ml/1.7flozs. sauternes or brandy (I used ice wine)
2 teaspoons vanilla bean paste
Grilled Pineapple
1 whole pineapple
120g/4ozs raw or demerara sugar
Ice wine
Step 1 - Take out 25g/1oz out of the total flour weight and whisk with the water in a small saucepan. Place on medium heat and allow to thicken while whisking to form a roux. You want it to reach 65C/140F. Whisk the eggs into the roux to form a smooth mixture.
Step 2 - Place the remaining flour, yeast and sugar in a mixer and mix well. Add the roux and then stir to combine. Affix the dough hook and knead on low speed for 20-22 minutes until it starts to pull away from the sides of the bowl. Add the salt and butter cubes 2-3 cubes at a time. Knead for 5-7 minutes increasing the speed slightly.
Cover and refrigerate
Step 3 - Scoop into a very large oiled bowl and cover and allow to rise for 1 hour. Then oil a large baking tray with high sides and place this dough in the tray. Do not be alarmed it will be very wet and sloppy. Cover and keep in fridge overnight. This can keep for up to 2 days in the fridge.
After overnight proof in the fridge
Step 4 - When you want to bake the brioche, oil five 14cm/5.5inch dishes or cocottes. Have the melted butter and sugar in separate bowls ready and have a bowl of flour ready. Flour a surface generously and grab 175g/6.1ozs of the dough. Knead the dough incorporating the flour, just enough so that it doesn't stick any more. Pinch off five 35g/1.2oz balls of dough and roll each into a ball. You want five balls for each dish. Dip into the butter and then roll in the sugar-make sure to roll it well in the sugar as the more sugar you get on this the better the effect of cracking will be. I even pat on some extra sugar on top. Place 5 balls in each dish and cover with oiled cling film and allow to rise 45 minutes. You want there to be cracks to form on top of the balls.
Rolling in melted butter and coating well with sugar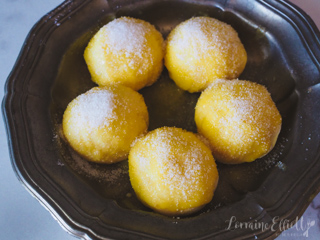 Have the balls barely touching in the dish before the final rise
Cracks appearing
Step 5 - Preheat oven to 180C/350F and bake for 25 minutes. While it is baking mix up the spiked cream by whisking the cream, two sugars, liqueurs and vanilla together. When the brioche is done remove from oven and make slits in the sides of the balls and spoon cream in these slits and then return to the oven for 5 minutes. When done spoon a little extra cream on the buns and serve with grilled pineapple.
Cutting between the balls to allow cream to soak in
Pineapple roasted whole for 2 hours
Step 6 - To make the grilled pineapple: Place whole pineapple in a 170C/340F oven for 2 hours and then cool completely. Cut the skin off and cut out the eyes by cutting in a diagonal pattern (this takes time and requires a bit of patience). Cut the pineapple into quarters and remove the core from one end. Sprinkle each wedge with demerara sugar and heat under a grill or blowtorch to caramelise. Slice into pieces so that it is easier to eat with the cake.