This King Cake is a New Year's Cake popular in New Orleans. A buttery bread flavoured with cinnamon and decorated with green, purple and yellow or gold sugar on top it is eaten in the new year from January 6th! Start your New Year with some delicious cheer with this delicious King Cake and you too may be crowned King for a day!
King Cake isn't really a cake as such, it's more a sweet, buttery brioche bread. Traditionally shaped as an oval it is popular in New Orleans and eaten from January 6th which is the date of the Epiphany. King Cake's have a token inside them which is usually a tiny plastic baby (said to represent baby Jesus) and whoever gets the slice with the baby inside it is crowned King for the day and is obligated to host the new party and provide the next King Cake. If it sounds similar to the Galette des Rois then that's because the tradition of the King Cake was said to have been brought from France to New Orleans. It first was said to originate in the Middle Ages in Europe. Many other cultures have a similar item baked into them like the Greek Vasilopita cake, Portugal's Bolo Rei, Bulgaria's Banitsa or the English Plum Pudding.
King Cake is eaten from the 6th of January which is the date for the Catholic celebration Epiphany (also known as King's Day or Three King's Day). The name King Cake represents the three kings or wise men who came with gifts for baby Jesus and their journey took 12 days and their arrival was the Twelfth night. The three colours are significant with purple representing justice, green meaning faith, and gold meaning power and the oval shape represents the unity of faiths. Nowadays they come with all sorts of creative fillings but the original is a cinnamon sugar filling. I added toasted pecans to mine too just to add some more flavour.
The babies in the king cake are traditionally plastic and people either bake them into the cake (they're said to be designed to be baked) or cut a hole in the bottom and slip the tiny baby inside after baking. If you don't have a tiny plastic baby (I'm definitely not that well organised), then you can use a bean. In this case I used a whole almond.
I have made a couple of king cakes over the years and the first one I made I topped it with both icing and sanding sugar which is the way it is usually served. However that made it way too sweet for me. So this recipe contains a version that is less sweet than the traditional (although of course please feel free to make it traditional with coloured sugar if you really love things sweet). I replaced the sanding sugar with coloured coconut which gives it a finger bun sort of flavour. Hopefully traditionalists won't be too mad about this slightly change.
This is an enormous cake and can easily feed 12 people or even more depending on how large you slice it. In terms of flavour it's pretty much like an iced cinnamon roll with a lovely buttery enriched dough like a brioche. If you love cinnamon buns or finger buns then you will absolutely love king cake because it's so rich and delicious.
Tips for Making King Cake
1 - I love using a high protein bread flour for king cake. It does make an enormous cake as the protein gives the bread more structure and rise. Every time I use it I'm amazed at the rise that I get from the end bread. I use this brand pictured below.
2 - You can split up the king cake by making the dough one day and letting it rise in the fridge overnight. This gives it a slow rise and ferment which is great for flavour. Then you can roll out, fill and bake the following day.
3 - After spreading the filling leave a one inch border at the end where you will roll it up.
4 - Use wet hands to seal this end and use wet hands to pinch the ends together.
5 - I used a Bake Snake to keep the border as an oval.
6 - Always allow your bread to cool for 30-45 minutes before cutting into it (it's also better to ice it once it has cooled a bit too). The texture of bread is more crumbly if you cut into it straight away.
7 - The icing I use is not a straight icing sugar and water icing, I also add a bit of butter which allows the icing to be piped in the way shown. Always start with a lower amount of liquid for the icing or powdered sugar and add gradually until you get a consistency you like. However if you want an icing that sets hard use a icing sugar and water mix.
8 - As I mentioned you can replace the sugar with coconut which is what I've done as the original cake although delicious is very, very sweet (icing upon icing). The coconut gives the king cake a more "finger bun" quality.
9 - To tint the sugar or coconut place 1.5 tablespoons of sugar or coconut in a ziplock and add some drops of food colouring in and rub together to distribute the colour.
10 -People eat king cake from the 6th of January til the eve of Mardi Gras which is on February 18th although it does appear in New Orleans stores earlier than that (sort of like how hot cross buns appear just after Christmas here).
This year I brought a King Cake to Valentina's house for New Year's Eve. She decided to do an outdoor barbecue NYE celebration which would be nice and low stress and I brought a burrata salad (recipe to come soon), an olive and garlic dip and this King Cake. Valentina was going to freeze it for them to eat on the 6th of January because she had already baked a Vasilopita cake.
It was such a lovely, low key celebration that we all needed. The weather co-operated and the food was so delicious-we ate so much of the nibblies that we almost ran out of stomach space for the mains but they were too delicious to not make room for. She brought out lamb and chicken souvlaki, rosemary potatoes and broccoli salad and halfway through the mains Valentina piped up, "I can make a Greek salad, should I make one?".
((Narrator note: they definitely did not need a Greek salad ;) ))
We toasted 2022 with champagne, a slice of vasilopita and a sliver of this king cake just to try it. And we all crept into 2022 with a bit of quiet celebration and a whole lot of trepidation as to what this year might hold for everyone. Nevertheless we are going to try and put our best foot and selves forward!
So tell me Dear Reader, what did you do for New Year's Eve? What do you think 2022 will be like?
King Cake
An Original Recipe by Lorraine Elliott
Preparation time: 45 minutes plus 2 hours rising time (can be split over 2 days)
Cooking time: 35 minutes
Serves: 12 people
100ml/3.5ozs. lukewarm water
1/2 teaspoon salt
420g/14.8ozs. bread flour plus extra for rolling
4 tablespoons white sugar
1.5 teaspoons instant dried yeast
3 eggs, room temperature, beaten
90g/3ozs. butter, cubed, softened
Egg wash to glaze (beaten egg)
For filling
115g/1 stick butter, melted and cooled
1 cup/220g/7.7ozs brown sugar
1 cup/130g/4ozs pecans, toasted and finely ground
1 tablespoon ground cinnamon
For frosting
335g/12ozs. icing or powdered sugar
2 teaspoons/10g/0.35ozs softened butter
7-8 tablespoons milk or cream

5 tablespoons each of desiccated coconut or sugar tinted green, purple and yellow
Step 1 - Mix the salt in the water and stir to melt. In a large bowl of an electric mixer add the flour, sugar, yeast and eggs and stir to combine. Add the water and knead for 3-4 minutes until it has come together to form a dough. Then add the butter in 3-4 lots and knead for another 6 minutes or until you get a window pane effect or the dough is elastic and you can stretch it gently without it breaking.
Step 2 - Form into a ball and place in a greased bowl and cover and allow to rise to 2-3 times its size (about an hour). While it is rising make the filling and allow it to cool. Mix the butter, brown sugar, finely ground pecans and cinnamon together in a large bowl. It will look like a lot but it's not I promise.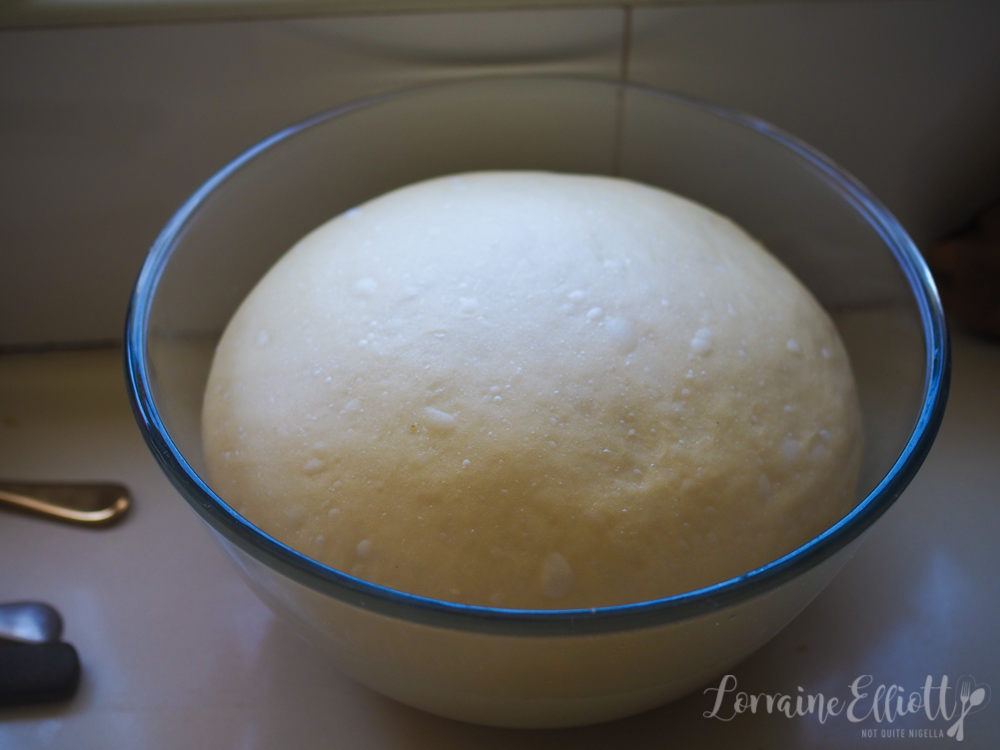 Step 3 - Punch down the dough and roll it out to become a thin, large rectangle (mine was around 50x40cms/20x16inches). If you want you can trim the rectangle and this gives a neater end result. Spread the filling all over the base leaving a one inch border at the top on the longer side. Add the token in now. Roll up from the bottom to form a log and using wet hands seal the border. Shape into an oval and use wet hands to pinch the ends together. I used a Bake Snake to keep the border on the inside and outside. Allow to rise for 30-45 minutes.
Adding the token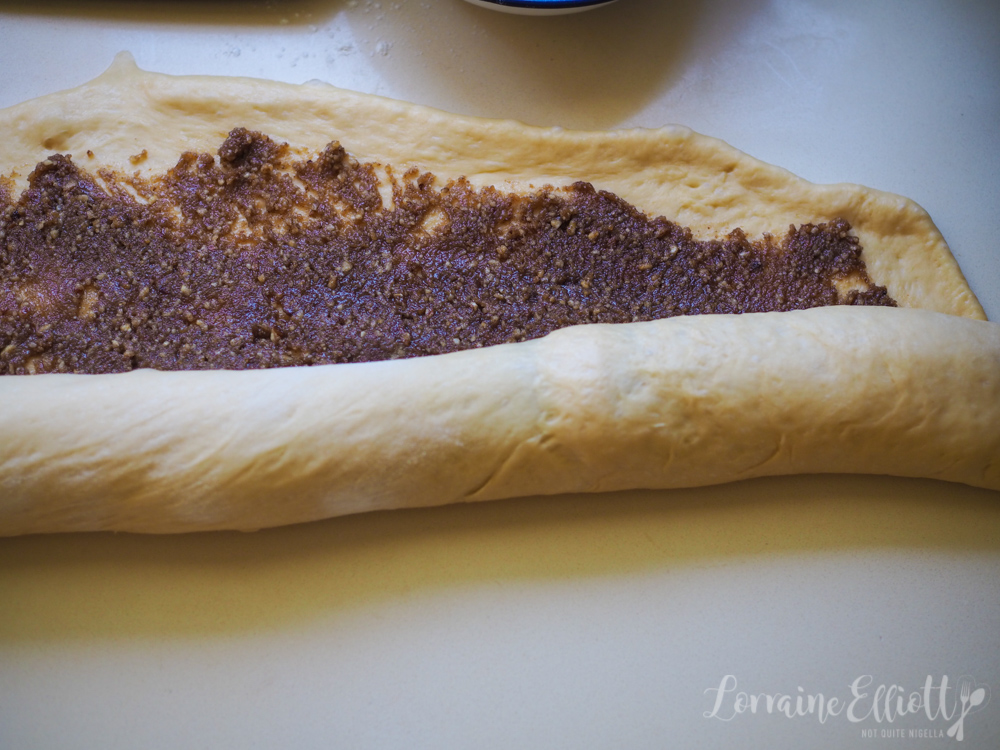 Step 4 - Preheat oven to 170C/338F and brush the bread with eggwash. Place in the oven and bake for 35 minutes. Cool on a rack for 30 minutes. Meanwhile prepare the coconut or sugar by placing 1.5 tablespoons of sugar or coconut in a zip lock bag and adding some food colouring in. Rub together with your hands to distribute the colour.
Step 5 - In a food processor whizz the icing sugar so that all lumps disappear (I hate sifting). Then add the butter and milk or cream (start with 7 tablespoons and then add another tablespoon if it needs it). Place in a piping bag and pipe all over the king cake. Then add the tinted sugar or coconut in sections.