"Yaaaayyyyyyyyyyyyyyyyyy" I scream while running barefoot naked across the room.  It's not a rogue insect or an intruder, it's the private plunge pool that is making me scream is it is a scream of excitement and not fear. Although there is an intruder by way of a cockatoo standing by the pool that acts like a lifeguard whose expression says to me
"You'd better put on a bikini, this isn't a nude beach!"
"Put some clothes on!" _he says and huffs off
_
or perhaps I'm hallucinating...
One fun golf buggy ride (and one close call, it seems I'm hopeless even on a golf buggy!) and I've arrived at my Windward Pavilion at Qualia Resort.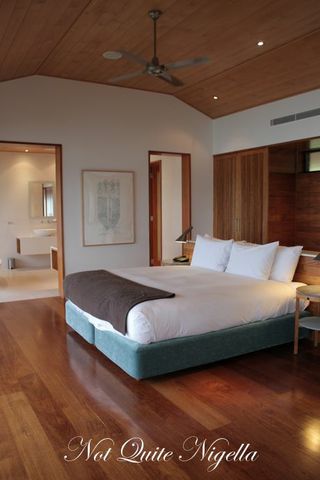 There's a bottle of Veuve Cliquot chilling on the table, a bowl of fruit, Aesop skincare, a deliciously divine but almost impossible to open Linden Leaves Fig licorice bath salt sachet, Teadrop teas, Collette Dinnigan designed tea towels, a freestanding egg shaped bathtub and 120 complimentary movies and wifi. And the reason why I am running around naked? It's a balmy 25 degrees and the windows are one way they assure me. Or so they tell me (I must check that!).
For those of you unfamiliar with Hamilton Island, it is an island just two hours away from Sydney in Queensland. It is also the place where they held the World's Best Job competition. One lucky winner got to be the caretaker of the Island for six months  and received a $150,000 salary and stayed in a three bedroom villa with pool. Sadly that was not me ;)
When we checked in we were greeted with a glass of French champagne and some small glasses with smoked salmon, fennel and caviar and raspberry cheesecake foam. My fellow writers are Lee Tulloch the writer of one of my favourite books as a teenager Fabulous Nobodies,  the weekend's host Sarah Wilson, Simon Thomsen and his wife Sally and Trudi Jenkins from Delicious and Leo Schoefield is making his way here. We make our way down to the Pebble Beach restaurant where lunch is a seafood extravaganza.
The duck slices are cooked pink inside and are flavoursome and tender and I particularly like the contrast of the crunchy noodles and the rest of the coleslaw, crunchy roasted peanuts and aromatic coriander.
This was the dish that I was eyeing off so I was glad when it came out. It is absolutely huge and I manage to snag a leg and some noodles. The noodles are well cooked and deliciously spicy and the crab meat sweet.
I love bug meat especially when it's done like this. The first dish has less of the salt and pepper than the second one which is seasoned well and the Asian herbs and hot and sour sauce add another dimension of flavour.
Some here just didn't like the idea of the fruit with the tuna. Whilst it wasn't too bad at all with the cool, thirst quenching watermelon, seared tuna and Persian feta dressing and green beans I actually preferred eating the tuna by itself and the salad with the dressing by itself.
The Nasi Goreng is generously portioned with prawns and small pieces of chicken breast and two large sunny side up eggs but the rice itself tastes just of soy sauce without the other lovely flavourings that good nasi gorengs can have that use shallots, garlic and belacan in addition to kecap manis (an Indonesian sweet soy sauce) that gives it a caramelised char flavour too.
Dessert comes to us in little glass pots of goodness and I try the lemon curd with glazed strawberry and cheesecake crumbs and the delicious nutty brownie with raspberries and raspberry sauce.
I relax and have a bath in my pavilion and before I know it 6:30pm has arrived and we are to convene at the Long Pavilion. A very frantic golf buggy ride later in the dark with a directionally challenged and half blind me (did you know that golf buggys can go over decorative stone edging? No? Well I was just testing for you ;) ). I arrive at the Long Pavillion where my lovely friends @bridget_cooks and @iconic88 join me for a light six course by head chef Jane-Therese Mulry who worked with Marco Pierre White along with wines matched by James Halliday. Sharing my table is Leo Schofield and his friend Dean.
_Crisp polenta, goat's curd fondue served with 2008 Yalumba Virgilius Viognier
_
The crisp polenta square with a goat's cheese fondue is accompanied by pickled red peppers and three chanterelle mushrooms. It's the perfect first  dish, done and dusted within three perfectly balanced bites.
_Quince confit salmon served wtih 2009 Robert Oatley Mornington Peninsula Pinot Noir
_
I don't particularly like fruit with fish so I'm hesitant at first but the quince has just the right amount of sweetness and slight tartness to complement the beautifully cooked salmon. it comes with a watercress and bacon emulsion and horseradish cream although I didn't particularly taste the flavours of these as the salmon and quince were quite dominant.
_Curry leaf veal, reef lobster served with 2006 Yering Station Yarra Valley Shiraz Viognier
_
The curry leaf veal again was very subtle in curry leaf flavour but it was without a doubt an absolutely beautiful cut of meat cooked perfectly medium rare. Sitting aside the beef was a wakame ravioli with caramelised yogurt and it was topped with pieces of reef lobster. I found the ravioli (tortellini on the menu but filled pasta anyway) too odd for me and I left most of this behind (but not before pinching all the lobster).
This petite serving is somewhere between a panna cotta and a posset and is utterly gorgeous with the carrot being a most unusual addition to the coconut cream pudding. I don't really taste any lemon balm in this however.
_Banana, white chocolate and passionfruit served with 2008 Frogmore Creek Iced Riesling
_
Don't you think this looks just like a boat? Not surprising given Hamilton island's sailing pedigree as it is owned by a billionaire winemaker (Wild Oats) and yachting fan Bob Oatley. In any case the "hull" is a creamy white chocolate parfait and there is a slice of caramelised banana coated in a lightly burnt caramel sauce and a quenelle of passionfruit sorbet.
It's getting late and we have a big day tomorrow (stay tuned for that! ;) ) so I take my golf buggy and drive off into the dark. I manage to park it in front of the wrong pavilion and try to get in and realise I am not at my "home" and eventually find the correct one.
I love turndown service and on my bedside table apart from water is a box of chocolates which are created by former El Bulli chef Oriol Balaguer that have just arrived in Australia from Barcelona. They're utterly brilliant, the dark chocolate one filled with hazelnut and poprocks (whose "poppiness" really last in the mouth!) and a lovely creamy white chocolate yuzu one for something a bit safer and less explosive. I draw another bath and fall asleep.
The End.
Until the next day! :)
So tell me Dear Reader, have you ever or would you ever skinny dip?
NQN travelled to Hamilton Island and stayed at Qualia as a guest of Qualia
Qualia Resort
Hamilton Island, Queensland, Australia
http://www.qualia.com.au/
1300 780 959