Picture this: the chilly wind blows gusts, you button your coat tighter and snuggle further into your scarf. You lift a hot dumpling to your mouth, the steam misting your vision and you nip at the corner. Soup spills out from the dumpling flooding your waiting mouth with warming soup that thaws every part of your body. Suddenly all thoughts of being cold disappear.
The xiao long bao or soup dumpling is Shanghai's most famous dumpling creation. Originally created in Nan Jiang, at "Nan Jiang Steamed Dumplings" it's a simple but so satisfying mixture of pork mince, chicken stock and a thin skin. When heated the soup becomes liquid. These addictive little bundles are sold at plenty of street stalls as snacks.
We're exploring some of Shanghai's culinary treasures with Kyle Long from Untour Shanghai. We had been warned in no uncertain terms that we need to arrive hungry. "Our aim is to leave you full" Kyle says. Three years ago, he and a friend Monica started taking customers on food tours. They offer a range of daily culinary tours and private tours, all based around local food in Shanghai.
The tour starts at the Xiangyang park where we watch morning tai chi sessions taking place. Kyle explains the origins of Shanghai's former French concession area and how the opium wars between the Chinese and the British made Shanghai what it is today.
The younger generation learns tai chi
The private tours are flexible and if people want to try something this isn't a problem or if they want to stop they can adapt tours to suit their needs. While walking through the park, I stopped at a stall to buy these for my god daughter Evie and her sister Audrey.
Kyle speaks fluent Chinese and knows the Xiangyang Lu area well so when sometime vegetarian Laura proclaims that she is hungry and wants a bao, we stop to buy two, a black sesame bao and a red bean bao.
They're soft, hot and delicious but filling, the sweet black sesame oozing out after each bite. The red bean filling is a little more solid and spreadable, it too is very sweet inside.
Our next stop is the stall next to the bao one. There is a wok of oil and some rectangular cakes draining above. A round of puffy deep fried bread is lifted onto the counter but our stop is for the Danbing a fluffy dough and egg based pancake brushed with a spicy, savoury soy bean paste sauce. This is cut into quarters and placed in a plastic bag.
Alas the next place that usually sells shengjianbao or the puffy risen soup dumplings with the pan fried bottoms is out of supply at the moment and we order some guotie which are potsticker dumplings fried in large batches in a giant round pan. We take all of these to a table nearby and unwrap our goodies.
Kyle describes the deep fried rice cake as a Chinese version of a hash brown. Crispy crunchy on the outside, they are made out of rice instead of potato and have a mild taste. I take a quarter of the danbing and enjoy the spicy, strong sauce and the soft fluffy dough consistency. The guotie are best eaten after dipping in vinegar- we have to be careful of the soup that spills out of the pork mince filled dumpling but nobody's complaining about soup spills in this chilly almost winter weather.
One of the most popular items on the tour is the jianbing, a flat paper thin millet flour crepe on which a thin egg omelette is cooked. It is brushed with a sweet bean paste, sprinkled with coriander, green onions, pickled mustard tubers, soybean paste, spicy chili paste and then topped with large crunchy pieces of deep fried won ton pastry.
Each crepe is then rolled up and cut in half, each portion delivered piping hot in a plastic bag. It's ideal to eat while walking which we do so - the flavour is fantastic with a nice texture from the deep fried bread pieces.
We follow Kyle down small alleyways where families stop to talk - it's Sunday and everyone is relaxed although there are plenty still at work. Our next stop is at "Henan Pulled Noodles" on Changle Lu near Donghu Lu where each serve of noodles is pulled to order.
I notice that all noodle pullers are men and Kyle tells us that there are some professions where one gender dominates - an example is hairdressers who are mainly male in Shanghai.
A staff member of this family owned restaurant brings past a bowl of congyoubanmian noodles and they smell incredibly good. A few minutes later our noodles arrive. Kyle takes out a pair of scissors to make them easier to eat as they're essentially one incredibly long noodle (although long noodles are eaten at times like birthdays to give luck for a long life).
Made simply of wheat flour, water and salt and dressed simply with scallion oil, these noodles are sublime. They're toothsome and any hope I have of just eating three bites are dashed quickly as they are so good.
They arrive with a bowl of qingjiao fuzhu which is stir fried bamboo tofu skin, capsicum and chilli which are also delicious. A lot of pulled noodle restaurants are open 24 hours and a bowl of these exquisite yet simple noodles is just 7RMB or just over $1AUD.
From top to bottom: tofu selection, preserved vegetables and butchers
There's a small bathroom and coffee break at O'Delice before we head into the Donghu wet market. Fresh dumplings are sold ready for steaming while seasoned meat is sold ready for stir fries. A stand sells all sorts of eggs including pigeon eggs which are slightly larger than quail eggs.
The fresh noodle vendor
Most items are fixed price although some bargaining can be done and you can order as much or as little as you like. There are stands for a large range of tofu and vegetables. There's a butcher and fishmonger on hand and everything smells fresh. A popular stand is the fresh noodle stand which also sells dumplings skins.
From top to bottom: eggs; golden croaker, a popular fish and varieties of rice
Only premium grades of rice are sold here in Shanghai. Rice from the northern area of China is more prized as they believe that it is better quality because there is only one growing season. Weighed items are sold in jin which is the equivalent of 500grams or one pound.
"I haven't had a dumpling for about two hours now" Laura says with mock tragedy. Lucky that our second last stop is at 601 Nanchang Lu, near Xiangyang Lu. All of the tables are taken but before long room is made. Outside the xiao long bao are steamed and before we know it, a steamer basket is brought to our table.
Kyle explains that these are Nanjing xiao long bao or tangbao which are different from traditional xiao long bao. The Nanjing versions are thinner skinned and smaller with a more savoury flavour to them as Shanghai food tends to be quite sweet. These have a bit of ginger in the filling which is a nice touch and these are very much like the ones that we tend to see in Sydney at places like Shangahi Night.
Next door we buy a freshly pressed pomegranate juice. For the equivalent of $2AUD they press seven fresh pomegranates and produce a slightly tart fresh pomegranate juice - all with a Hello Kitty cover of course!
Our last food stop is for dessert at Lillian's egg tarts or danta. Chinese egg tarts have that other worldly multi layered pastry whereas Hong Kong style ones tend to be more like a shortcrust pastry. Each one reportedly has about the equivalent of four egg yolks but you just cannot think about things like cholesterol when you take a bite.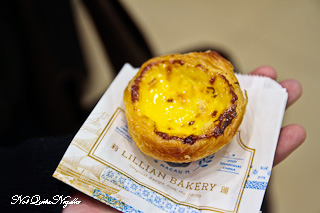 Egg custard tart 4RMB/$0.70AUD
It is one of the best things that I've ever put in my mouth, the crispy pastry layers shattering with each bite while the ethereally silky egg custard wobbles and then melts on the tongue. Laura who only minutes before declared herself full, swings around to buy another just as she polishes off the last bite of her first one.
Cheese tart 4RMB/$0.70AUD
The cheese tart is good, like a cheesecake with a shortcrust pastry but after the egg tart, almost everything else pales. We bid Kyle goodbye and all I can think about for the rest of the day is how to recreate those noodles and find another egg tart just like that.
Another must see in Shanghai are markets of an entirely different kind. A fascinating place to see first hand are the marriage markets held at the People's Park. From 9am on weekends, concerned parents and marriage brokers gather to proffer their sons and daughters. In China women around the age of 25 and men around the age of 30 are starting to be seen as "old" and parents sometimes worry that they will not find a partner.
Enter the marriage market. What started as English lessons in the park evolved to a weekend meeting place for parents. Open umbrellas, music stands and shopping bags hold flyers that detail a person's age, height, occupation and other essentials.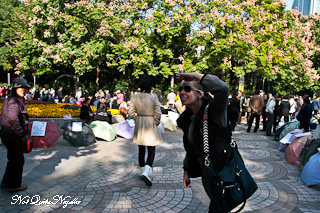 Laura searches for a potential husband
Some parents declare property that they will pass onto their children making them appear to be a good catch. Their adult children are not present here and usually the parents do this without their consent.
Most advertisements are without photos although some have photos. The people are attractive and one would think that they would not have any problems finding a partner. There is also an "international" section with different country's flags.
If there is interest from both parties, dates are arranged and all going well, marriage! It's just one of those quirky things in a city of 23 million, where the one child policy has impacted social structures and work hours are long.
So tell me Dear Reader, what do you think of the marriage market? And have you ever tried xiao long bao? Do you like them?
NQN travelled to Shanghai as a guest of The Langham Hotels and 88 Xintiandi
88 Xintiandi
380 Huangpi South Rd, Huangpu, Shanghai
+86 21 5383 8833
Untour Shanghai
http://untourfoodtours.com/ The breakfast tour is 400RMB (approximately $70AUD) per person