It's time to celebrate Ramadan Nights and for over 10 years the suburb of Lakemba has played host to a Ramadan celebrations. Head there after dusk to find delicious food stalls, shops, restaurants and services open all night. Follow us through the lively and bustling streets of Lakemba and find out where some of the 15 of the most mouth-watering food and drink are available during the month-long celebration and where to find them!
Ramadan is considered to be the holiest month for Muslims worldwide. During Ramadan (21st March-20th April 2023) Muslims observe a month-long fast from dawn until sunset abstaining from food, drink and smoking. It is a time for spiritual reflection, prayer and charity and Muslims believe that fasting during the day during Ramadan is a way to purify their souls and draw closer to God. After the sun sets, families and friends gather to share a special meal called Iftar, the breaking of the fast.
COVID meant that the 2020 and 2021 Ramadan celebrations were cancelled. Over the 10 or so years that Lakemba has been hosting the Ramadan celebrations, it has grown in size and some locals are less than enamoured by the commercialisation of the event, enormous queues and streets full of cars trying to park.
It's Easter Monday when Laura and I arrive in Lakemba. Going early in the evening and early on in the week means less queues although even on this Monday night it's extremely busy. This post is made up of two visits to Ramadan nights and when Mr NQN returned the following night at an earlier time it was less busy then.
Ramadan Nights celebrations span across Haldon Street in Lakemba divided by the railway line. To the North of the railway line it is quieter, with a more local crowd and restaurants that have opened stalls outside their restaurant. In contrast the South side of the train line is heaving with street stalls and a lot of activity. "Let's work up to that," says Laura eyeing off the crowd and I agree. In a not-really-post-COVID world a crowd that big is a little alarming.
Although Ramadan and Easter are quite early this year the weather is bone chillingly cold and we hustle to get to our first stop: Island Dreams. We love starting our ramadan visits at Island Dreams the Malaysian restaurant with a tasty range of items. There's prepackaged nasi goreng and nasi lemak but they're also making fresh roti and grilling chicken skewers. They're super friendly and they tell us that it will be 20 minutes so we have a quick walk around and see where else we'd like to stop before taking a table outside.
1 - Chicken Satay
Chicken Satay Platter $15
Last time we visited during Ramadan they were closing up but tonight they're in full swing and they are turning the chicken satays over charcoals. Nothing beats meat cooked over charcoal and these are absolutely succulent on the inside with a beautiful char on the outside. These are served with lontong or compressed rice bites and a cucumber salad.
2 - Roti With Curry
Roti with Chicken Curry $10
We also love the roti served with a chicken drumstick curry. The meat falls off the bone and the roti is beautifully multi layered and utterly moreish.
3 - Lamb Shank and Rice
Our next stop is Ghoroa Kitchen where we saw some lamb shanks hanging above rice and our interest was immediately piqued. The woman behind the counter is very friendly and we compliment her gorgeous eye makeup and order a lamb shank and rice with some pakoras. She microwaves it briefly to give it a bit of extra warmth and we take a bite.
Lamb Shank and Rice $22
The rice is aromatically spiced and strongly fragrant with cardamom. Laura closes her eyes and says, "This is like Dubai". The lamb shank is soft and I nibble on the bone and although we can't finish it we take this home with us where we will divide everything up.
Everyone is in a festive mood and the stallholders pose for pics including a political candidate who is busy turning skewers and posing with them. We browse the shops selling vegetables and fruit and see that even the butcher and the enormous chemist chain is open at night. We walk down Railway Parade where a stand has not just one but three types of Jalebi. These delicious bright orange Indian sweets are shaped like a spiral and deep fried and then soaked in syrup.
4 - Jalebi
Clockwise from left: Palm sugar, white sugar and crispy jalebi
Usually you see the crispy version but here they have three types. We ask the man behind the counter what the difference is and he explains that one yellow one is made using palm sugar, another yellow one using white sugar and the third orange one is the "crispy" one. He kindly offers them to us to try. We love the crispy one as that is the lightest in texture but the palm sugar one has more of a flavour to it from the palm sugar. We buy some to take home with us.
5 - Martabak
Martabak $12
Mr NQN and I visit the next night and try the martabak and the beef yakhni. The martabak is filled with chicken and egg and they fry it up and cut it up and serve this with salad. This makes a great snack or meal to share.
6 - Beef Yakhni
Beef Yakhni $12
The beef yakhni is a beef pulao made in enormous silver pots with pre-portioned boxes of these available to grab and go. The rice is spiced with clove and cinnamon and the beef is softly cooked in the rice. It's a mildly flavoured but comforting dish.
"Ok are we ready?" asks Laura and I nod eagerly and we cross the railway overpass to the South side of the tracks. There we pass numerous camel burger stands. A few years ago I tried a camel burger. It was very tasty, similar to a beef burger. We buy a mulberry juice that tastes just like an apple blackcurrant juice
On the Southern side is a Peace tent where people can have a bit of respite from the crowds. We head to Shahi Dastarkhwan, one of the most popular stands of the night.
7 - Chicken Wrap
Their proposition is simple but enticing: freshly made paper-thin flat bread tossed on the hot grill and filled with your choice of four types of chicken in four different colours. Red is Chicken 65 (made with 65 spices), Yellow is Chicken Majestic (a spicy yogurt sauce), Green is Hariyaali Chicken (made with coriander and mint) and Cream is Malai Chicken (made with cream and cashews).
Wraps $16.50 each
You can also get half and half or even all four flavours in the one wrap. Originally we were going to go for the Yellow chicken but greed and FOMO makes me suggest that we get two wraps with half half in each wrap so we get to try all four flavours. Laura readily agrees to it because the line is long and there's no way we want to queue up again. We watch as they double fold the enormous wraps, spread them with spicy mayonnaise and then a ladle of each flavour before wrapping them up in foil and handing us the hot package.
We take our wraps inside to the restaurant where other people are enjoying their wraps and dig in. They're all absolutely delicious but the best one is definitely the creamy Malai chicken followed by the Chicken Majestic. The creamy Malai chicken is so utterly moreish that we take one bite each and then pass it back and forth until it is gone. In fact we both contemplate going back to get another creamy chicken wrap because it is so damn good. It is our favourite savoury stop of the night along with the chicken satay from Island Dreams, sugar cane juice and Yummy Yummy Knafeh.
8 - Fuchka
Fuchka $10
Just nearby is a stand selling Fuchka or Pani Puri those delicate little cups filled with potato & chickpea curry, egg, coriander, chilli powder, onion, yogurt and tamarind juice. They make these to order and you pop them in your mouth in one mouthful for a delicious savoury mouthful and then some. You do have to eat them quite quickly because they will get soggy quickly.
9 - Chicken Fajita
Two items seem new and very popular this year at Ramadan and are the potato tornados on a stick and the chicken fajitas. We take a spot in "best chicken fajita" queue and watch as they cook chicken and capsicum, chop it up on the grill and fill the soft buns generously with the filling. Along with chicken and red and green capsicum there's also mushrooms, onion and cheese. This stand is cash only (the only stand that was cash only that we went to).
Chicken Fajita $13 + $2 avocado sauce
We added on avocado sauce to it. It's filling and bready and tastes pretty much just like chicken fajitas just in a soft hot dog style bun but I don't think I'd queue up for it again preferring other dishes.
10 - Lemonade
Strawberry Lemonade $10
We're both craving some lemonade to quench our thirsts and we stop by one of the many lemonade stands. There's classic lemonade, lemon and lime and strawberry lemonade with chunks of smashed strawberries and plenty of lemon. It's quite sweet but not overly so and as a strawberry lover I really enjoy this although Laura doesn't as much. There are a lot of lemon pips in this but it's refreshing and does the trick.
11 - Mango Sugarcane Juice
When Mr NQN and I returned the following day we decided to try a sugarcane juice from I Juice stand where they are crushing the sugarcane fresh. There are a few variations with a pomegranate sugarcane juice to a lime sugarcane and strawberry. There's even a mixed fruit Ramadan special but that's $18 which seems a bit high for juice so we go with the most popular mango sugarcane juice.
Mango Sugarcane Juice $13
It comes with mango and passion fruit and it's absolutely divine. It's sweet yes but not too sugary if that makes sense and is definitely the best cold drink available here.
12- Halawa Cheese
Halawa Cheese $7
13 - Booza Ice Cream
Booza Ice Cream $7
We walk past Bakdash Ice Cream where their pounding of the Booza or Arabic ice cream catches our eye. Booza is made using a combination of milk, cream, sugar, and mastic, a resin extracted from the mastic tree and then pounded rather than churned. We try their ice cream sprinkled generously with chopped pistachios and then also buy some of the slices of cheese drenched in sugar syrup and sprinkled with pistachios. They gooey cheese is mildly flavoured and very tasty. The ice cream reminds us of a fior di latte flavour with texture from the pistachios.
14 - Shawarma Wrap
It's getting late and almost 11pm and the crowds seems to have increased. We head to Extra Crispy for a shawarma and line up for a Shawarma wrap. While the line is short to order them there is a long wait for our chicken shawarma. It eventually comes out around 20 minutes later.
Chicken Shawarma $13.50
It's nice, quite thin and the chicken is a little dry but this is offset by the generous slathering of garlicky toum - toum really makes everything better.
15 - Knafeh
No visit to Ramadan celebrations is complete without knafeh that gloriously stretchy cheese dessert. There are a few choices. One stall has a man ringing a bell trying to get everyone into his queue. Then there's Yummy Yummy Knafeh that has the longest line of any stand here at the markets including security guards to keep everyone in check! And then there is Nablous Knafeh which has a queue but it is shorter than the Yummy Yummy Knafeh one. We actually had the knafeh at Yummy Knfaeh last time and it was delicious but the line is so incredibly long that we decide to try Nablous Knafeh.
Nablous Knafeh $10
They know that everyone wants to see the cheese stretch so every time they cut off a piece from the enormous round pan of knafeh they make sure to show the customer the stretch of cheese. We take a seat on the bench in front of the stall and try it. It's fantastic, wonderfully creamy, stretchy and sweet with a nice crunch from the vermicelli and pistachios.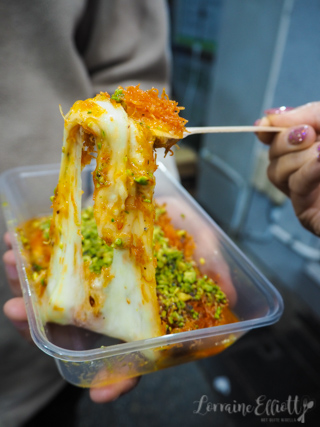 Yummy Yummy Knafeh $11
When Mr NQN and I returned the next day it was earlier and people weren't quite as ready to get their dessert fix so the line at Yummy Yummy was shorter and moved very quickly. There is less of a show here, they're just scooping the knafeh into takeaway containers and you pay and grab and go. The knafeh here is a bit different from Nablous, the top is more uniform and crispier. It is also more syrupy and oilier but definitely a wonderful knafeh and I can see why it is such a popular items.
16 - Sahleb Drink
Sahleb $8
Just before leaving our little tradition is to have a hot drink. We order is a cup of sahleb, a creamy hot drink made from the powdered root of orchids popular in winter months. It's thick and creamy like a smooth custard drink in flavour and texture with pistachios and cinnamon added on top.
Tips for Visiting Ramadan Nights
1 - Dress appropriately and be culturally sensitive :)
2 - The easiest way in is to catch the train in as it is located right next to the train station.
3 - If you do want to drive there are several car parks but these will be crowded. Your best bet is to wait for someone to leave a car space.
4 - Most places (except the fajita stand) accepted credit cards.
5 - Bring takeaway boxes to bring any extra food home.
So tell me Dear Reader, have you been to Ramadan nights before? Which dishes do you like the sound of the most?
All of the food in this post was independently paid for.
Ramadan Nights
The Ramadan Nights Markets are located on Haldon Street and Railway Parade, Lakemba and runs from the 21st of March to the 20th April, 2023 from dusk at 5.30pm until 3am.