These lamb and harissa sausage rolls are something special. They're so simple but the spicy harissa, freshness from the mint, sweetness from the currants and crunch from the almonds make these so utterly moreish. I hope you'll give these lamb and harissa sausage rolls a try. This is a pushy recipe Dear Reader!
Why makes these lamb and harissa sausage rolls so special is the spiciness of the harissa paste and the freshness from the mint. Lamb is a rich meat and adding both of these makes it really addictively tasty.
What is Harissa? Harissa is a delicious, spicy paste used in North African and Middle Eastern cuisine. It is made from a blend of dried chilli peppers, tomato, capsicum, garlic, coriander, caraway seeds, cumin and other spices (I've got a recipe for rose harissa here). It is used as a condiment, marinade or ingredient in various dishes and adds heat, depth of flavour and complexity to any dish it is added to. You can buy Harissa at the supermarket in a tube. It is quite spicy which is why I like using it and the first time you try it perhaps just try a little bit.
Now that the weather is turning chillier I am making things like sausage rolls and baked goods for lunch instead of salads. Mr NQN loves them as they're easy to eat and I love making them because they're delicious and really easy to put together and make enough lunch to last a couple of weeks. They are also perfect for a lunchbox. Mr NQN does go into the office occasionally and I like packing him something to eat unless he has a lunch out with colleagues.
Mr NQN usually catches a train in to work because he works in the city and usually makes the 30 minute walk from the train station to our house. He will often hint that if I were able to pick him up from the station it would be very appreciated which I almost always do because it takes just 5 minutes in the car. But this evening I was in the bathroom doing my facial ritual and was all showered, moisturised and I had just popped on a sheet mask.
I don't know if it is just me, but once I am showered and moisturised I cannot step foot outside because I feel like the outside air is dirty but inside the house air is clean. I mean I know it's not true, the air is the air but I have never made any claims to be logical. But it was around 9pm and I didn't want to let him down because what if something bad happened to him (too much true crime!) so I told him I would be there in 7 minutes (5 minutes to drive, 2 minutes to get changed). He always laughs at me because I don't round minutes up or down, I get that from my dad who would always tell me he would pick me up at exact times eg 13 minutes, not 10.
I looked in the mirror and was startled by my appearance as I still had the face mask on. I wondered if anyone would wonder if Jason with his hockey mask or Hannibal Lecter was on the loose driving the streets looking for victims. To my great disappointment nobody looked at me at all except for Mr NQN who shook his head when he saw me and laughed. My response was to make sucking noises like Hannibal Lecter and tell him that I had a dinner of fava beans and a nice chianti!
So tell me Dear Reader, do you make up lunchboxes? And do you give exact times when meeting people? Would you go out in a sheet mask?
Did you make this recipe?
Share your creations by tagging @notquitenigella on Instagram with the hashtag #notquitenigella
Lamb & Harissa Sausage Rolls
An Original Recipe by Lorraine Elliott
Preparation time: 20 minutes plus 30 minutes pre-soaking
Cooking time: 20 minutes
Serves: 12
125g/4ozs. currants or raisins, plumped in hot water for 20 minutes (finely diced dried apricots also works)

500g/1.1lbs lamb mince

1 cup/110g/3.9ozs panko breadcrumbs
3/4 cup/185ml/6.5flozs. milk
1 small onion, peeled and finely diced
4 cloves garlic, peeled and finely diced
1/4 cup/30g/1oz. tamari almonds, roughly chopped
2 tablespoons harissa paste
1 tablespoon ground cumin
1/3 cup finely chopped mint leaves (fresh not dried)
1 egg, beaten
1 teaspoon sugar
1.5 teaspoons salt
1/2 teaspoon black pepper
1 egg for egg wash
4x 185g/6.5oz sheets of butter puff pastry
Step 1 - First hydrate the currants or raisins in a cup of boiling water. Cover and allow to plump up for 30 minutes. Drain well. Then mix the fruit with the lamb mince, breadcrumbs, milk, onion, garlic, almonds, harissa paste, cumin, mint, egg, sugar, salt and pepper and mix well using gloves (harissa is spicy so using gloves is a good idea in case you touch your eyes). Place the mixture in a piping bag.
Step 2 -Take your thawed puff pastry out of the fridge one sheet at a time and lay flat. The sheets of pastry should be around 24x24cms or 9.5x.5 inches wide. Cut into two rectangles and then brush the egg wash along one edge. Pipe a log of mince mixture and roll up securing the seal with the egg wash and pressing gently. Place these on a baking tray and pop it in the freezer for 10-15 minutes while the oven preheats.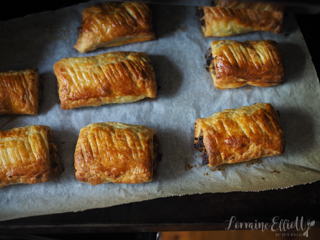 Step 3 -Preheat oven to 200C/400F fan forced. Score the tops of the pastry and brush with egg wash and bake for 20-22 minutes until golden. Serve with ketchup/tomato sauce.