I know Dear Reader, do you really need a recipe for mushrooms on toast? YES! I ate these AMAZING mushrooms on toast while travelling and they were some of the most DELICIOUS mushrooms on toast I've ever eaten. And the lovely chef that made them shared the recipe with me. Get ready to eat one of the best mushrooms on toast you've ever had! Plus it's mushroom season. This is a pushy recipe!
It's getting colder here in Southern Hemisphere and that means that I'm more likely to want to stay in rather than go out for brunch on the weekend. If you're feeling the same way but want to eat something special then PLEASE try these mushrooms on toast. Seriously, I'm addicted.
Picture it: Mr NQN and I were on the beautiful Scenic Rim of Qld for my birthday. It was early on a weekend and they warned us that breakfast finishes at 9:30am. We stumbled out of bed, I did a work out and we made the walk to breakfast at 9am passing all the ruddy cheeked, chirpy, cheery early birds who had just finished their repast and were boasting big bellies full of breakfast and were heading back to their cabins, probably for a nap.
Breakfast was served and among the other delicious morsels were these mushrooms. Mr NQN passed them to me and said, "You'll like these". I tried one, and my eyes widened - if I were in a cartoon they'd have popped out of my head on stalks. Then I tried another and then another before I was cradling the bowl and making it clear to Mr NQN that while I share most food, these were not going to be part of any divorce settlement.
What I loved was that I couldn't figure out that the flavours were - there was a piquancy to it that reminded me of lemon but wasn't as strong as lemon. They were creamy but not overly so and the balance was exquisite.
The next day all I could think about were the mushrooms. I woke up with a spring in my step. "Mushrooms! Mushrooms! Mushroom!" I sang to Mr NQN waking him up. "I hope they're on the menu..." he said in a gruff voice, rough from hours in a deep sleep. My face fell when I realised that there were no mushrooms and while the breakfast was delicious, I really had to have those mushrooms again. So I asked the Chef at Beechmont Estate Simon Furley if I could have the recipe. I'd have little to no chance of recreating the other incredible dishes that they had served but I knew that I could make these.
It turned out that the secret ingredient to these mushrooms was...carrot tops! Carrot tops have a slightly bitter piquancy to them in a similar vein to parsley. They add freshness to a dish and at the estate they try to waste as little as possible and here they made them into a pesto. And if you're allergic to nuts this carrot top pesto is nut free as it uses sunflower seeds. The amount below makes enough for 5-6 serves of mushrooms on toast so it's handy as all you have to do is fry up the mushrooms. And when I made them again they were every bit as delicious as they were when I first tried them!
So tell me Dear Reader, can you dissect a dish for its flavours? Do you often ask chefs for recipes?
Did you make this recipe?
Share your creations by tagging @notquitenigella on Instagram with the hashtag #notquitenigella
Mushrooms On Toast
Adapted from Chef Simon Furley at Beechmont Estate
Preparation time: 10 minutes
Cooking time: 15 minutes
Serves 2
Carrot Top Pesto
50g/1.7ozs carrot top leaves (around 1 bunch's worth)
50ml/1.7flozs. extra virgin olive oil
25g/1oz pecorino or parmesan cheese, grated
25g/1oz sunflower seeds
2 tablespoons malt vinegar
Salt to taste
1 teaspoon black pepper
For Mushrooms
Peanut or grapeseed oil for frying

500g/1.1lb white or brown mushrooms, sliced

2 cloves garlic, minced
60ml/2flozs cream
2 tablespoons pecorino or parmesan cheese, grated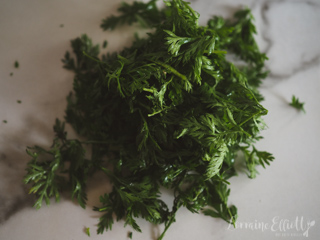 Carrot top leaves
Step 1 - First make the carrot top pesto. This makes enough for 5-6 servings of these mushrooms. Separate the carrot top leaves from the stalks and add the leaves, oil, cheese, sunflower seeds and malt vinegar in a food processor or Thermomix and process until you get a paste (TM: 15 secs, speed#6). You may need to scrape down the sides a couple of times to ensure that it all gets processed together. Season with salt and pepper and place in a jar. It will last for 2 weeks refrigerated (just use a fresh spoon whenever you use it).
Step 2 - Heat a frypan up on very hot (almost smoking) and add oil and fry the mushrooms well adding more oil if needed. Sauté them well on high heat so that they don't stew and become nicely browned on the edges. Add the garlic and fry for an extra minute. Then add the cream and cook for a minute until the sauce has reduced. Stir in a heaped tablespoon of the carrot top pesto and remove from heat. Toast bread and butter. Spoon these mushrooms on top of the toast and add more grated cheese.