A Bowl of Noodles is a Shanghainese noodle restaurant on busy George Street in the city. Located just up the road from Sydney's Central station they serve up a quick and tasty range of noodles from fried noodles, soup noodles, dumplings and stir fried dishes. So what is the must order dish that you have to try at A Bowl of Noodles?
In rush into A Bowl of Noodles on George Street in Haymarket. Monica is already sitting down and is in the middle of texting me.
"I have 40 minutes to have lunch!" I tell her breathlessly. I have just spent 30 minutes trying to find a park but everything in Surry Hills is a works or loading zone during the day and I found one for 1 hour and it took me 10 minutes to walk here. Which leaves me a "leisurely" 40 minutes to eat lunch. "The parking situation is ridiculous," says the man next to us and we lament the lack of coordination between the city, roadworks and public transport.
But not to worry. Monica and I had both stalked the restaurant's Instagram account and had a list of dishes that we wanted to order. "Could we put a rush on that?" I ask hopefully sounding like a bit of a w*nker but I don't want a parking ticket (not in this economy). The menu has a range of Shanghainese dim sum and stir fried dishes on one side while the other side has value sets and the four best selling dishes. The restaurant has been open for 3 years.
Steamed Chicken With Home Made Sauce $17.90
The food arrives quickly. Monica loves steamed chicken with chilli sauce so we order a serve of that. It's tasty with plenty of Szechuan chilli oil on top that gives it a delicious numbing quality. The chicken is tender and still has the bone in so you do have to negotiate around a bone when eating it.
Crab Meat, Crab Roe and Crayfish with Scallion Oil Noodles $42.80
If you feel like splashing out for lunch the dish that you have to order is the crab meat, crab roe sauce with scallion oil noodles. The sauce is so rich and the noodles have the perfect texture to them so that they're soft but not mushy. The crab sauce clings to the noodles well and there's a generous amount of it. It's so moreish with a luxurious, silky texture with lots of crab meat. They also give us a small bowl of black vinegar and grated ginger which helps to lift the rich crab sauce perfectly. While it is undoubtedly rich (I'd recommend sharing this) it's outstanding.
Handmade tofu with spinach in pumpkin sauce $18.90
The handmade tofu is nothing like what we were expecting. They are logs of silken tofu that taste like the wobbliest steamed egg omelette. The tofu is topped with chopped spinach and a mild but pleasant flavoured pumpkin sauce.
Shanghai No 1 Yellow Croaker Fish Broth Noodles $23.80
We also ordered the yellow croaker fish with broth and noodles, one of the four most popular dishes. The fish is very soft and almost impossible to pick up with chopsticks. The broth is very fishy and mild tasting especially compared with the other more flavour forward dishes. I probably wouldn't order this again.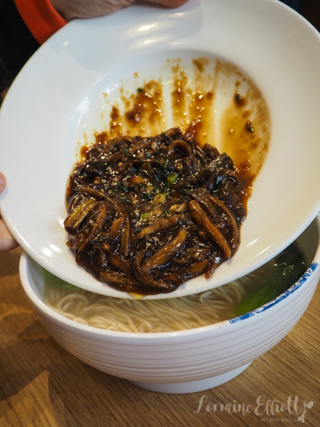 Stir Fried Shredded Eel Noodles $23.80
The eel noodles come out last and they're a bowl of soup noodles with a separate plate of mushroom flavoured stir fried eel fillets. You are supposed to tip the eel into the noodles. When you get some soup, noodles and eel on your spoon it's a wonderfully warming dish to stave off any cold but we both feel like next time we would order the dry scallion noodles ($1 extra) rather than the soup noodles because the flavour of that delicious mushroomy flavoured stir fried eel is diluted when you add it to the soup.
We sit back, having quickly eaten our meal and are stuffed to the brim with noodley goodness. What we don't eat we pack up and take away with us and I make it back to the car 5 minutes late (but no ticket!).
So tell me Dear Reader, how quickly can you have a catch up lunch with a friend? And which noodle dish did you like the sound of the most?
This meal was independently paid for.
A Bowl Of Noodles
735 George St, Haymarket NSW 2000
Phone: (02) 8958 7097
Monday to Saturday 9 am–10 pm
Sunday 10 am–9:30 pm