It is a Saturday night and our friends Karen and David are taking us to their very favourite local restaurant. Ahgora in Glebe serves up modern Mediterranean cuisine from their 1900's heritage Glebe terrace. There's a couple of outdoor areas and plenty of space in the leafy dining room.
The owners of Ahgora are couple chef Jan Oravec and Sabina Laniova who works front of house and sources wines from different small importers to match with his food. While both were born in Slovakia they met in Australia. Jani has worked at Galileo, Rockpool and Cara & Co. and his Hungarian background influences his modern Mediterranean dishes often using ingredients like smoked paprika in his Mediterranean recipes.
Karen first told me about Ahgora a few years ago when they were located on Glebe Point Road. Fast forward to a few years later and she and Dave are now friendly with Sabina and Jani. Ahgora means "meeting place" in Ancient Greek and references the menu that encourages sharing as well as the restaurant with its many sections, some outdoor.
Signature Sangria $16
I start with a glass of sangria. Their version uses Cabernet Sauvignon, juice, vodka, liquor 43, lemonade and the finishing touch of fresh passion fruit which is kind of a genius idea. I want all my sangrias to have passion fruit in them from now on.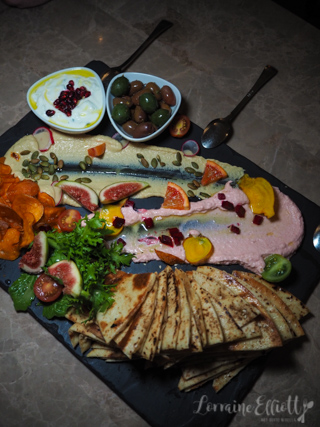 Mezze plate Home made taramasalata, tzatziki, marinated olives, sweet potato crisps, pita bread $24
Because Karen and Dave are regulars and know the menu so well, I leave it to Karen to order and she orders a tasting platter that has a range of entrees. The first is a mezze plate that has some absolutely delicious house made taramasalata, hummus, tzatziki, olives, sweet potato crisps and pita bread. Karen is known here for her love of bread (her nickname is "bread girl") so the pile of pita bread is perhaps larger than normal. I love the dips and the addition of fresh figs and nuts to the platter and pita bread is warm and soft.
Grilled Halloumi Home made lemon jam, crispy shallot, lemon $15 Home made falafel with hummus $18, Smoked Salmon Potato Croquettes $20
These three dishes are usually sold as separate entrees but they combined a few entrees on a platter. My favourite is the house made falafel, beautifully crunchy on the outside and perfectly soft and moist on the inside. The grilled halloumi is also tasty-the halloumi is sliced thinly and topped with lemon jam, crispy shallots and lemon. I think I personally like halloumi to be a bit thicker but that's a personal preference. The only component I didn't really go for was the smoked salmon balls as they are quite fishy but if you like a strong fish taste these might be for you.
Charred Octopus lentils, Greek yoghurt, sweet potato chips, cucumber, herbs $34
It's time for the mains and while I have tried to steer away from ordering octopus after seeing My Octopus Teacher I didn't do the ordering. It is also one of my favourite mains too. The octopus tentacles are very tender and perfectly paired with the lentils, bulked up and creamy with Greek yogurt. There is a layer of sweet potato chips, cucumber and herbs.
Spanakopita $25
The spanakopita is also very good and served as a large roll filled with chunky, sauteed silverbeet, soft leeks, spinach and feta. There's a good amount of filling to pastry and if you like the pastry go for the corner bits but if you like the filling go for the centre bits.
Honey glazed pork belly $36
I nabbed the last piece of the honey glazed pork belly. It's served with a buttery mashed potato, braised red cabbage, green beans and sliced radishes. The pork belly is very soft and perfectly seasoned. There's no crunchy crackling on this, it's just an exericse in soft melting texture and crisp, green beans and cabbage.
Home- made ricotta gnocchi $27
The ricotta gnocchi come in pleasingly plump large batons, browned and crisp on the outside. They're served in a spiced pumpkin puree with pepitas and parmesan. It's a good dish for sharing and is a very large portion too.
Halloumi Ravioli $32
Dave's favourite dish is the halloumi ravioli that comes as four large parcels of ravioli filled with crumbled halloumi and ricotta with a beautiful browned butter sauce and lemon jam with sage for aroma and walnuts for crunch.
Pan Fried prawns $24
My and Karen's favourite main along with the octopus is the pan fried prawns that are served butterflied on a bed of sweet corn puree with crumbled feta and tomato. The tender and luscious prawns go so well with the sweet corn puree and I find myself adding some of the corn puree on the other dishes like the pork belly where sweet flavours go well.
Dessert Platter
The dessert menu has two sections: liquid dessert aka dessert cocktails or dessert. Karen orders a dessert platter with the tiramisu, baklava, chocolate volcano and strawberry ice cream (sadly missing their favourite dessert, the lemon curd strudel). The baklava is very nutty with a thick layer in the centre just full of chopped nuts. The chocolate volcano cake is a very dark 58% Belgian chocolate with a molten chocolate centre served with vanilla ice cream. The tiramisu packs a hit of kahlua with a blackberry sauce on top for a fruity version of the Italian classic. Lastly the strawberry ice cream tastes of pure strawberries, sweetened perfectly.
So tell me Dear Reader, what sort of cuisine would you cook if you opened your own restaurant? Is there one ingredient that you tend to use a lot?
This meal was paid for by Karen and David.
Ahgora
172 St Johns Rd, Glebe NSW 2037
Wednesday & Thursday 11:30 am–3 pm, 5:30–10:30 pm
Friday 11:30 am–3 pm, 5:30–11 pm
Saturday 8:30 am–3 pm, 5:30–11 pm
Sunday 8:30 am–3 pm, 5:30–9 pm
Monday & Tuesday closed
https://www.ahgoraglebe.com.au/