Markets are my kind of thing. I think I love them as they remind me of when I am holidays so I am compelled the recreate this sensation every chance I get. Hence my monthly sojourn to Kirribilli markets and my interest in visiting Melody Markets in Chatswood.
Friends had been telling me ages to get thyself down to Melody Markets in Chatswood on a Thursday night. The reason? Japanese Takoyaki and other outdoor market goodies galore.
Its a food based market (hurray!) and we bypass the omnipresent Gozleme and Mojo Pican stands we've visited at other markets in favour of the other stands present. The prices are great, snacks start from $2 for a Hontou filled pancake and Okonomiyaki starts at a mere $5. The prices at the Gozleme stand are lower by a smidgen and the variety is wider offering 4 types of fillings.
At one end there is the Ebisuya Okonomiyaki where these delicious Japanese pancakes/omelette/pizza are flipped over and over. There are many choices to choose from with prices starting at a very reasonable $5 up to $8, and ones with noodles (modan) are 50c more than those without. I choose a Calamari plain ($6) without noodles as I am a big fan of regular Okonomiyaki.
A little further up the mall, we come across an interesting stall, one called "Katsumen" where they have three types of Katsu (Prawn, Bulgogi (Korean BBQ beef) or Kim Chi) sliced up and served with rice and salad ($8.90 each). As we've never seen this before, we're immediately intrigued and when I ask the smiling young guy behind the counter which one is the best he loudly and proudly exclaims "The Prawn!!". I need little persuasion to choose the seafood so we order one and within minutes, they are slicing one up for me and squirting the mustardy yellow sauce across it artistically.
I walk past Jackie M, a Malaysian stall and spy one of my favourite things, curry puffs. Making a mental note to come back and get one, I hone in on the stall I was really looking forward to, Colotako (Japanese Takoyaki). These puffy little soft seafood balls come in three different flavours: crab, prawn, octopus and you can buy them in packs of 4 or 8 with different price combinations for each pairing ranging from $5 for 2 Octopus and 2 Crab or 2 Prawn balls or $6 for 2 Crab and 2 Prawn balls. Buying a lot of 8 is a small saving with 4 prawn and 4 crab balls for $10. I know octopus is the traditional filling for these but the little crab claws and prawn tails peeking out are too enticing and I order the 4 pack with 2 of each.
When I go back to Jackie M's, the queue has become huge and what seemed like a good idea a few minutes ago turns into a long wait for a curry puff. I have a choice of meat or vegetable ($2.20 each) and I choose meat as I have only previously had vegetable ones.
Sitting down to sample our goodies, we start with the Takoyaki. They're soft, and marshamallowey in texture with the taste true of the filling they're supposed to have, crab or prawn. Using the claw to pick it up, the crab claw comes with some meat that can pull off with your teeth and the whole prawn inside gives it more texture. They don't come with the usual Okonomiyaki sauce, instead its a runnier mayo type sauce with other flavourings, very subtle and perhaps too subtle. The Takoyaki is fairly mild and creamy so it needs that tanginess that the Okonomiyaki sauce has.
The Ebisuya Okonomiyaki is next and it looks damn impressive, glossy and large and its cut into pieces for easy eating. The taste does fall short of its enticing look, the Okonomiyaki, usually so creamy and delicious, tastes like a "diet" version without any creaminess and instead a whole lot of cabbage. For someone that hasn't tasted really good Okonomiyaki its still a tasty snack but for Okonomiyaki addicts like me, a bit of a disappointment.
Katsumen's offering is sampled next and its a very pleasant surprise. Imagine a long Chicken Kiev filled with prawn, red capsicum and cheese. The outside is crispy and the mustard mayonnaise over it is a perfect seasoning to it. I'm not entirely convinced that prawn and red capsicum and cheese is that great a combination with chicken and in truth, the filling reminds me somewhat of those frozen pizza toppings from my youth when Papa Guiseppe was the latest thing. Nevertheless the outside is very tasty and overall its the definite favourite of the night. I am curious to try the other fillings.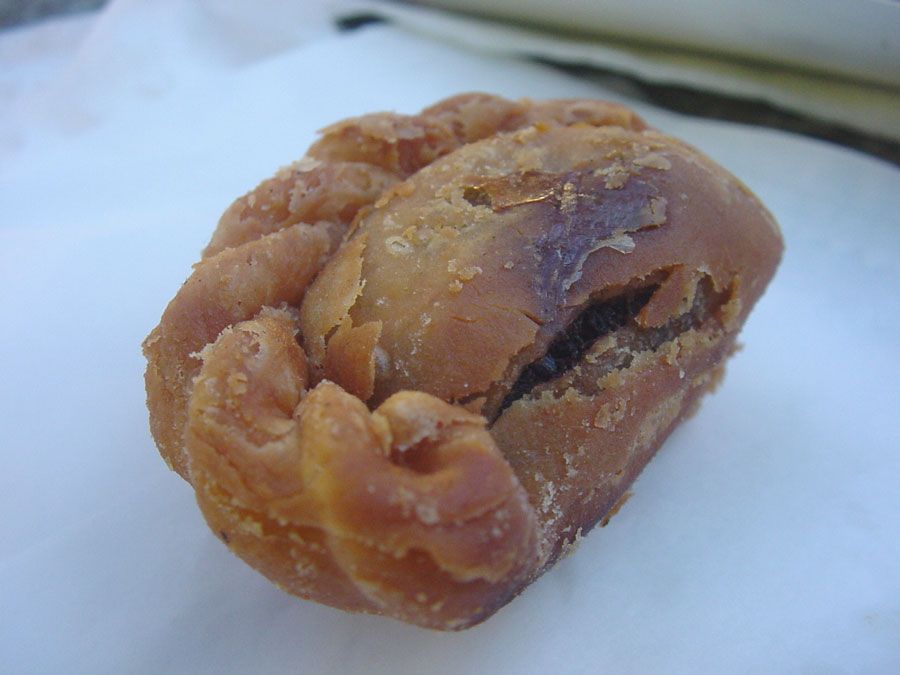 Last and unfortunately least is the Curry Puff. Its a little sad looking having been sliced into with the tongs and a bite into it doesn't turn up much better news. The meat inside is a dry beef rendang and that combined with the deep fried hard pastry means that it is drier than Sydney on a hot summer's day.
We don't have time to try the Hontou pancake stall but I'm sure we'll back back to try the other Katsumen flavours!
The Melody Markets
Chatswood Mall, Victoria Avenue, Chatswood
Every Thursday 11 am – 9 pm (after 6pm, there is Live Music)