Kirribilli markets is an institution for me. Ever since I moved to the North Shore and discovered it I've barely missed a month of it. I'll even come in rain or wind which the latter was the case today. Made up of two parts, a tunnel area and then the grassed green area, it has about 300 stalls and is one of those markets that truly has everything from clothes, homewares, book, music, vintage curios, health and beauty not to mention the most important of all... a great selection of food.
There's African, Chinese, Turkish Gozleme, Thai, Malaysian, a bakery, Dutch Poffertjes, coffee and juice as well as other stands selling baked goods, sweets, nougat and biscuits and one of the freshest fruit and vegetable stands straight from the growers. There's even a school fete today.
We arrived here hungry knowing that my favourite gozleme stand would be churning out their delicious savoury pastries for a long queue of customers. From the length of the queues every month, this has got to be one of the most popular stands at the markets (I should know as I once waited in line for 25 minutes) but the wind today has kept a lot of patrons away and I get my hands on a combination gozleme (meat, spinach, cheese $8.50) within a few minutes. There's also a spinach and cheese version for $7.50 which I've yet to try as I love the spicy beef and spinach filling in this one. Tip: ask for 2 pieces of lemon, it really brings out the flavour of the gozleme and one piece isn't quite enough for the whole gozleme.
Then its off to the Poffertjes stand where I have a serious dilemna: which flavour to try. They have flavours such as maple syrup, cinammon, strawberry jam etc for $5 or you can have it topped with fruit such as banana, strawberries, peaches, Bavarian apple, blueberry or mango (not available today) for $6.50 with cream and ice cream an extra 50c each. Today's special is sweet plums and sour cherries and I can't resist a special so I order that with some ice cream ($7).
With my bounty in hand, we find a place to sit and tuck into our food. The gozleme, as always, is cripsy pastry perfection. There is most certainly a reason why the queues are so long for them and I savour every bite. It seems the adorable dog next to us is also a gozleme fan as he begs for some of his owner's lunch. The dog has good taste.
Fingers licked and wiped, its onto the poffertjes next. I adore sour cherry and whilst this hasn't got a lot of sour cherry taste, it tastes a lot like rhubarb which I also like. The poffertjes (mini dutch panckes) are puffy and delicious and taste almost donut-ty. They look like a cherry mountain in a snowstorm with the icing sugar and scoop of vanilla ice cream.
There's a stand in the grassed area that's usually relegated to the fringes and today we try some dried kiwifruit which I've only seen in lebanese and turkish stores. Its interesting, not particular kiwifruity but sweet and chewy ($1.50 per 100grams).
I am disappointed that last month's Palm Beach Cupcakes (partly owned by British chef Rick Stein) aren't there as I wanted to try some of their cupcakes. A later purchase of a cupcake from a school fete stall yielded a cute lemon yellow iced cupcake ($2) with a pink marshmallow flower and some green cachous. Stomach full, carrying my purchases of eleven dresses, a hat and a cupcake, I feel well fed and well shopped out.
Kirribilli Markets
Fourth Saturday each month January-November and first and third Saturday of December
Time: 7.00am - 3.00pm (some stalls on the green pack up earlier than this)
Location: Bradfield Park - Corner of Alfred and Burton Streets, Milsons Point. Just under Milsons Point train station.
Information: (02) 9922 4428 markets@kncsydney.org
Next market: Saturday, 27th October 2007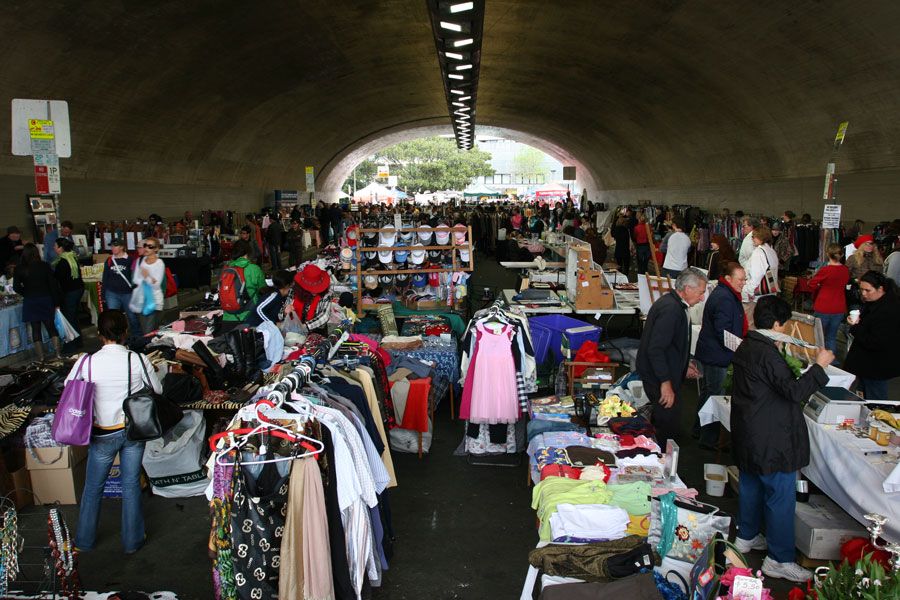 P.S. I leave you with some last lingering looks at the gozleme :)