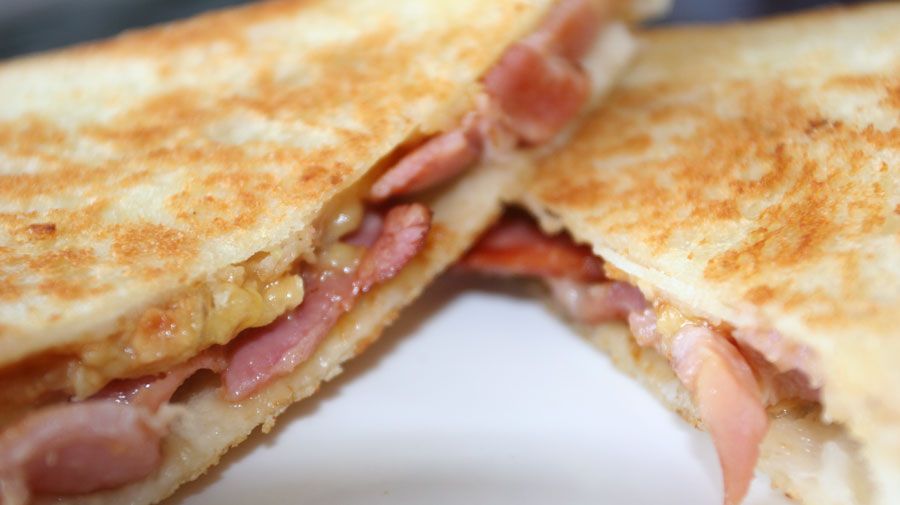 I sometimes wonder, is fear of a sandwich a normal thing? When I first read about this sandwich in Nigella's Trashy chapter in Nigella Bites (my favourite chapter as a lover of kitsch) I actually become a little frightened at the idea of a fried peanut butter and banana sandwich. Several years on and thinking about it more and I decided that it wasn't such madness after all. Time had indeed lessened my initial revulsion, in fact when I read variations of it suggesting the addition of bacon, so much so was my 180 degree transformation that I though "Wow, that sounds great together!".
Recently we made the mistake of purchasing a loaf of plastic white bread (they were out of everything else) and ever since then, it has sat in the freezer gradually dwindling when used in recipes like the Bread and Butter pudding. I have about 1/3 of a loaf left so it seemed only fitting to use it on this sandwich as I'm fairly certain this recipe wouldn't have used wholemeal or 9 grain.
I added bacon into this sandwich trying it with and without. With the bacon is definitely not as gruesome as it sounds, in fact we both preferred it with bacon as the saltiness perfectly counters the creaminess of the banana and the sweet nuttiness of the peanut butter. Try half a sandwich with and half without if you're not convinced.
I do recall seeing an episode of Oprah where Lisa Marie hosted a dinner for Oprah and Gail full of The King's favourite foods and scoff as people may do about his eating habits, if I had access to that delicious sounding food every day, I'd be in a rather untenable position! Gayle's food adventures are actually among my favourite episodes-if anyone is likely to food blog, its her!
DID YOU MAKE THIS RECIPE? Share your creations by tagging @notquitenigella on Instagram with the hashtag #notquitenigella
Elvis Presley's Fried Peanut Butter and Banana sandwich from Nigella Bites
Les not mess around: you want trashy, I'll give you trashy-I'll give you the King. This recipe, for want of a better word, comes from a rhinestone gem of a cookbook, Are you hungry Tonight? a collection of his favourite foodstuffs bought on a visit to Graceland many years back, prized ever since and a delight from cover to cover. Even my most recent addition to a library already bursting with bad-taste titles, Liberace Cook!, can't lose him his crown.
You'd think, wouldn't you, that a smearing of a couple of slabs of white bred with peanut butter and mashed banana, sandwiching the lot bulgingly together and then frying it in butter would be at best, revolting. But that's where you'd be wrong. I have no particular fondness for peanut butter, or bananas for that matter, and a downright shuddering aversion to eating them cooked, but what a genius that man was. This sandwich is a wondrous thing, gloriously exemplifying what cooking is all about: the whole is so much intriguingly, confoundingly more than the sum of its parts. It really works. I wouldn't turn one down at any time, although, true to form, there is a certain kamikaze calorie intake involved not always to be calmy countenanced-but for a handover, to combat seediness and restore the fragmenting self, its particular perfection: it doesn't merely sustain, it resuscitates.
Believe it or not, the quantities below appear in edited, attenuated form. I honour the King but I can't be him
Ingredients
2 scant tablespoons smooth peanut butter (don't use extra smooth)
(Plus I added 1 rasher of streaky bacon)
Step 1 - Mash or slice the banana.
Step 2 - Lightly toast the bread, and then spread the peanut butter on one piece and the banana on the other. Sandwich together then fry in the butter, turning once, until each side is golden-brown. At the same time fry the rasher of bacon. Remove to a plate, cut the sandwich carefully in half on the diagonal and eat.
Serves 1
From Nigella Bites by Nigella Lawson