This recipe is brought to you by D'Orsogna's Flame Roasted Carolina Style Sweet Dijon Mustard Leg Ham
Want to make something that is delicious but easy to eat? This Cuban sandwich is just the thing you need. With soft, mouth-watering pork, Swiss cheese, mustard, piquant pickles, home made bread and D'Orsogna's American pitmaster inspired Flame Roasted Ham this is a sandwich to remember-or steal the show!
History says that the Cuban sandwich did not originate in Cuba itself but in the U.S. to feed the migrant workers in Ybor City and West Tampa. In the early 1900's they were employed to roll Cuban cigars. A Cuban sandwich is at its very base a ham and cheese sandwich but it is so much tastier than that would suggest.
It is also said to be the ultimate fusion sandwich-mustard was for the German cigar workers, Genoa salami was added by the Italian bricklayers (although salami does not feature in the Miami Cuban sandwich but does in the Tampa version). It was also recently made famous in the movie Chef starring Jon Favreau who operated a food truck selling Cubanos.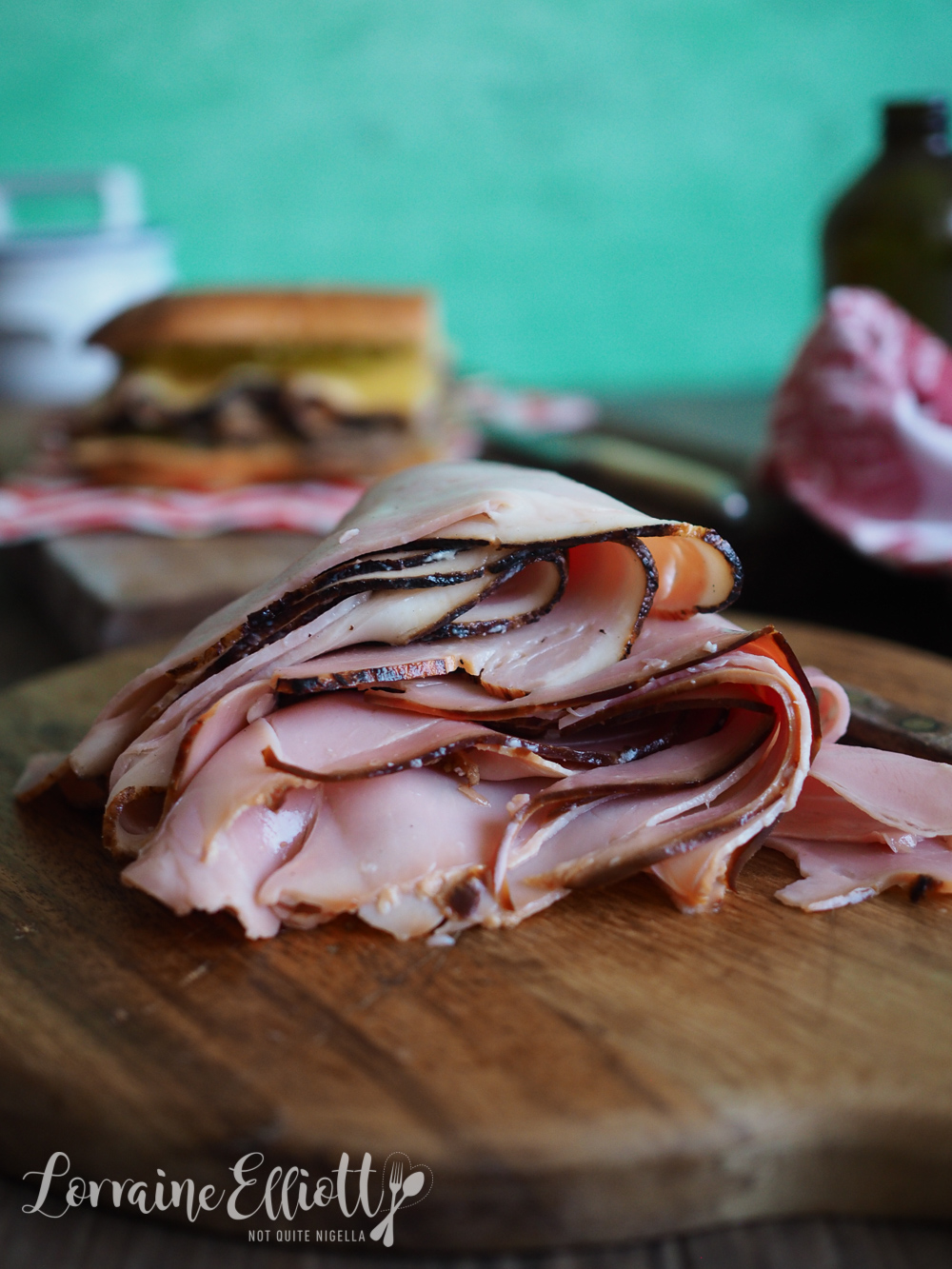 This recipe includes making your own Pan Cubano (the secret ingredient is pork fat or lard!) and your own roasted pork. I used the new D'Orsogna Flame Roasted Ham as I knew that it would be perfect for this sandwich. I thought that the Carolina style American pitmaster inspired leg ham will suit it well because it is smokey and sweet brushed with sweet dijon mustard and double oakwood smoked and reminds me of America. You can get this unique, succulent ham only at Woolworths store at the deli counter and it is well worth trying.
I make the sandwich in stages-the night before I marinate the pork and make the bread dough leaving it in the fridge to bulk prove. The next day when I want to serve it, I bake the bread fresh and cook the pork. The pan Cubano has no preservatives so only lasts a day or two. Then when it comes to assembling it, it's easy filling it with sliced cheese, pickles, mustard and D'Orsogna Flame Roasted Ham and roast pork (although if I am to be truthful I also add mayonnaise and sriracha sauce because I LOVE sauce).
A friend recently asked me something that had me thinking. She put a question up asking what are the character flaws someone can have which will instantly tell you that you won't be friends?
I thought about it and came up with a few where I know we just will not be friends: people with no sense of humour, prudes, mean to animals and those that don't like sandwiches. The last one may seem odd or petty but have you ever had a really, really good sandwich?
So tell me Dear Reader, what are some character flaws that will indicate you won't be friends with someone? What is your favourite sandwich? Have you ever tried a Cuban sandwich?
P.S. I also have a competition for you! Your task for this contest is to make my existing recipe OR submit your own sandwich or dish featuring D'Orsogna's New Flame Roasted Ham, and you could win one of 3 incredible gift hampers, courtesy of D'Orsogna. The hampers are valued at $200 each and containing a range of their products from premium continentals, mini ham portions and bacons!
Submit the recipe (really simple - nine ingredients or less) and photo of your masterpiece on Instagram or Facebook using #flameroastedwin and you'll be judged on taste, creativity and visual appeal. To double your chances, don't forget to follow @dorsognasmallgoods. Happy cooking!
This contest runs until month end 31st August 2019, so you have plenty of time to test that perfect recipe lit with flavour.
UPDATE: The winners are Cheryl M. of NSW, Glenda M. of Victoria and Rachael R. of SA! Thank you everyone that entered, your creations were wonderful!
DID YOU MAKE THIS RECIPE? Share your creations by tagging @notquitenigella on Instagram with the hashtag #notquitenigella
Cuban Sandwich
An Original Recipe by Lorraine Elliott
Preparation time: 45 minutes plus overnight marinating
Cooking time: 2 hours
Makes 4 sandwiches
For sandwiches:
4 pan cubanos breads (see recipe below)
2 cups Cuban roasted pork (see recipe below)
24 slices D'orsogna Flame Roasted Carolina Style Sweet Dijon Mustard Leg Ham (available exclusively at the Woolworths deli counter)
200g/7ozs. Swiss cheese
24 slices pickles
Mustard (I also add mayonnaise and Sriracha)
75g/2.7ozs. butter, room temperature
For pan Cubano:
4 cups flour
1 tablespoon sugar
2 teaspoons instant dried yeast
100g/3.5ozs. lard
1.5 cups water
2 teaspoons salt
2 sets wooden chopsticks, oiled
For Cuban mojo roasted pork:
1.5kg/3.3lb. pork shoulder
7 cloves garlic, peeled
3 teaspoons salt
1 teaspoon black pepper
1 teaspoon ground cumin
1 teaspoon ground coriander
1 teaspoon dried oregano
1 tablespoon vinegar
1/4 cup chicken stock
1/4 cup orange juice
1/4 cup lime juice
Step 1 - Marinate pork: in a mortar and pestle (or food processor) mash the garlic, salt, pepper, cumin, coriander, oregano and vinegar and mix with stock and juices. Mix with the pork shoulder distributing it well and marinate in the fridge overnight.
Step 2 - Make the dough by mixing the flour, sugar, yeast, lard and water together. Knead with a dough hook until elastic. Shape into a ball and place in a large bowl and place a cover on this and allow to prove in the fridge overnight.
Step 3 - The next day, bring the pork to room temperature. Place the pork and juices in a pressure cooker and cook the pork on high for 1.5 hours until very tender and falling apart.
Step 4 - Take the ball of dough out and knead in the salt. Line two trays with parchment and divide dough into four pieces rolling out as logs. Place an oiled chopstick in the centre lengthways - usually they use palmetto leaf to create the split but we don't have that so I used an oiled chopstick or you can slash it with a razor or sharp knife. Bake in a 190C/384F oven for 20 minutes.
Step 5 - Assemble the sandwiches. Slice breads in half horizontally and spread with mustard. Layer cheese and pickles and then fill with D'Orsogna Flame Roasted Ham and roasted pork. Finish with another layer of pickles and cheese (I also add mayo and chilli sauce). Butter bread on the outside and place in a panini press. If you don't have a press, use the base of a pot heated up really hot to press it down and melt the cheese. Repeat with the remaining bread and fillings and serve immediately.