Pink Salt's cupcakes 2 coupons/$5 each
There's one thing I learnt rather rapidly when we sauntered up to Hyde Park at 12.55pm only to be greeted with half of Sydney - that we should've arrived about 55 minutes earlier. Hyde Park is teeming with people walking in every direction and we are trying needle-in-a-haystack fashion to locate two other people who have arrived earlier. After a few frantic phone calls we locate everyone and its clear what our directive is: to purchase coupons, find food, find it fast before it runs out by somehow fighting our way through the crowds. We take a deep breath and plunge into the abyss of bodies...
A quick physical glance of all of the stalls is completely impractical, if only moving about were that easy. So we settle with examining our map and we see that a lot of the hatted restaurants are clustered together in the northern end so we make haste to get there. There's Quay, Guillame, Icebergs, Bather's Pavillion, Coast, Salon Blanc and Boathouse on Blackwattle Bay. Unfortunately a lot have sold out and we grab what we can: a delectable looking strawberry tart from Quay with strawberry sabayon.
Marque's freshly made marshmallows (toasted to order) with basil leaf, strawberry and olive 3 coupons/$7.50
One thing we learn and that's if you see something yummy, get in the queue, if you come back 10 minutes later, they may have sold out. Sadly we learn this the hard way with the Bourke Street Bakery. A girl whizzes past me with a fabulous looking plate of savoury appetisers but she's gone before I have the chance to ask her where its from. I also see a girl wrestling with an enormous pork chop on her fork-I learn later that its from the Womens Weekly stand which was served with apples.
Womens Weekly stall-cooking apples and onions
Queues at the other stalls are impossibly long or sold out so we join what is a relatively small queue for Brasserie Bread's Merguez sausage. The line moves quickly and we are thankful, why its 13.30pm and we need to spend our coupons before the clock strikes 2pm and we turn into pumpkins!
The Tea Room's strawberry mascarpone tart
I spy a delightful dainty mini sweet and cake plate and ask the older country gentleman holding it where he got it from. He grins as he knows he has the prize and tells me its from The Tea Room stall where I head to immediately. It's one of the best buys of the day with 6 delicate and varietal petit fours and a half sandwich. Its a plate that gets me stopped by at least 6 people and I hear many whispers of "Oooh that must be the tea room plate" as I walk past.
The Tea Room's Tomato Salsa Filo
Along this section I spy a sign that has me joining or trying to join the end of the queue for Becasse-trying to join as the end of the queue seems to shift by the minute and those of us who thought that we were progressing in it find that we aren't actually part of the queue anymore! Luckily the crowds today are friendly and despite the ordered chaos there's no-one pushy at all, most are friendly and eager to chat in and out of queues. Its worth it in the end as the smoked ocean trout in citrus tea vinaigrette looks bright and flavoursome. The dressing is dripping through the cardboard though and walking and dripping is not a good look.
Art Gallery restaurant's Rabbit Rillette, watercress and sour cherry compote 4 coupons/$10
Its 1.50pm and we have 3 coupons left over so my husband, spying a coconut panacotta with mixed berries, spends it quickly at the Verandah stand. We walk a bit further and I spy Kables luscious looking offering: Soft vanilla panacotta, caramelised banana and coffee crisp. The woman asks me if I'd like some and I say mournfully "I've run of coupons" and she smiles sympathetically but her lovely co-worker overhears, gives me a large smile and offers me up a full sized plate of the panacotta for free! If I wasn't already happy at my delicious haul, I just became 200% happier. What a serendipitously lovely surprise!
Salon Blanc's oysters 4 coupons/$10
With our bounty in hand, we join everyone else at a table where we share our haul. Unfortunately there wasn't much in the way of vegetarian food (some fresh spring rolls were all that we on offer as the Indian food had sold out) so the vegetarians go a little hungry.
Brasserie Bread's Organic Merguez sausage with North African tomato sauce and Tahini 3 coupons/$7.50
I bite into the Brasserie Bread with Organic Merguez sausage with North African tomato sauce and Tahini and the bread is a little tough and chewy. But to be fair, we aren't exactly eating it soon after it was made, its a good 40 minutes since we bought it. The sausage inside it is a little unremarkable, almost like a vegetarian sausage. Its filling but its not particularly special but for 3 coupons, we aren't really complaining.
Flying Fish's Skewered prawns , 3 skewers for 4 coupons/$10
We sample D's prawns from Flying fish next and we regret not joining this queue as it was lengthy. They're smothered with a spicy, rich curry sauce and delicious with a good number of prawns.
Becasse's ocean trout in citrus tea vinaigrette with radish salad 4 coupons/$10
Next is Becasse's ocean trout in citrus tea vinaigrette with radish salad- its the size of Tetsuya's Petuna Ocean Trout dish at his restaurant and mouthwateringly delicious. Nothing fancy needs to be done to this perfect piece of fish, just a light slightly sweet vinaigrette, spanish onion and radish and you have a dish fit for a king. Its definitely worth the 4 coupons and leaves me wanting for more.
The Tea Room's sampler plate 3 coupons/$7.50 (some hiding under the sandwich)
Our Tea Room plate is next and there are three savoury items amongst the sweet, a finger sandwich which is a salmon, cucumber, mayo and dill on pleasingly pillow soft wholemeal bread. There's also a spinach and feta roll which is a pouf of puff pastry and a small amount of filling and a lot of air. The filo tart with tomato salsa and avocado cream is a little light on the filling and biting into it, it seems to be a lot of cripsy filo and not quite a lot of avocado or tomato.
The Tea Room's sampler plate 3 coupons/$7.50
The sweets are attacked next in a desperate rush for sugar, the Chocolate N'gress is soft, chocolately and fresh. The orange and almond cake is good, not quite as moist as I would've liked and there isn't as much orange rind as I like but its not bad. The passionfruit sable is tangy and tart with the biscuit crumbly and buttery. The Strawberry mascarpone tart is my favourite of the lot, the buttery tart shell collapsing in the mouth with the sweet slightly tart strawberries and a voluptuous heave of mascarpone.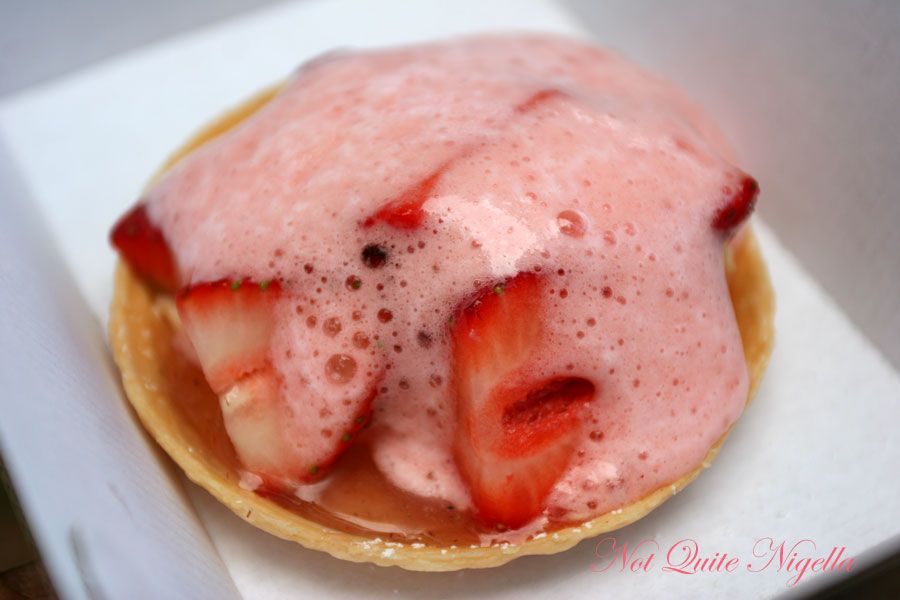 Continuing on the strawberry theme, I try Quay's strawberry tart with sabayon. By now the sabayon has turned into a puddled mess but the eating is not affected. Its sweet and luscious strawberries a perfect foil for the crispy thin but sturdy pastry. The sabayon gives it that subtle creaminess that strawberries lend themselves so perfectly to.
Verandah's coconut pannacotta with mixed berries 3 coupons/$7.50
Verandah's coconut panacotta is next, its heavy in coconut cream and deliciously moreish. Even though you know how high in fat it is, one can't help eating more and more. Unfortunately the berries accompanying it are less than stellar with the blueberries quite inedible with a solid meaty texture...odd! I make it a point of eating berries wherever I can after hearing about the health benefits but not even the promise of glowing Perricone skin can make me eat these.
_
Kable's soft vanilla pannacotta with caramelised banana and coffee crisp 3 coupons/$10 _
Last but not least is Kable's soft vanilla panacotta with caramelised banana and coffee crisp. I have very fond memories of dining at Kables many moons ago and the panacotta is a mound of rich, gooey, vanilla bean specked goodness. The bananas have a slightly floury taste to them and I find the panacotta much more interesting-delicious.
We're happy, we've spent our coupons wisely, received a freebie and although we're not waistband stretching full, its lovely to sit in the sunny park amongst fellow foodies and drag queens and listen to the live music and watch the bubble blower blow gigantic bubbles.
SMH Good Food and Wine Show Sydney
Cost: Food and drink vouchers $2.50-$10, free entry.
Location:
Hyde Park North, Sydney
Event dates:
Saturday, 27 October
Food stalls 12-2pm, entertainment until 5pm