I walk into the building and a gentle breeze of snow flakes wafts around me. There's a carriage to my right and an incandescent beautiful snowy forest scene on my left. Where on earth am I? It's cold in Sydney but surely not that cold. I'm at Opera Australia headquarters for one of their annual fund-raising dinners cooked by no other than Quay's Peter Gilmore. Men walk by in tuxedos and women glide by in long dresses with trains and furs and an Issey Miyake Pleats Please coat sweeps past us. This is not your usual crowd.
We mingle with a glass of Joseph Perrier champagne or a glass of Vitek rose vodka which is said to be made from rose petal pressings and blended with extracted almond oils and a hint of lime. We take a little peek at the silent auction and live auction items and the eagle ice sculpture before we make our way into the main room resplendently decked out in gilt framed paintings, a traditional royal Russian table setting, lots of sweeping velvet curtains and all sorts of splendorous opulence. In fact there is about $2 million worth of props in this room.
Jill Dupleix and Terry Durack
Our masters of ceremony for the evening is husband and wife pair Terry Durack and Jill Dupleix who are themselves opera buffs. They explain the format for the evening while enrobed in Russian fur hats and coats. Each time one of these dinners are held, one of Sydney's top chefs volunteers their time for the event. 70% of all funding for Opera Australia is from private fund raising with the government contributing 30% of them and they have three events a year. This year this means Peter Gilmore is in the makeshift kitchen busily preparing a dish mysteriously called "Borshke Meats Faberge".
Gennadi Dubinksy
But first things first, because it is an Opera Australia fund raiser  to raise money for the Moffatt Oxenbould Young Artist Program and no doubt most of the people here are opera enthusiasts, we are treated to three solo performances accompanied on the piano. First up is baritone Gennadi Dubinsky who takes to the stage and sings Mephistopheles' Song of the Flea by Mussorgsky.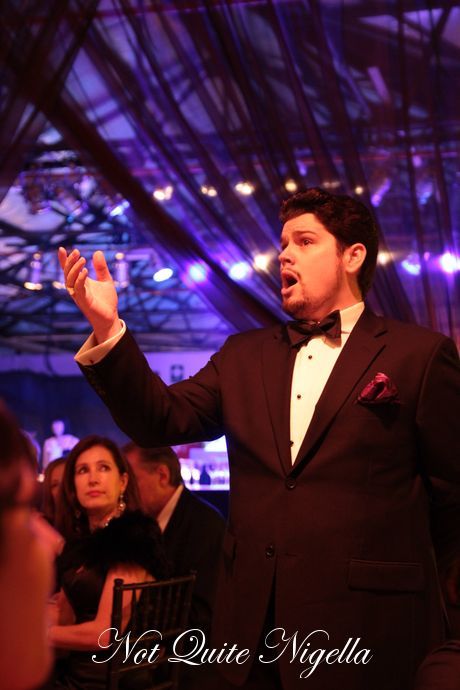 '
John Longmuir
Then tenor John Longmuir emerges from another corner and makes his way around the room singing Ecco Ridente in Cielo from The Barber of Seville by Rossini. And then last is soprano Nicole Car who sings Mi Chiamano Mimi from La Bohème by Puccini and gives everyone goosebumps with her other worldly trills. At 25 years old she is one of Opera Australia's youngest sopranos.
Nicole Car
Broshke Meat Faberge. beetroot, smoked eel egg served with 2010 Howard Park Great Southern Riesling
But I know you must be curious as to what the food is like no? We were very curious especially when Terry mentioned that timing was crucial for this course. They bring out the entrees and lo and behold we have a combination of his sea pearls and beetroot salad. On the plate is a semi egg shaped tower with smoked eel brandade in the centre and on the outside are egg pearls which taste like egg white in a pearl form topped with silver leaf and an edible flower. On the side are confit and dehydrated beetroot and shallots. It's creamy and the shallots add a subtle but present flavour to the glossy beetroot, fish and egg.
Nicole Car and John Longmuir
In between the entree and the main is another round of entertainment. This time Gennadi Dubinsky takes an audience member for a quick whirl before he joins the other two singers on stage for a version of Those Were the Days My Friend injected with a little humour.
Gennadi Dubinsky takes a diner for a whirl
Then of course what else but a game of guess that wine. Now I don't know if you would believe me but I knew that this was a Margaret River wine from the moment I sipped it because I literally tried so much of it when I was there. And I know how crazy that sounds but I wouldn't lie to you. However Mr NQN is much more learned than me on wines so we did a split team and I did the opposite of him in order for one of us to stay in the game. So we didn't win and I wouldn't have won in any case because I would not have guessed whether it was a blend or a straight varietal anyway.
Peter Gilmore preparing the main
Boeuf Hermitage: beef, horseradish, sour cream, forest mushrooms, black bread, cabbage served with 2008 Howard Park Scotsdale Shiraz
Whilst the entree was a brief whisper of food, the main is much more substantial with sous vide cooked beef which is tender paired with forest mushrooms, cabbage and "Ezekiel's five grains". This is Peter's version of boiled beef with potato and cabbage which he tells us was quite predominant in the cookbooks that he took out from the library. The beef is very soft and the puffed, crunchy grains are a welcome contrast (I do find a lot of his food is soft in texture) and the forest mushrooms are delectably slippery. Only halfway through our beef do we notice the little silver pot of sour cream that was quietly put down on the table which contains horseradish which adds a touch of warmth and sapidity.
There's some gentle prompting to let diners know that the first lot of the silent auction is about to finish and so Myriam and I quickly pop out to take a look at what is on offer. There are a plethora of prizes ranging from almost every luxury experience possible and most of the prizes are either donated or given at a wholesale discount.
There are things such as five nights for 12 people at Bells at Killcare starting at $3,000, a pack of 40 Herbies Spices, a Creme de la Mer pack worth $2,000 starting at $600, three nights at Daintree Eco Lodge plus plenty of wine. Interestingly the wines have a lot of bids but some items like the $2,500 Electrolux voucher were up to $750 the last time we looked so there were certainly some great deals to be had.
Then the live auction begins for the big ticket item where a diner can win a business class trip to St Petersburg worth $35,000 (nabbed, for a steal at around $20,000). A Royalty Prussia European Porcelain clock goes for $2,800 with a retail price of $12.800. Bargains darling I tell you! ;)
Peter Gilmore on right
Peter Gilmore comes out to have a quick talk and he explains that cooking Russian themed food was a new challenge for him. He says that when he first heard of the theme he as glad as he immediately thought of caviar but being that it is a fund raiser, some of the more luxurious items had to be forsaken in the name of charity. And yes whilst it wasn't an over the top opulent degustation dinner the fact that the point was to raise funds is taken.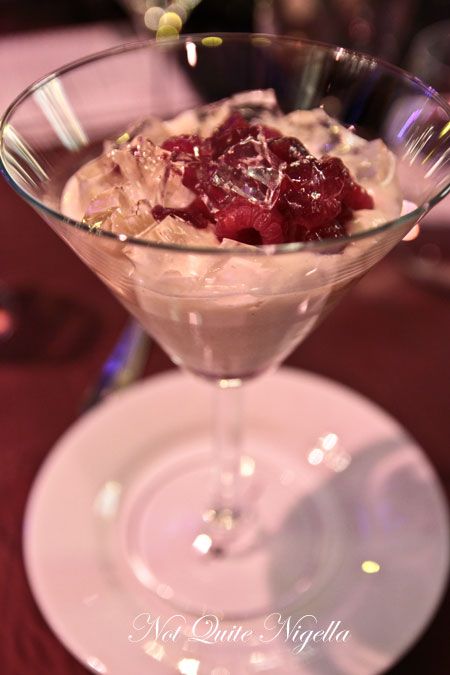 Royal Pashkas served with a De Bortoli Deen Vat 5 Botrytis Semillon 2006
The dessert comes out and it is glistening in a martini glass. Made with vanilla sour cream, an ever present Russian ingredient, it takes the form similar to a syllabub with layers of fresh raspberries, sweetened cranberries, tiny cubes of rose jelly and a pool of sweet raspberry puree at the bottom. The light, creamy texture and the sweet and tart fruit were a great combination. One note was that while the wines were good, many of us at the table felt that they weren't well matched to the food. I tried this wine which was lovely and then tried it after the dessert and it clashed.
Petit fours
The petit fours came out next and I'm sure someone will kill me for saying this, but they taste and looked just like Easter eggs with a hard candy shell!
The clock almost strikes midnight and it's a late night for many. We sweep past the snow scattered carriage and Winter scene and climb into our pumpkin coach...
So tell me Dear Reader, are you an opera or musical fan? And do you have a favourite opera or musical?
NQN and Mr NQN attended the event as a guest of Opera Australia
Opera Australia
http://www.opera-australia.org.au/
Quay
Upper Level Overseas Passengers Terminal Circular Quay West, Sydney NSW
Tel: +61 (02) 9251 5600