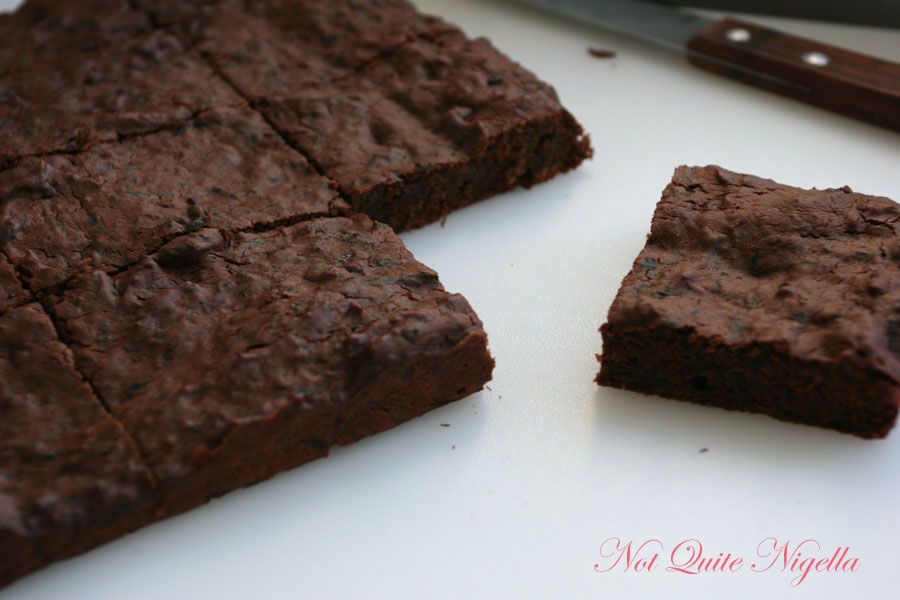 Now I know that there is a huge debate raging here about copyright and Jessica Seinfeld's Deceptively Delicious book and Missy Lapine's Sneaky Chef book and whilst its interesting, I'm more interested in the recipes than the controversy. Not that I'm not interested in Hollywood or literary gossip mind you, I am of course being an avid "trash mag" connoisseur, but my stomach beckons a little more.
After seeing Jessica on Oprah, I was intrigued by the recipes. I've noticed that whenever Oprah does a food show, she tries the food but doesn't really go for it preferring to sample little bits rather than indulge. In this case, perhaps because the recipes are low fat and healthy, she was literally wolfing the food down throughout the whole show accompanying her degustation with amorous groans of pleasure. Her audience's reaction too was similar in nature with a lot of head nodding so I knew I had to try these things for myself.
The odd thing about brownies is that they have a lot of eggs, butter and chocolate to help keep them moist. In this recipe, there's hardly any, just 2 large egg whites and 2 tablespoons of butter so my skepticism was high. It became even higher when pureeing the spinach. I love spinach and cheese but plain spinach is not appealing at all. Plain spinach in a brownie is even less so. I remained skeptical until I tasted the final raw batter before it was about to be put into the oven. It was rather chocolately and no matter how hard I tried, had no spinach taste at all.
After baking, I found that they didn't rise a great deal at all and whilst my baking pan was almost exactly 8inches (20cms) by 8inches (20cms) as specified, the brownies were a little flat. That was a bit disappointing. And if you're expecting a typical luscious brownie with crispy top and moist chewy centre, you may be disappointed. I found that, as she said, with my first bite of a warm one, there was the slightest hint of "something" although it thankfully didn't scream "spinach!!" to me. After letting it cool as suggested I started on a new brownie. Phew, no spinach taste. By the third or fourth bite, when I realised I was eating an extremely healthy version of a brownie but it was rich and chocolately I find they aren't so bad after all. In fact, they were rather good. And by the end of my first cool brownie, I'm reaching for another...
DID YOU MAKE THIS RECIPE? Share your creations by tagging @notquitenigella on Instagram with the hashtag #notquitenigella
Brownies (with Carrot and Spinach) from Deceptively Delicious
These brownies fool everyone! You won't believe how scrumptious they are (or how good they are for you) until you make them yourself. Just don't serve them warm—it's not until they're completely cool that the spinach flavor totally disappears.
INGREDIENTS
Not your typical brownie ingredients
3 oz/90g semisweet or bittersweet chocolate
1/2 cup firmly packed light or dark brown sugar
1/4 cup unsweetened cocoa powder
2 Tbsp. trans-fat-free soft tub margarine spread
2 tsp. pure vanilla extract
3/4 cup oat flour or plain flour (I'd recommend using Self Raising flour as they don't rise much otherwise with the small amount of baking powder)
Preheat the oven to 350°/180c degrees. Coat an 8" x 8" (20cm x 20cm) baking pan with cooking spray or line with baking paper.Melt the chocolate in a double boiler or over a very low flame (or in microwave)
In a large bowl, combine the melted chocolate, vegetable purees, sugar, cocoa powder, margarine and vanilla and whisk until smooth and creamy, 1 to 2 minutes (it will look rather awful at this stage but do persevere)
Whisk in egg whites. Stir in the flour, baking powder, and salt with a wooden spoon.
Pour the batter into the pan and bake 35 to 40 minutes. Cool completely in the pan before cutting into 12 bars.
P.S. I made this a second time and used Self Raising flour in addition to the baking powder and they rose beautifully and were even better than the first batch.
Created by Jessica Seinfeld
From the book Deceptively Delicious
Makes 12 brownies
How to puree spinach
PREP
No prep at all for baby spinach. For mature spinach, fold leaves in half lengthwise with the stem outside, then strip the stem off the leaf.
COOK
Steam for 30 to 40 seconds, or cook in a skillet with 1 tablespoon of water for about 90 seconds, or just until wilted.
PUREE
In a food processor or blender for about 2 minutes, until smooth and creamy.
How to puree carrots
PREP
Peel, trim the ends and cut into 3-inch chunks.
COOK
Steam for 10 to 12 minutes.
PUREE
In a food processor or blender for about 2 minutes, with a few teaspoons of water if needed for a smooth texture.