I've always loved these custard tarts ever since they were huuuge years back and I suppose still are. I came across a recipe by Bill Granger via a friend and it seems pretty true to actual Portuguese custard tarts which pleases me no end. These are my finicky fat phobic Father's steadfast favourite. In fact, I give him a dozen for his birthday, Father's Day and Christmas and he absolutely refuses to share them with my mother so I should probably make some extra for her.
I halve the pastry amount that Bill puts in his recipe in an effort to make them more healthy. This may sound delusional but I've calculated that if you make it with skim milk or a half skim/half full fat milk it still tastes absolutely delicious and they're about 120 cals each which is something of a miracle. In fact I've never made these with cream as the recipe says which I'm sure is heavenly but milk is great as the egg count thickens it considerably.
DID YOU MAKE THIS RECIPE? Share your creations by tagging @notquitenigella on Instagram with the hashtag #notquitenigella
Portuguese Custard Tart
Rated 5.0 out of 5 by 6 readers
Servings: Makes 12
Level of difficulty: Intermediate
Preparation Time: 25 minutes, plus cooling time and 5 minutes standing
Cooking Time: 40 minutes
Ingredients
3 egg yolks (I prefer 2 egg yolks and 1 whole egg)
230ml/8.11fl ozs Cream (I don't use cream, I use milk)
2 tsp vanilla extract (I use Queen Vanilla Bean Paste)
300g/10.6 ozs rolled puff pastry (I use one sheet of puff pastry)
Method
Step 1 - Lightly grease a 12-hole 80ml muffin tray.
Step 2 - Put the egg yolks, sugar and cornflour in a pan and whisk together. Gradually whisk in the cream and milk until smooth.
Step 3 - Place the pan over a medium heat and cook, stirring occasionally to make sure that it doesn't catch at the bottom, until the mixture thickens and comes to the boil. Do not overstir as this can cause the custard to split and butter to ooze out. Remove from the heat and stir in the vanilla extract. Transfer the custard to a bowl, cover the surface with cling film to prevent a skin forming and leave to cool.
Step 4 - Preheat the oven to 200C.
Step 5 - Cut the pastry dough sheet in half, put one half on top of the other and set aside for 5 minutes. Roll up the pastry tightly from the short end and cut the pastry log into 12 x 1cm rounds. Lay each pastry round on a lightly floured surface and use a rolling pin to roll out until each is 10cm in diameter.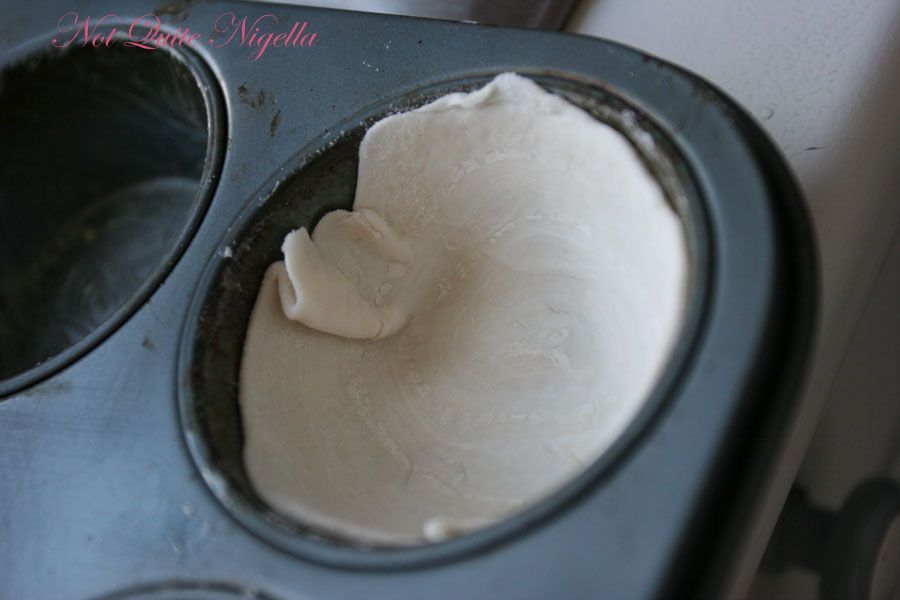 Step 6 - Press the pastry rounds into the muffin tin. Spoon the cooled custard into the pastry cases and bake for 20-25 minutes, or until the pastry and custard are golden. Leave the tarts in the tin for 5 minutes, then transfer to a wire rack to cool completely.