"Its all very Emily Howard" says friend Teena when we sit down and look around at the room. Indeed it is quite, and though not quite as Victorian as Emily, it is undeniably girly. The room features flocked wallpaper, ornately tiled ceiling, Art Deco style chandeliers, maroon velvet chairs and Royal Albert china. In fact, looking around, there's nary a male specimen to be seen bar for a very occasional young boy dragged along to this haven of girlishness by his parents. It seems only fitting as we're here to celebrate Teena's upcoming birthday with friend Gina and a girls only afternoon tea.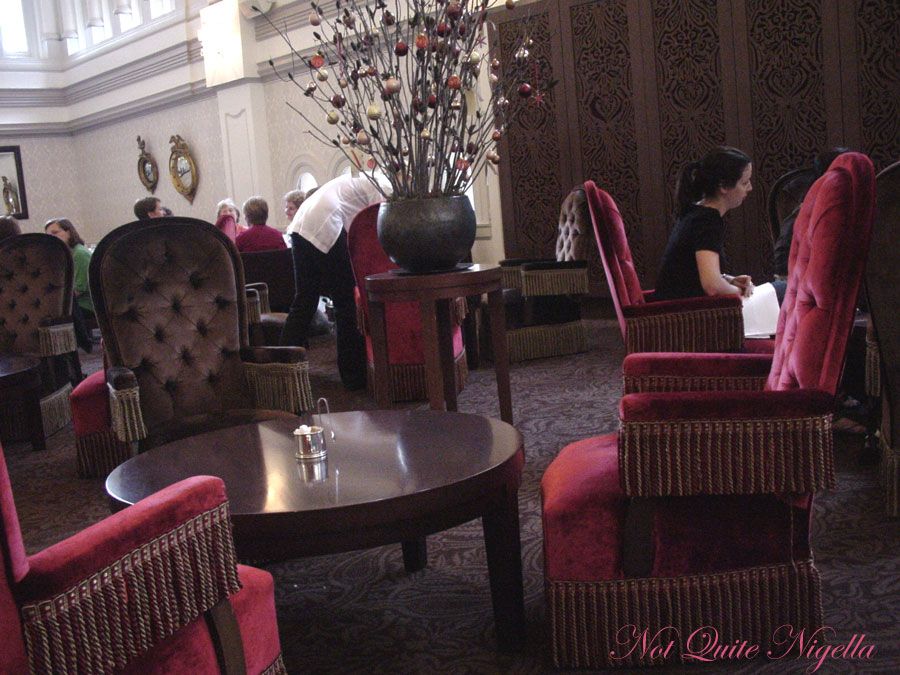 There are a few choices for Afternoon tea: regular $33, sparkling $38.50 or champagne $55. Bizarrely, their menu does not include GST as we learn when we receive the bill later and it must be the only establishment in Sydney not to do so. I partake of the regular and Teena and Gina partake of the sparkling. There's a large selection of teas as well as a connoisseur's selection (surcharge $2.20). My tea arrives along with the flutes of sparkling wine and soon after the three tiered cake stand for three persons arrives.
On the top tier are the sandwiches: salmon & cucumber; egg salad and ham, and on the second tier are the cakes and tarts with the third tier housing the scones and warm savoury pastries with the jam and cream arriving on separate plates. Its a little smaller than I expect, mainly as I had had the Tea Room's selection at the Food and Wine Fair and it was made up of a very similar selection minus the tea and scones and that was $7.50 so I expect a little more for $30. But oh well, there's a lot to be said for the atmosphere and dining in a chic salon rather than lining up and fighting crowds for your meal .
There are 6 sandwich fingers in total so we choose two each. I have the salmon & cucumber and egg salad. The salmon & cucumber is soft and juicy with a generous spreading of cream cheese but not a great deal of salmon. The cucumber gives the cream cheese a little more wateriness than usual but this doesn't make the wholemeal bread soggy at all. The egg sandwich is on brown bread and is deliciously creamy although admittedly its hard to mess up an egg salad unless you use bad mayo or leave eggshell. There is a tiny egg tart on the top tier with a wonderfully earth shatteringly crispy shell and a rich creamy egg salad centre.
We go for the third tier next wanting to save the cakes for last. The savoury puff pastry morsel its not too bad albeit a little heavy on the cumin. The gigantic scones have random sultanas scattered throughout (one scone has none) and are warm to the touch which is always a good sign. Breaking them apart they are soft inside and we spread them with the cream (a little too runny, I prefer thicker clotted cream) and the jam (a blackberry flavour, also a bit too runny) and bite into them. They're fabulously good, crunchy on the outside but soft and yielding but firm inside. They're probably one of the nicest scones I've had and although I'm not usually a "bread" person I finish the first half and then slather the cream and jam on the second half and devour this too.
Last in the plan of attack is the cake tier. I'm already quite full after the scone so I greet this with a little less enthusiasm than I had for it when it first arrived. There's quite the assortment of cakes here so choosing which to start off with is quite the dilemma. I start with what looks like a mocha choux puff but when I bite into it, it has a tangy jam inside too. Its not to my taste, they don't need to jam at all and if anything, it tastes a little jarring compared to the silky custard cream. Next I try the brandy snap sandwich with a dot of stem ginger compote on the top. I usually love stem ginger but this has made the ginger snap soggy on where it sat so I decline to finish this. I'm not particularly hungry anymore so I'm searching more for something really rather good and this comes by way of the petite chocolate cake square. Its rich and dense and chocolate mud or sacher torte like in texture and its gone within seconds.
I'm warned that the other coconut dusted square isn't very exciting and they're right, its a plain sponge square filled with a thin layer of raspberry jam and is dry and dusty in texture. Next! Last is an item that they had at the Good Food and Wine show, the strawberry tart. Its crispy tart and creamy centre goes perfectly with the fresh strawberries on top. A nice note to end the experience.
The clock strikes 3pm and we realise that we've been afternoon tea-ing for a good three hours. How time flies when you're indulging in the latest Hollywood news and indulging in treats!
The Tea Room
Level 3, North End
Queen Victoria Building
455 George Street Sydney
Ph: +61 (02) 9283-7279
Open 7 days
Morning Tea is served from 11am-12pm
Afternoon Tea is served throughout the day from 11am onwards
An a la carte lunch is also available
https://www.thetearoom.com.au/