Food blogger get togethers are fun. But a variation of this is a girl's only food blogger get together made up of a smaller group of us where we can unashamedly gossip about weddings, shoes and other girly things. So where better to do this at a Champagne High Tea and luckily the We Love Sydney card gives us 2 Champagne High Teas for the price of 1 (2 people for $45). I'm Champagne High tea-ing today with my fellow High Tea lovers Karen, Suze and Reem. Planning this, through a suggestion from Karen was no meat feat entailing over 70 facebook messages. A military style operation if ever I heard of one!
Selection of sandwiches clockwise from bottom left: Smoked Salmon; Cucumber on malted bread; York Ham with mustard mayonnaise and cheddar and vine tomato
We're given our flutes of champagne soon after we are seated and a plate of sandwiches. We're sitting at a table right near the window overlooking a small garden. The sandwich selection is: ham & mustard; smoked salmon; cucumber and tomato & cheddar cheese. The smoked salmon is, I feel compelled to add, quite unevenly filled, some sandwiches chock full of smoked salmon while other only have a thin slice. However despite this they are thoroughly delicious (I had one of the thinner sandwiches).
The ham doesn't find favour with some although I like this. The cucumber isn't great with the seeds making the bread a bit wet and bizarrely cottage cheese pieces are spread instead of the traditional cream cheese. I find the bread too thick for the tomato and cheddar sandwiches. It should probably be added that the buttering on these sandwiches might be considered verging on the heavy handed (you can see how much butter is used in the smoked salmon sandwiches above with the yellow edging against the coral salmon being butter).
Ronnefeldt's Earl Grey loose leaf tea
After we wait for about 1.5 hours we enquire whether we are getting tea with our sandwiches and Champagne and it is brought to us. I have Ronnefeldt's Earl Grey which is absolutely delicious.
](https://images.notquitenigella.com/images/ladies-day-champagne-high-tea-shangri-la-hotel-lobby-lounge-sydney/a1-shangrilahightea_sprea.jpg)
We then ask if we could have the sweets and the waitress tells us that the sweet buffet is actually around the corner and gestures us towards the display. Hmm someone could have told us about this about 1.5 hours ago! It's now 4pm so we make our way there.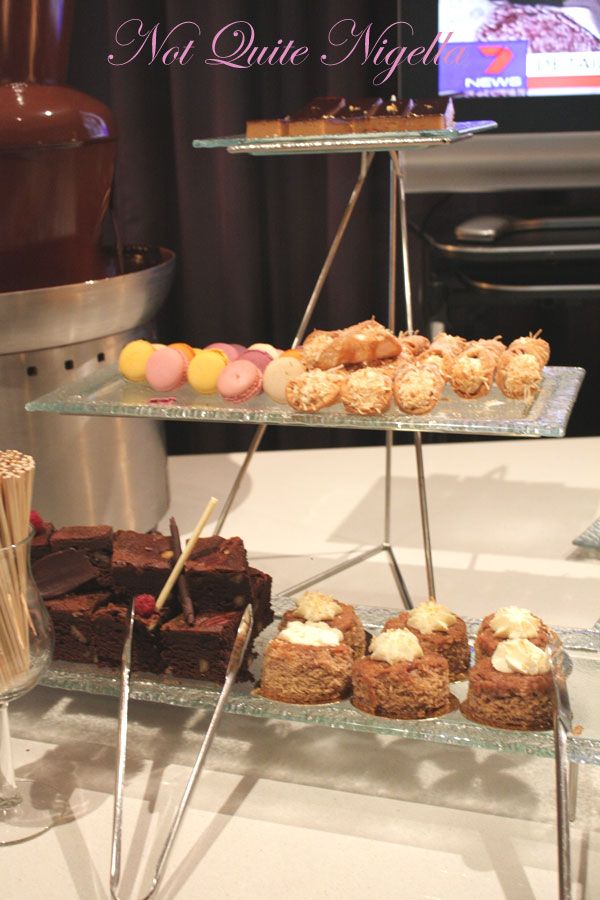 It's not brilliantly merchandised - incongruously a tv screen featuring Jim Belushi lies behind the display somewhat spoiling the look, and there's a chocolate fountain, strawberries, macarons (yay!) and a range of cakes and pastries.
Clockwise from left: Caramel slice, cinnamon cake, chocolate brownie, cannoli
We collect a selection of the more tempting morsels and bring them back to the table to photograph. The gold leaf topped caramel slice should come with a warning. A tiny corner of this would do most as it's as sweet and thick as a caramel lolly. I take one bite and can't do any more and neither can the rest of us except for sweet toothed Suze who has the rest. The brownie is fairly moist but not particularly gooey or remarkable. The cinnamon cake is heady with fragrant cinnamon. The cannoli is crisp and full of sweetened custard cream and finished with dessicated coconut.
Clockwise from left: Mini pavlova, chocolate dipped strawberry, caramel slice, mango mousse cake, lemon meringue tart and assorted macarons
The chocolate dipped strawberry is luscious but what I'm most interested in is the macarons. All are filled with jam rather than buttercream and my favourites are undoubtedly the citrus flavours. The Orange is vividly shaded and tastes burstingly strongly of citrus. The lemon is a delicious doppelganger for the Lemon Crisp biscuit. The raspberry macaron is like an Iced Vovo but the darker purple blackberry and blackcurrant have a strong marzipan taste which I don't particularly like. Overall they're fabulous and well made though. The intriguing one is the brown coloured fruit topped cake. Despite its unappealing look, it has the taste of a delicious mango mousse pudding cake.
Clockwise from left: Lemon meringue tart, cannoli, chocolate dipped strawberry, mini pavlova, custard tart and assorted macarons
The individual pavlova, one of my favourite desserts, is very good. The custard tart Reem reports, is just a plain custard tart. The item that divides us is the lemon meringue tart, Reem and Suze find it salty whilst I don't mind it although I don't like the soggy pastry case.
Clockwise from left: Triple chocolate mousse cake, cream, jam and scones and madeleine
The three tiered chocolate mousse is lighter than air and airily floats and disappears as vapour inside my waiting mouth. Some of the the scones appear undercooked and doughy when split so we don't try these and  the madeleine is thick, dense and soaked in syrup which is not how buttery madeleines should be.
And just for good measure, another look at the delicious macarons...
Reem modelling the chocolate fountain dipping process
The Blogger taking a photo of the blogger taking a photo of the blogger...this could go on forever.
And just because he was wearing a funny shirt, on the way home we saw this guy.
Not sure quite where the Champagne high tea fits into it but there are other options also available
Shangri-La Hotel
176 Cumberland Street, The Rocks
Tel: +61 (02) 9250 6123
We Love Sydney offer available until the 28th of February