I love the idea of edible Christmas tree decorations and the fact that I happen to like gingerbread is an added bonus. Last year I bought some chocolate Christmas tree decorations but thought that I'd try my hand at making some gingerbread this year.
I had some major issues with the original recipe, the amount of flour that they specified (2.5 cups) was not enough to make a dough that was kneadable so I had to add more in order to make it so. This recipe is for the crisp, not chewy gingerbread although apparently if you cook it for less time (closer to 7 minutes than 10) then it turns out chewy. It is also a fairly mild tasting gingerbread so you could certainly up the ground ginger content or grate some fresh ginger if a stronger hit is desired.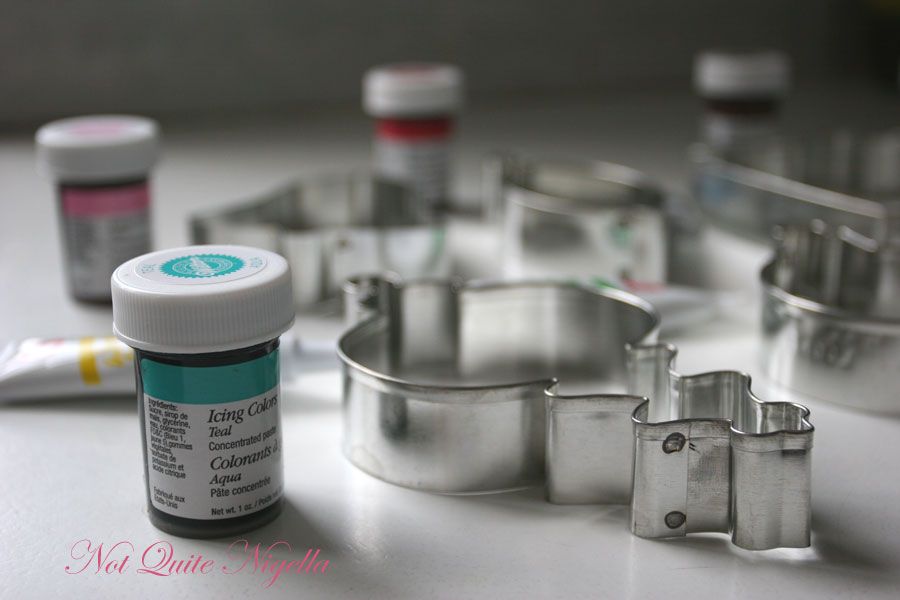 This is my first foray into using royal icing and I am painfully aware that it shows. Seemingly I have no dexterity when it comes to icing gingerbread despite the fact that I can ice and decorate cupcakes just fine. The amount of royal icing that this makes is quite a lot-enough for you to use to cover the cookies and pipe them in a myriad of shades although I used pre bought cake icing pens as I don't have any disposable piping bags and they're much easier to deal with. The recipe didn't say so but I found the royal icing much easier to use a while after it was made, it was simply too runny otherwise, certainly far too runny to pipe with when first made. Oh and whatever you do, do wait til the icing sets, it does take a while, but any nicks or smudges are hard to get out. Go wild with the colours, the more colours the better I thought and silver cachous are fabulous although I just happened to run out of them much to my chagrin. ..
DID YOU MAKE THIS RECIPE? Share your creations by tagging @notquitenigella on Instagram with the hashtag #notquitenigella
Gingerbread Christmas baubles
*125g butter, at room temperature
* 100g (1/2 cup, firmly packed) brown sugar
* 125ml (1/2 cup) golden syrup
* 1 egg, separated plus 1 extra egg white
* 3 to 3 1/2 cups plain flour
* 1 tbs ground ginger
* 1 tsp mixed spice
* 1 tsp bicarbonate of soda
* Plain flour, to dust
* 300g (2 cups) pure icing sugar, sifted
*Food colouring as desired
Method
Step 1 - Line 2 or 3 baking trays with baking paper
Step 2 - Use an electric beater to beat the butter and sugar in a bowl until pale and creamy. Add the golden syrup and egg yolk and beat until combined. Stir in the flour, ginger, mixed spice and bicarbonate of soda. Turn onto a lightly floured surface and knead until smooth. Press dough into a disc. Cover with plastic wrap and place in the fridge for 30 minutes to rest.
Step 3 - Meanwhile, place egg whites in a clean, dry bowl. Use an electric beater to beat until soft peaks form. Gradually add icing sugar and beat until stiff peaks form. Divide icing into separate bowls depending on the desired number of icing colours you want including one white just in case. Set aside.
Step 4 - Preheat oven to 180°C. Place the dough between 2 sheets of baking paper and roll out until about 4mm thick. Use cutters to to cut out shapes. Place on trays about 3cm apart. Repeat with any excess dough.
Step 5 - Bake in oven for 10 minutes or until brown. Remove from oven. Transfer to a rack to cool and poke holes in top to loop string through. I used the pointy end of a Japanese chopstick (thinner at the bottom than Chinese chopsticks).
Step 6 - Place prepared icings in small plastic bags (or use bought icing pens). Cut a small hole in a corner of each bag. Pipe icing over bauble to decorate.
P.S. These will become soft if the weather is humid which may cause them to fall from the tree. I know this from first hand experience as yesterday was humid :(
Notes & tips
Allow 30 minutes resting time.
P.S. If you can't find golden syrup, you can use a 50/50 combination of treacle and honey or corn syrup and honey
P.P.S. These make the house smell fabulously Christmassy
Source
Adapted from Original recipe from Australian Good Taste - December 2003 , Page 40
Recipe by Nadia French