The lovely thing about Christmas, aside from Christmas itself, is that work tends to wind down and people get more relaxed and there is time made for leisurely lunches. Consulting work, although you forgo the work Christmas party, means that you will inevitably get invited out to a corporate lunch sometime before everyone goes on holidays. Bathers Pavilion was perfect for me as a) its literally down the road from where I live b)I had wrapped up all of my work for the year so I had nothing to do but enjoy and c) its one of the most fabulous restaurants in Sydney on one of the most gorgeous (if not particularly good for surfing) beaches.
Its less than a week until Christmas and the restaurant is full of diners, some business lunchers, some ladies who lunch and groups that are celebrating a pre Christmas get together. The cafe next to the restaurant is also incredibly busy drawing a steady stream of clientèle although the restaurant's pace seems a little calmer than the cafe. The restaurant is full of cream and white and a lot of blue in fitting with the sandy beach outside and the stunning ocean view.
_Cranberry and watermelon cocktail (non alcoholic) _
Its a humid summer's day and a round of sparkling mineral water and cranberry and watermelon cocktails are ordered to quench the thirst. A quick browse of the menu and I see instantly what I want for my entree, the Spring Bay abalone, seared scallop and prawn, 5 onion riso. M, N and A all order the Tuna Sashimi with crispy soft shell crab and wasabi flying fish roe_ _. I'm having more trouble figuring out what to order for my main but I settle on the Assiette of Macleay Valley Rabbit crown, rillettes, loin and liver with potèe of confit leg. M orders the Casserole of Blue eye cod fillet, scampi and mussels, coconut shellfish bisque. N orders the Dry Aged Angus sirloin with braised Wagyu beef shin, endive, pomme puree, bone marrow sauce. A orders the Humpty Doo Barramundi with Baby octopus and calamari, saffron potato, Romesco sauce.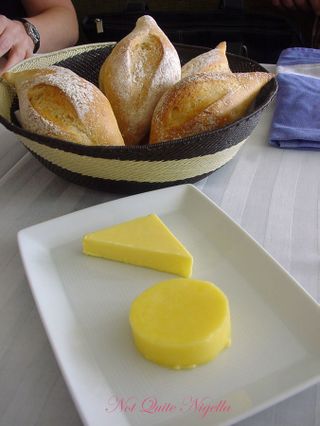 _Sourdough bread with salted and unsalted butter _
Our bread arrives shortly with salted (triangle) and unsalted (round) butter shapes. Its slightly warm diamond shaped sourdough is good but not as moreishly compelling as the sourdough at Bècasse which could make any bread hater into a lover.
_Amuse Bouche-artichoke mousse with salmon and crab _
The amouse bouche arrives, a small shotglass for everyone filled with artichoke mousse, shellfish oil, salmon sashimi pieces and crab meat. This is so fabulously rich and voluptuous, it needs to be eaten one small spoonful at a time to protract the experience as much as possible and has me wondering if its possible to order a big bowl of the amuse bouche.
Our plate of oysters to share arrives alongside with home made pumpernickel bread and red onion vinaigrette. They lovely and fresh although not quite as ice cold and briney as the ones at Bècasse.
_Spring Bay abalone, seared scallop and prawn, 5 onion riso _
Our entrees arrive and I am doubly pleased at my choice once I see it, a large king prawn sits in the centre of a mound of herby, oniony risoni (rice shaped pasta), flanked by two gigantically fat seared scallops (scallops of my dreams!) and three thin slices of abalone. The seafood is perfection, fresh and firm yet toothsome and a lovely counterpoint to the risoni which is heady in savoury onioney sweetness with what tastes like a saffron cream emulsion. At first taste its a little bland but a sprinkle of salt turns it into a star dish.
_Tuna Sashimi with crispy soft shell crab and wasabi flying fish roe _
Everyone else has the tuna and it looks fabulous and I am assured that it is indeed as good as it looks.
There is a small break and our mains arrive. My assiette of Rabbit is artistically expressed and resembles a rambling painting with a dot of bean here, liver of rabbit there and a streak of carrot puree there. However I must confess now something that anguished me to no end. Once I had run around and taken photos of my patient dining partner's meals, I had neglected to take a picture of my own! Once I had realised this, I looked around frantically to see whether anyone nearby was having their rabbit dish delivered to them so that I could accost them and get a photo of theirs but much to the relief of my dining companions, I was out of luck. So alas, there is no picture of it but you'll have to put up with my description instead. The rabbit liver is seared on the outside and pink on the inside and quite mild in flavour, the proscuitto wrapped rillettes are firm and also fairly mild with the flavour coming mostly from the proscuitto. The main attraction on the plate is undoubtedly the rabbit confit leg. Crispy and unctuous the leg sits atop a circle of seasoned white meat strips which are incredibly tasty. The random scattered broad beans and streaks of carrot puree are an unusual pairing with the rabbit and not the most enjoyable accompaniment with the carrot reminding me of baby food. They do give me a mini La Creuset full of roasted vegetables and bacon which I would've enjoyed if I weren't rapidly filling up with food.
_Dry Aged Angus sirloin with braised Wagyu beef shin, endive, pomme puree, bone marrow sauce _
I try some of the Wagyu beef shin which resembles a gruesome eyeball and its reminiscent of a tender slow cooked beef cut. Nothing gruesome about it at all. The pomme puree is smooth and buttery with a variety of sauteed mushrooms stirred through the copper pot.
The stunningly delicious looking Barramundi elicits signs from A of being incredibly good.
_Casserole of Blue eye cod fillet, scampi and mussels, coconut shellfish bisque _
M also enjoys her seafood stew with coconut shellfish bisque which is rich in a variety of seafood and topped with shaved fresh coconut.
Waiters walk past with some delicious looking desserts which sells us completely on the idea of having dessert. Sometimes I wish they were obliged to walk past tables with the dishes so I would know what to order. After much umming and aahing I order the Caramelised Pineapple and ginger tart with iced coconut terrine. M orders the Raspberries and berries with lemon curd ice cream, cassis sorbet and linzer biscuit and N & A order the Menage a trois des Chocolats, Vanilla Anglaise. We're given a good 20 minutes to digest our mains before the desserts arrive.
_Caramelised Pineapple and ginger tart with iced coconut terrine _
My pineapple tart arrives with a gorgeous crème brûlèe type toffee crust which shatters satisfyingly. Its housed in a crisp buttery filo pastry shell and inside it sits a crème brûlèe with small sweet pineapple pieces. Its not particularly gingery but its sinfully good and rich but at the same time fresh with the sweet headily fragrant pineapple. The pyramid of coconut iced coconut terrine is refreshingly good with alternating layers of pineapple and coconut sitting atop a finely diced mound of sweetened fresh pineapple.
_Menage a trois des Chocolats, Vanilla Anglaise _
The menage a trois of chocolate is an exercise in chocolate indulgence with three types of chocolate: a rich earthy pudding, a delicate chocolate mousse in a semi circle with a rich centre and glossy and glazed on the outside and an elegant rectangle of chocolate which is similar to the semi circle. I try a little of these and they're good in a verging onto almost too rich but can't stop eating kind of way.
_Raspberries and berries with lemon curd ice cream, cassis sorbet and linzer biscuit _
The raspberry with lemon curd ice cream is the most arrestingly gorgeous architectural masterpiece with its square layer of toffee on top neat rows of fresh raspberries although I find the lemon curd and raspberries a bit too tangy a combination for me.
Our petit fours arrive and there are four to choose from, an eggy pandan raspberry pyramidal morsel; a dark round blackcurrant pastille, a dark chocolate truffle and a soft toasted coconut biscuit. As I am completely full I am not particularly taken with them and lose interest after sampling a corner of each as I continue dreaming about that luscious pineapple dessert and the incredible abalone entree.
Two courses for lunch $85
Three courses for lunch $100
Minimum 2 courses
Degustation menu also available $150, with wines $220
Market menu also available (5 courses) $125, with wines $185
The Bathers' Pavilion Restaurant
4 The Esplanade
Balmoral 2088 NSW
Phone: (02) 9969 5050
Open: Daily noon-2.30pm, 6.30pm-10pm
Seats: 78