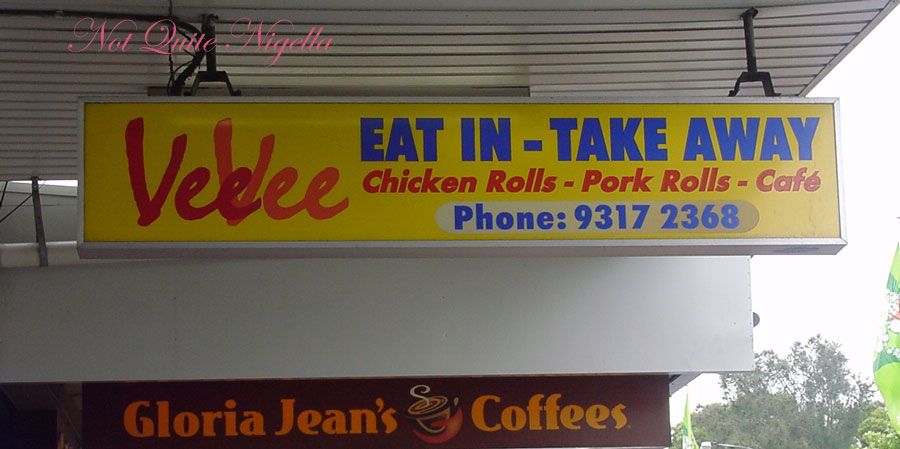 Mascot, Sydney. Home of the airport and errrmmm...let me think what else. Oh yes, Vietnamese rolls! On the same stretch of street, a few doors down from each other are two Vietnamese roll bakeries, Hong Ha and Vee Vee. Hong Ha is the one whose queues are stretching out onto the street, VeeVee by comparison does a more modest trade but has been there for years so it can't be doing too badly.
The selection at Hong Ha
The selection at VeeVee
We decide to do a blindfold taste testing challenge to see who does the best a) pork roll and B) meatball roll. There are also chicken and salad and cheese rolls but pork is the traditional one and meatball is the preferred one from the tasters. We dutifully wait in line for 5 minutes at Hong Ha where the rolls are $4.50 each while there isn't a wait at VeeVee where the rolls are $3.50.
Hong Ha rolls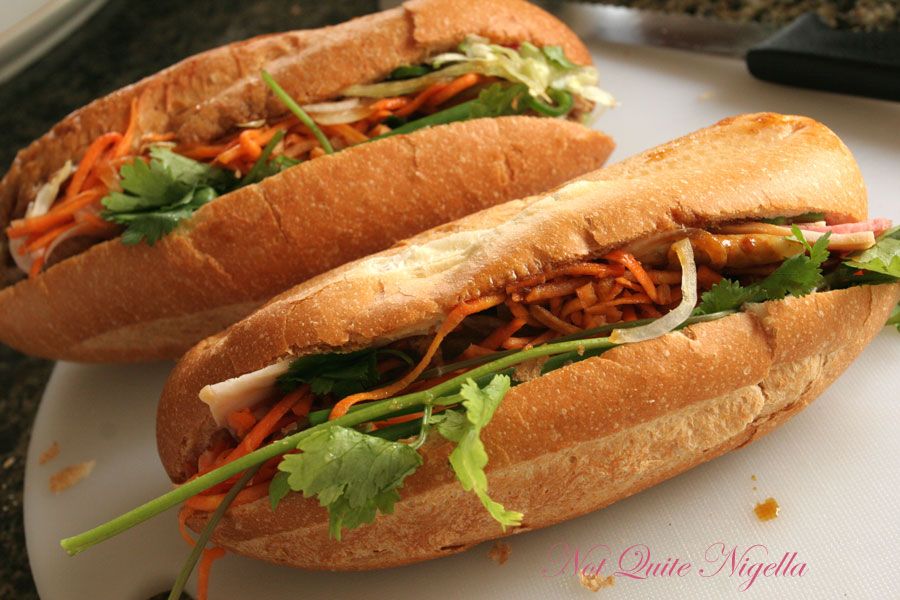 Veevee rolls
Hurrying back we have our blindfolds arranged and we carefully slice up the rolls into four and label them carefully. We needn't really have labelled them as the look of the two store's rolls are different. VeeVee's are bulging with filling and topped with coriander and spring onion. Hong Ha's are less filled with the coriander and spring onion at the bottom and topped with shredded carrot, the bread very, very crispy and warm to the touch.
All of us take turns in tasting these blindfolded and the votes as to the favourites are as follows:
VeeVee Pork: Rose preferred
VeeVee Meatball: Blythe, Ronald and Rose preferred
HongHa Pork: Blythe, Ronald and I preferred
HongHa Meatball: I preferred
The VeeVee pork is good but no match for Hong Ha's Pork which is pure bliss with the crunchy roll and mix of pork and mysterious but delicious brown sauce flavour. The patient queue goers must undoubtedly be queuing up for these babies as they're incredibly good.
However the VeeVee meatball is the majority winner as the roll is softer which lends itself better to the soft meatballs. The amount of filling in the VeeVee meatball is markedly more and the combination of vegetables, meatballs and mayonnaise tastes great together. The only reason I rate the Hong Ha meatball slightly higher is that I prefer the HongHa meatball itself. If I could swap the meatballs around it would be a Super Roll!
Overall HongHa is better if you like your bread crispy, which not everyone does. Indeed Rose preferred VeeVee for both as she doesn't like crispy dry bread and my husband won't partake of Hong Ha's at all as he finds the bread terribly dry.
Other things that we noted:
There was a very uneven chili distribution in Hong Ha's rolls, one roll had a ferociously large amount of chili that would send anyone jumping up and down while another had hardly any at all.
VeeVee's had a generous amount of mayo which made it more enjoyable
VeeVee's were much more generous with the filling
Hong Ha's rolls were much crispier and fresher.
Hong Ha
1151 Botany Road
Mascot
Ph: +61 (02) 9667 2069
VeeVee
1177 Botany Rd
Mascot
Ph: +61 (02) 9317 2368