"The food is great but she's terrifying and _so _rude" my friend Joan Holloway told me one day over lunch. "She is" confirmed Naomi nodding gravely. I don't usually make it a habit of dining at difficult to eat at restaurants. I generally prefer to eat without the possibility of being abused or told off so I kept this in the back of my mind. Then a couple of months later I was talking to @kristygilfo who asked if I had visited MissChu and I told her of my friends terrified but excited faces and the slew of comments on review sites echoing their words.
"Oh no, she just can't handle stress. Tell her that you know me". So I felt safe in the comfort of a "I know a friend of yours" line. I was quite intrigued by the "Queen of Rice paper rolls" title that MissChu had given herself and from all reports, they were excellent rice paper rolls.
Nevertheless I was heeding advice gleaned from everyone. Know what you want, don't ask about any items, pay and move away. It was really like an episode of Seinfeld's Soup Nazi being played out in Darlinghurst. Mr NQN and I arrived one night and I stared at the chalkboard menu. I had already studied the online menu so I knew what I wanted but the chalkboard menu had fewer choices. "Ummm excuse me, which menu do I use?" I asked pointing at both and stepping back in case there was a tirade of abuse. The woman behind the counter smiled and pointed at the one below.
Entry visa
I placed an order and then she told me the total. I thought that Mr NQN had more cash than he did so horrified we came up a few dollars short. "Umm err, we'll go to the ATM around the corner " but then I spy the credit card sign and pay by credit card. "Is that Miss Chu?" I asked another employee. "Oh no, she's at the Opera House, they've just opened up a branch there so she is spending a lot of time there" she said. Phew I needn't have worried. My well rehearsed plan of ordering, paying and stepping away to the side had failed spectacularly and it was probably a good thing that she wasn't there.
A painted slanted school desk on a hill means that it almost lies flat ;)
Our drink arrives first-they take your name you listen out for the call. Meanwhile we take a seat at the tables. And they're quite an odd assortment. There are tiny school children sized tables and chairs, painted over school desks and tables precariously balanced on milk crates. There is a line of string on which the menu hangs-the back of the menu is their entry visa  from when they were "adopted" into Australia as refugees from Laos.
Coconut, lychee and cucumber slushee $5
The coconut lychee and cucumber slushee is divine. Don't fear the addition of cucumber, it is there just to provide refreshment and it doesn't make it taste like a vegetable juice. The frozen coconut and the lychee gives it a tropical sweetness. It's garnished with a tinned lychee and a sprig of mint.
Our goodies
Peking Duck Pancakes $2.20
Our name is called and we receive a big brown paper bag stapled shut with our goodies. The Peking duck pancakes are small miniature cocktail party sized (in fact MissChu originally started as a caterer and doesn't open on weekends as she is busy catering). The pancakes are soft and fresh and the Peking duck is more roast duck but it is succulent and delicious. And I will gleefully admit that I could eat a tray of these.
Roast duck and banana flower rice paper rolls $8
We try the rice paper rolls and start with the roast duck and banana flower and comes with a thick, sweet strong chilli sauce. The roast duck, plain vermicelli and fresh herbs is like having a banana flower salad wrapped up in a rice paper roll although I thought that a bit more duck might have been nice.
Sashimi tuna rice paper rolls Market price ($11.60 on the day that we visited)
The sashimi tuna rice paper rolls are excellent. The rice paper is soft and fresh and packed with wasabi. It's even a little too much for wasabi loving Mr NQN.
Free range egg omelet, avocado and caramelised balsamic onion rice paper roll $6
These rolls were a bit firmer and in parts drier than the other two (perhaps it's the more open packaging that it sits in). The filling wasn't bad but it wasn't as exciting as the other two rolls.
Green papaya salad $13
I did like the green papaya salad which had fresh green papaya, carrot, snake beans, tomatoes and a little round vegetable that looks like a tiny white guava. On top there's also a generous sprinkling of toasted cashews and I particularly like it when each mouthful that I take has a cashew in the absence of the prawns or other additions.
Lemongrass beef eye fillet salad $12
The stir fried minced lemongrass beef is strong in lemongrass and chilli and sits on top of a tangle of vermicelli noodle in a warm salad. Mr NQN finds it a little dry and I prefer the Som Tum salad over this.
Young coconut slushie with banana and mint $5
On another day we decided that we simply had to try more of the menu, namely the spring rolls and the dumplings. We started off with the young coconut slushie (we're slightly addicted to these) in a banana and mint. It's thick with young coconut pieces, sweetened coconut water and has body from the blended banana and mint. We slightly prefer the refreshing quality of the lychee and cucumber whereas this is thicker and richer.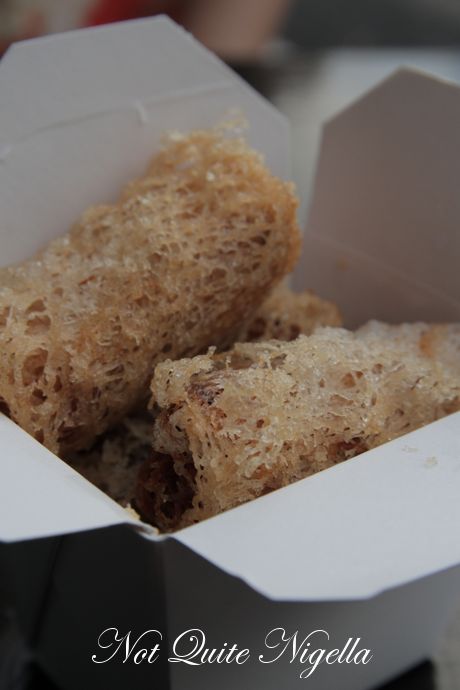 Prawn and crab net spring rolls $5 for 4
I saw someone else at another table with these netted spring rolls on our first visit and I wanted to try them. They're utterly fabulous-crunchy and moreish with a crunch that you hear in your ears. They're filled with prawn and crab, mushroom and vermicelli and I contemplate ordering more.
BBQ pork bun $2 and steamed vegie bun $2
This wasn't bad and the aroma of bamboo was very apparent. The white fluffy part is a little soggy towards the bottom and they're not the most beauteous specimens.
Inside the BBQ pork bun
Inside the steamed vegie bun
Shanghai pork dumplings and scallop and prawn dumplings $5 per serve of 3 dumplings
The dumplings weren't pretty-the flavours were all there but they were mostly burst open due to being steamed for too long. The Shanghai pork buns have a lovely ginger flavour but no soup due to them being burst open and the scallop and prawn dumpling have generous amount of scallop and prawn but again fall apart on the journey from chopstick to mouth. They're both doused with some Shanghai vinegar which gives it a nice tang.
Tiger prawn and green mango rice paper rolls $6 for 2
The prawns are a little on the small side for tiger prawns but they are succulent and flavoured and three per rice paper roll. The combination of marinated prawn and green mango gives these rolls an appealing flavour and moistness and this, along with the sashimi tuna are the pick of the rice paper rolls for us.
Satay chicken and young coconut rice paper rolls $6 for 2
The satay chicken rice paper roll is a little dry so I keep dunking it in the sauce and I give up my rice paper roll to a hungry Mr NQN.
Caramelised free range pork belly stew $15
The white take away box of pork belly has six cubes of slightly sweet, soft pork belly stew on top of some steamed Asian greens and rice and a whole deep fried egg on top. The pork and the egg is good together especially since the egg yolk has a slightly soft centre although the rice is a bit overcooked so we mostly leave this behind.
Brownie $4
The desserts are also served in little takeaway containers. Today's selections are brownies and sticky rice. There are two rectangles of brownie with a crusty chocolate top and a gooey inner and drizzling of chocolate on the top. Heaven.
Sticky rice $3
The sticky rice has two layers, a black sticky rice on top and an eggy custard on the bottom. We both don't really go for the custard, it's a bit too eggy but we both like the sticky rice top.
We see a delivery man hopping on a bike-they deliver within 1.5 kms on electric bikes although the driver says that they can deliver up to 5kms. I guess it just depends on who answers as to how far they might deliver that night! ;)
Nothing brightens up traffic light control box like pineapple offerings and newspapers!
"Ho ho ho!" we hear as a drunk Santa ambles past...
Somehow we don't believe that he has been drinking Coke all night ;)
So tell me Dear Reader, have you ever found a "Soup Nazi"?
Misschu
1/150 Bourke Street, Darlinghurst, NSW
Tel: +61 (02) 8356 9988