Did I ever mention that I am in love in hearts? Heart accessories, heart prints on dresses, heart hairclips. And always in red of course. So on our fortnightly shop at Aldi where we pick up a few goodies (Aldi chocolate is usually quite delicious as they use cocoa butter, not vegetable fat) I happened upon a packet of heart shaped strawberry jam biscuits dipped in chocolate. I grabbed these at once.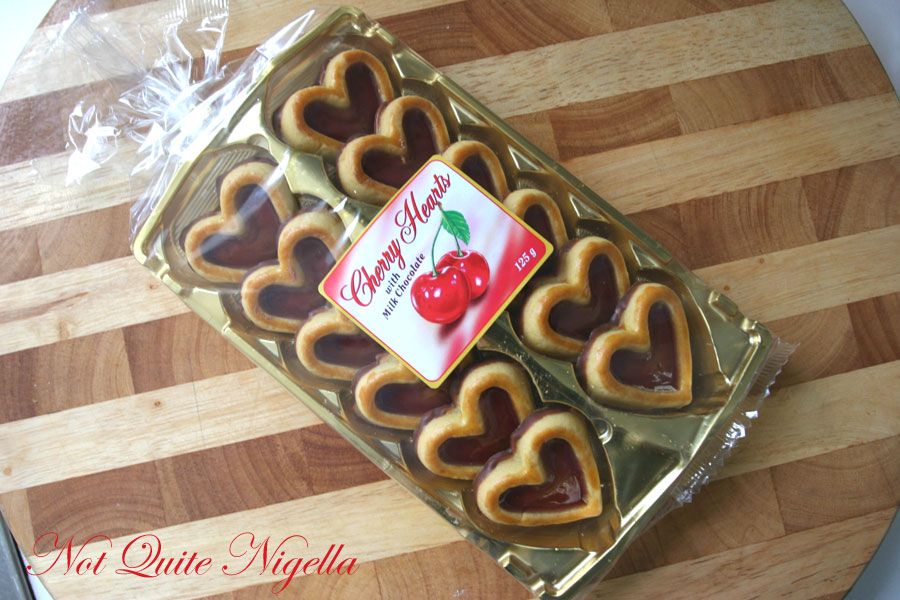 I also found a packet of Heart shaped pasta. I've seen all shapes of pasta, even penis shaped pasta so I find it odd that this is the first heart shaped pasta I've seen in my life-and please don't read anything into the types of establishments I frequent, the penis pasta was in a novelty shop called "The Pop Shop" on Oxford Street. Of course I grabbed this heart shaped pasta too and knew that Nigella's Penne Alla Vodka recipe could be applied to these. The red tomatoey vodka splashed sauce fittingly giving a rosy hued countenance to the pasta. I halved the recipe as Nigella's recipe is for a dish for 10 and unless you're having some sort of wild Valentine's day that involves 9 other people, you might want to keep the portions smaller (of course only halving it means that there is enough for 4 other people! ;) )
The red velvet cake recipe is from a Red Velvet cake that I made several years ago whose provenance I can no longer recall. I did find that when I used a Wilton colouring gel that the cake turned out quite dark, not the vivid red. So its back to the cheaper liquid colorings, for this cake at least. You just cannot argue with that fabulous striking red. And like red velvet should be, I made these with a layer of icing. Just because you have to go with tradition sometimes.
As for my own Valentines Day plans, they're a secret that I'd be only too happy to share with you on February 15th, after you've had your fill of red hearts.
DID YOU MAKE THIS RECIPE? Share your creations by tagging @notquitenigella on Instagram with the hashtag #notquitenigella
Red velvet cupcakes
60ml liquid red food coloring eg Pillarbox red
2 1/2 cups flour-sifted 2-3 times with cocoa below
Method
Step 1 - Cream butter; beat in sugar gradually. Add eggs, one at a time; beat well after each addition. Add food colouring.
Step 2 - Add salt, flour and cocoa and vanilla alternately with buttermilk, beating well after each addition.
Red velvet babies sliced in half ready for icing
Step 3 - Line cupcake trays with liners and fill with batter. These do not have a raising agent in them so fill them fuller than you would usually, without overfilling. Bake in for 15-20 minutes at 175 degrees Celsius. When throughly cool, remove from bases and slice in half and fill with frosting and then ice top with cream cheese frosting using star tipped nozzle and piping bag (recipe below) and add heart shaped motif (or not).
Cream cheese icing
60g cream cheese, softened
1 teaspoon vanilla extract
1½ cups (240g) icing sugar mixture
Beat butter, cream cheese and extract in small bowl with electric mixer until light and fluffy, gradually beat in icing sugar.
Hearts alla vodka
1 tablespoons garlic-infused oil
410g cans chopped tomatoes
1 tablespoon double cream
500g Heart pasta or penne rigate or other short, preferably ridged, pasta
2 tablespoons unsalted butter
Parmesan for grating over at the table
Step 1 - If you are cooking this just before you eat, put the water on to boil before you start the sauce. You will need a big pan, enough to take the pasta and its sauce later.
Step 2 - Finely chop the onion, either by hand or in a processor. In a large pan, heat the garlic oil and add the finely chopped onion and a good sprinkling of salt. Cook the onion fairly gently for about 15 minutes without letting it catch and burn, which just means giving it a stir every now and again. It should be very soft and just beginning to caramelize.
Step 3 - Tip in the can of chopped tomatoes and continue cooking over a gentle heat, simmering for another 15-20 minutes. If you're cooking this ahead, and I always do, stop here.
Step 4 - Reheat the almost finished tomatoes (or just continue as you were if you're making this in one unbroken fluid movement), stir in the double cream and take the pan off the heat. When the water for the pasta comes to the boil add a good measure of salt and tip in the penne. Set a timer for 3-4 minutes less than the packet instructions for cooking it, as you want to make sure it's cooked al dente and will need to start tasting early.
Step 5 - Drain the cooked pasta, tip it back in the pan and pour over the vodka, add the butter and some more salt. Turn the penne in the vodka and melting butter and then tip it into the tomato sauce unless it is easier to pour the tomato sauce over the pasta: it depends on the sizes of the pans you are using.
Step 6 - Toss the pasta in the sauce until it is evenly coated and turn out into a large, warmed bowl. Put it on the table along with a block of Parmesan and a grater.
From _Feast _by Nigella Lawson