If the name doesn't sound dreamy enough, perhaps the look of these delicate frosted rose petaled cupcakes will convince you to make them. The cakes themselves are light as air, much like an unusual flavoured Angel food cupcake. It's a simple-ish, light cake - specifically lemon with a cardamom pop in almost every bite. If you prefer your cupcakes, a little milder tasting you could certainly halve the amount of cardamom and crush them to disperse the flavour a bit more rather than having a concentrated pop when you bite into a seed.
The cake part is not overly sweet and barely contains any oils or butters and would be perfect with a cup of tea (I'd think coffee might overwhelm it). I found that this recipe made about 9 1/2 cupcakes but you may find it makes a round dozen if you have slightly smaller cases. And whilst you can technically eat the rose petals, I can't say that I relished the petal I tasted. One thing to note that is if you refrigerate the cupcakes with petals atop, they will become "wet" and lose their fabulous glacial beauty so if you need to refrigerate them, add the petals on before serving. And it goes without saying that with this name it is best served to your loved one or your wannabe loved one in lieu of a piece of poetry.
DID YOU MAKE THIS RECIPE? Share your creations by tagging @notquitenigella on Instagram with the hashtag #notquitenigella
Persian Love cupcakes
Candied rose petals
Petals from 2 organic roses
Cake
7 tablespoons baker's sugar or superfine sugar, divided into half
3/4 teaspoons baking powder
1/2 teaspoon grated lemon peel
1/8 teaspoon whole cardamom seeds (removed from about 3 green cardamom pods)
Frosting
1 cup chilled heavy whipping cream with 1/4 cup removed
2 tablespoons natural unsalted pistachios
For candied rose petals:
Step 1 - Whisk egg white in small bowl until foamy. Using pastry brush, brush rose petals on both sides with egg white foam_ very lightly_, too much egg white will not produce the correct frosted look; sprinkle on both sides with sugar. Dry on nonstick rack at least 6 hours or overnight. Do not refrigerate the petals, they will lose their candied sugar shell. As the cake has whipped cream on top and needs to be refrigerated, I'd suggest putting the petals on just before serving.
For cake:
Step 1 - Preheat oven to 160°C/325F. Fill cupcake tray with liners.
Step 2 - Sift flour, 7 tablespoons baker's sugar, baking powder, and salt into large bowl. Whisk yolks and next 4 ingredients in small bowl until smooth. Add yolk mixture to dry ingredients; whisk until smooth. Beat egg whites in medium bowl until soft peaks form. Gradually add one half of the sugar; beat until whites resemble thick marshmallow fluff. Fold whites into batter in 3 additions. Divide batter between prepared pans. Bake until cakes are golden and tester inserted into center comes out clean, about 25 minutes. Cool in pans on racks 15 minutes. Turn out onto racks cool completely. (Can be prepared 1 day ahead. Wrap and store at room temperature). They will contract when they come out of the oven.
For frosting:
Step 1 - Combine 1/4 cup cream and saffron in small saucepan. Bring to simmer. Remove from heat; let steep 20 minutes. Chill until cold.
Step 2 - Beat remaining 3/4 cup cream, powdered sugar, and rose water in large bowl until soft peaks form; strain in saffron cream. Beat until peaks form.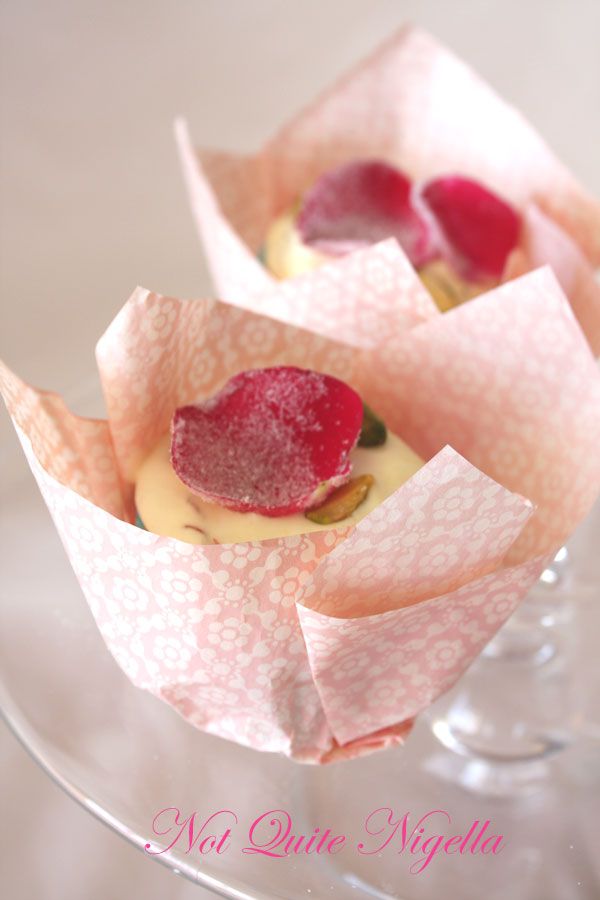 Assembly
Spread frosting over a cooled cupcake. Garnish cake with rose petals and pistachios.
Recipe from Epicurious