Colefax Chocolates has closed down
I approach Easter like that of a child: a week long chocolate eating opportunity. Unlike a child though, I get a say in the type of chocolate that I consume and my preferences are by Colefax chocolates in Haberfield and Belle Fleur in Balmain-both Australian made using Belgian chocolate. I have bought, in my time, over 150 chocolate truffles from each company for myself or friends/family, in all various shapes and sizes, lured by the tempting displays at David Jones confectionery counters. What I particularly liked, apart from the sublime taste is the craftsmanship put into each truffle. So when I was told that they both had shops that I should visit, I left it until Easter, when I knew that the best displays would be on show.
We head off to Colefax in Haberfield, the suburb right next to Leichardt where there is a strong Italian influenced population. So much so that there's even a Bocci court in the local park and all of the shops on Ramsay street have a definite Italian flavour. As its Easter they're open on a Sunday and we walk into the chocolate coloured shop, resplendent with all sorts of Easter goodies in a kaleidoscope of shades.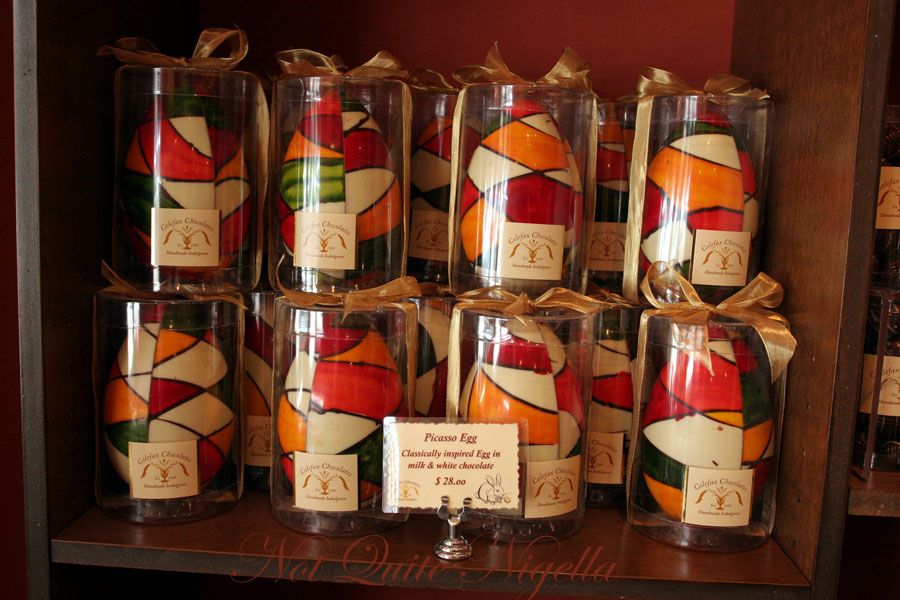 Reg, the owner Peter Lee's father, is a very charming and affable fellow whose passion for chocolates is almost equaled by his passion for wine and cheese. He tells us all about Haberfield (yes I'm embarrassed to admit that whilst I was born and bred here in Sydney, I had never visited it, only driven through). He tells us that whilst Leichardt is the sister suburb for eating out, Haberfield is a great place for buying produce and cooking at home. I get the feeling that he's to go-to man for all sorts of food related advice and his enthusiasm is infectious.
There's a showstopping range of easter chocolates from the gigantic aboriginal paint inspired eggs with 1 kg of chocolate and hidden eggs peering out from detailed holes (the moulds that Colefax use are from Belgium only, such is the detail on them-check out the detail on the Hen's night favourite "Kama Sutra" chocolates).
Kama Sutra chocolate
There are also huge half egg shells within which sit a range of smaller eggs in various sizes, colours and patterns in four different sizes up to the enormous extended family version. The colourful eggs are not surprisingly a bestseller and I am crushed to learn that their Babushka easter egg which consists of 6 easter eggs all within a layer of each other (the closest thing to a never ending chocolate fantasy) has been sold. Indeed, Reg laments that yesterday during a 20-30 person crush yesterday that their Babushka display model was stolen! All of the chocolates are made daily starting from 6am for maximum freshness so unfortunately I am out of luck as far as the Babushka is concerned.
Single origin chocolate eggs $30
Single Origin Taster pack 6 eggs for $15
He shows us the latest trend in chocolate-single origin chocolate. These are chocolates where the cocoa beans and butter are sourced from a single location around the globe giving rise to markedly different chocolate tastes. There is Peru with a 32% cocoa, Venezuela 43%, Peru 64%, Ecuador 71% up to Tanzania which has a 75% cocoa component. "Its like wine you see-where a Cab Sav from one place will have a different characteristic and flavour to a Cab Sav in another area" he explains and that these are for gourmet chocolate buffs who treat their chocolate like wine. Seven years ago, the chocolate mix they were selling was 85% milk chocolate and 15% dark. Now its 60% milk chocolate and 40% dark and he expects it to reverse to 40% milk and 60% dark as people pick up on the health benefits of dark chocolate.
He also tells us of a great chili truffle trick. When serving truffles or dessert after dinner, start with a chili truffle. This will help clear the palate and make the next course taste much clearer and true, working much like, or even better than a sorbet. Indeed, he recommends serving truffles at the end of the meal not with a champagne but with Tokay which perfectly balances the sweetness.
Along the way he offers us a sample of the Fiesta chili truffle (divine with a mild chili tingle). There are two chili truffles, the Gold Award winning Fiesta chocolate and there's also the Chili Bomb for the serious chili enthusiasts. A sample of the Vera Myrtle turns me into a quivering mess with the gorgeous dark chocolate surrounding a perfect whole toffee macadamia-if you wanted to convert someone into a dark chocolate lover, give them this chocolate. Even the novelty caramel easter egg, is divine with gorgeously smooth and butterscotchy caramel with a slight crunch-definitely no relation to the tooth aching sweetness of the caramello koala caramel.
I choose for my purchase the carton of eggs, the smaller version of half a dozen eggs as the colours have caught my eye and my imagination ($15). The bunny with the two types of filled eggs (peppermint and strawberry) also finds his way into my basket ($8) along with a variety of truffles to give to my mother for her birthday ($90 per kg). They're boxed beautifully and Reg slips in some extra truffles so that the box looks great. What a sweetie.
Unfortunately three hours in the car and the bunny didn't make it home intact. I feel like a muffled, disguised voice has rung me and said "Your bunny is dead" and hung up. Its quite devastating but thankfully the rest of my purchases remain perfect.
With my mother, she lets us sample these along with her (yes its possible to slice a truffle into two). The St Lazare, sugared pistachios and Italian nougat in milk chocolate is gorgeously rich and nutty.
The Alannah, a vanilla ganache in white chocolate named after their daughter is a sweet and delicious creamy vanilla.
The Orange Blossom, a white Marnier ganache in white chocolate is delicately scented with Orange Grand Marnier.
Sunshine, a pineapple fondant in dark chocolate is a somewhat jarring sounding description but the proof is in the eating. Its gorgeous with the sweet tangy pineapple fondant perfect against the bittersweet dark chocolate. Its one of my favourites.
Cupcake is a raspberry marshmallow with nougat in milk chocolate. Of course I had to buy this being that it is cupcake shaped. The nougat is very nutty with an interesting juxtaposition against the spongy raspberry flavoured marshmallow.
Pamela, the milk butter truffle in milk chocolate flakes is soft and gorgeous like an upmarket flake. Its named after his mother.
The Deco, a honey and almond ganache is a honey lover's dream. Gorgeously smooth and distinct with fragrant honey. Its one of my favourites.
The easter bun has the slightest hint of cinnamon and a sublime creaminess.
The three eggs: peppermint in dark chocolate, strawberry in white chocolate and caramel in milk chocolate are decadent good version of the humble egg. The caramel is definitely my favourite although the other two are close behind.
The Fiesta: a chili ganache in milk chocolate we save for our experiment. A few days later, we have our main meal and then try some Banana bread. We note the flavours and then try a Fiesta truffle. Then we try the Banana bread again and interestingly, we taste a wider palette of flavours-the other slightly more hidden flavours like walnut emerge alongside a more salty flavour. Its a very interesting experiment and one well worth trying at your next dinner party!
The dark chocolate coffee beans ($22 for 250g), ones that we were warned were moreish are frighteningly and compulsively so. I had to put myself between them and my husband or he would have gladly eaten the rest of the 250g bag. The coffee beans giving a fresh roasted crunch (roasted in their kitchens and then coated) and the sublime dark chocolate enrobing them.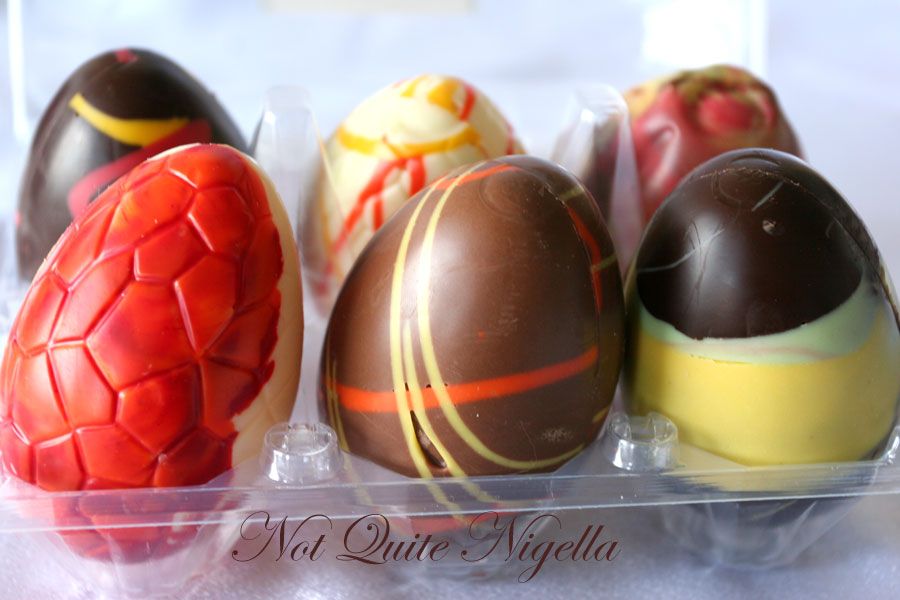 My "carton" of half a dozen eggs is tried last and they are dark chocolate vividly streaked and patterned eggs, gloriously artistic but even better when being consumed. After trying these I'd definitely have to say that whilst Colefax does all kinds of chocolate, their dark chocolate is most certainly the star. I'm not even a particularly big dark chocolate eater but find myself enjoying their dark chocolates the most. The only issue here is that I had 5 left waiting for me to eat them and I have to somehow resist.
In May the rest of the renovations will be completed and there will be a huge cafe with coffee and chocolate and other temptations. I think we'll definitely have to make this our second visit to Haberfield.
Later on in the day, we visit Balmain to pick up some Easter chocolates from Belle Fleur. We walk in past the sun shaded windows which disappointingly render the displays behind the glass invisible (I am too short to peer over the top of them!). Pity as they're quite creative ranging from chocolate houses to chocolate burgers. Its all very quiet and whilst the people are polite, there's a decidedly efficient but quiet atmosphere as if they want to get us in and get us out. I buy some truffles and instead of being boxed they're plonked into a plastic bag marring the top of the cappucino truffle - if I had intended to give it as a gift, I wouldn't have been able to do so. I also buy a chocolate bunny with eggs and the when I ask for a bag, they give me a plastic supermarket bag, even though there are spiffy paper bags available. Indeed another customer after buying quite a dozen eggs is given a plastic bag which she declines and asks for a proper paper bag. Surely the paper bags doesn't cost that much? Call me a fussy customer but given the chocolates are so good, its a sloppy ending.
Obviously the chocolate itself is top notch but the staff putting the delicate truffles in a plastic bag where they will get crushed in the heat of Easter and then putting it in a plastic shopping bag does their chocolate no justice and makes a customer feel like they've just bought something from a local milk bar or supermarket.
The cappucino cup is a delicate milk chocolate cup three layer creamy ganache filling consisting of milk chocolate ganache, coffee ganache and white chocolate ganache. Its smooth and creamy but not particularly strong in the coffee taste.
The Easter bun is very, very lightly scented with apple and I might be tasting a bit of Calvados in it although it is very, very light.
The Violet chocolate is gorgeous-unusual and heady with violets. I can imagine that if you like floral teas like Earl Grey, you might enjoy this.
The praline filled white bunny and eggs is good-creamy and sweet.
Colefax Chocolates
78 Ramsay Street
Haberfield NSW 2045
Tel: +61 (02) 9798 2022
32 Cottam Avenue
Bankstown NSW 2022
Tel: +61 (02) 9796 2022
Mon-Fri : 10.00am to 6.00pm
Sat : 9.00am to 4.00pm
Both boutiques are opened on the 2 Sundays preceding Easter and Christmas each year.
http://www.colefaxchocolates.com.au/
Belle Fleur chocolates
658 Darling Street Rozelle NSW 2039
Tel: +61 (02) 9810-2690
Mon-Fri: 9:00am to 6.00pm
Saturday: 9:00 to 4.00pm
Sunday: 10:00 to 4:00pm