Zumbo's Willy Wonka tattoo
The first time I came into contact with Adriano Zumbo's creations was in November of 2007. I remember being so excited when I saw them in the store that we drove them home nursing them gingerly like newborns. We took them to my parents' house eager to try them together and I then rushed home to write about them. It now seems like aeons ago that that happened and now Zumbo is a household name and not just with the food obsessed in Australia. So four years later, what is life like for Australia's most recognised patissier abd Willy Wonka and torturer of MasterChef contestants? Is it all cakes, macarons, models in bikinis, sportscars and relaxing? The answer to that is yes, yes, sometimes, yes and no. Read on, Dear Reader!
7am
Zumbo in his lounge room
It is 7am on this Friday morning and Adriano Zumbo slips on his shoes in the lounge room of his Balmain house. He's 29 years old, about to turn 30 in a couple of months as well as open a new place in The Star (formerly Star City), participate in the World Chef Showcase, be a major drawcard at Masterchef Live and has now been lassoed into Macaron Day, the yearly macaron extravaganza that coincides with his birthday where all of his stores carry 60 flavours of macarons and nothing else. He is the boy from Coonamble in country N.S.W. who arrived in Sydney at age 15 from a town of under 3,000 to a city of 3 million.
The wall of his study
And if you're wondering, his house is kept tidy-the only notable exception is the kitchen which is being used as a temporary test lab with labelled boxes of ingredients on the island in the centre. The patissier is getting ready to leave for his day at work and before anything can be done, he must have his cup of coffee.
7.12am
**
Zumbo walks to Little Ethel's cafe where he greets the barista. He is a regular here and while he waits another gentleman holding a baby starts talking to him in what I will learn today is a regular pattern. He is well known among Balmain's residents and many of them are either patrons of the shop or have met him in one way or another. Cup of coffee in hand he slides into his turbo charged black Renault Megane, and with a deep growl of the engine, his start has begun while most of us are waking.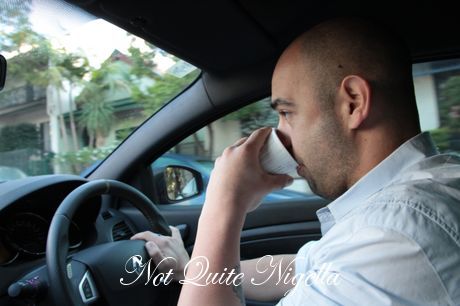 7:25am
**
**
His first visit of the day is the hub of the whole operation, the Rozelle kitchen on Terry Street where thousands of macarons are made a day. They're aiming for about 20,000 macarons today-reinforcements for the busy weekend ahead. As well as these, there are cakes, breads, pastries, chocolates and just general sweets from the salt and vinegar chips coated in chocolate to nougat to "macaroni road" (rocky road made with macarons-oh so good, just don't look at the calories per slice ;) ). These are then distributed to one of his four stores ready to be bought and consumed by hungry sweet craving mouths or doled out by people seeking favour with others.
The factory shop is quiet at this hour save for the occasional customer buying coffee. The eating area in the factory has a large window and a few bar stools so that people can perch and watch the chefs making and filling macarons and creating cakes or try and catch a glimpse of him-the last time I was there with him and he was giving us a macaron making masterclass I looked up and saw a crowd eagerly pressed up against the windows and mobile phones taking photos of him.
Zumbo goes upstairs to the office which is his base for his activities and puts down his hessian bag with a large gaping hole. "I really need to get a new one" he says looking at the enormous hole where cords, cds and papers threaten to spill out.  He rests it on a long red banquette with a small built in table and this he calls his desk. Black and white Zumbo themed posters line the walls, all done by a local artist.
7:30am
Macaroni Road
First things first: he walks around the kitchen to greet the staff. He starts on the second floor which is where the chocolate room is located. Chocolatier Karen slices up pieces of the macaroni road. The kitchen goes through 11 tonnes of chocolate a year and currently it is all either Callebaut or Cocoa Barry with a move this year to use Cocoa Barry exclusively and for Zumbo to become an ambassador for them. He is somewhat wary of endorsements or ambassadorships but says that to be included in the list of ambassadors is flattering because of the company that he keeps with many of the chocolatiers or patissiers having a lot more experience than him. He also likes the idea of being loyal to a company.
7:35am
**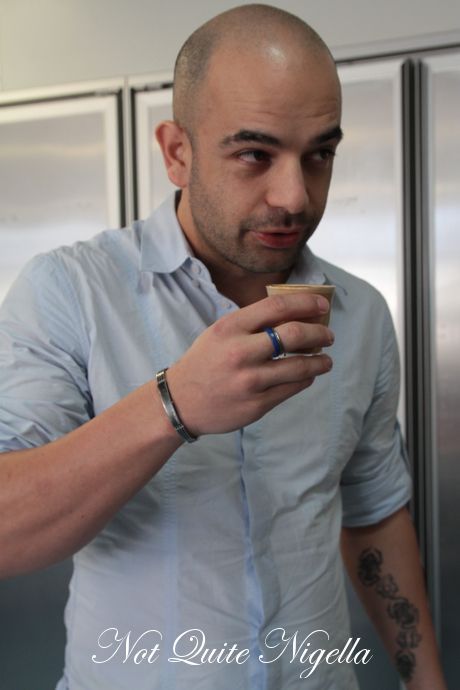 This second coffee for the day is delivered upstairs from the barista in the cafe. Zumbo makes his way downstairs where many of the staff are busy in the main kitchen. He greets his second in charge Dean who has been with him since the very beginning. Dean looks like he has been through the wars-the cake wars as his covered arms sports a spill mark and Zumbo chats to him about how the day has unfolded thus far.
Zumbo and Dean
Inspecting the cakes
He walks around and inspects the cakes that were being prepped to go out to the stores and are delivered around 11am-12noon. He remarks on where changes need to be made  and looks at each display carefully eyeing any changes or anything that needs rectifying. There's a quick visit to the bakery next door where the heavenly buttery pastries are made (I have to drag myself out of there). This was the original kitchen when he had the one Balmain store.
*7:45am *
The three office staff arrives including Zumbo's sister Rosalba, an office administrator and an operations manager and they sit in an office upstairs behind a partially closed door. They field offers and requests for his time and office manager Natasha hands him a sheet of paper detailing a proposal. He does an average of 2-3 events a month and these are often when corporates ask him to come along for special staff events. They can be legal and accountancy firms and banks and he may be asked to speak, interact with people at a party or in one case judge the items made by people in the company or attend team building days. That sort of thing can pay well but he says that he enjoys it. When I first met him he was shy and I ask him if doing things like that makes his uncomfortable but he says that it doesn't anymore and if anything that it is a good thing for him to help open him up. Also people are very happy to talk to him about food and it's a topic he really enjoys talking about.
Cheeky Chocolate Cafe
8:41am
**
We're back on the road and this time we are headed to Cheeky Chocolate Cafe, a newish cafe in Strathfield where Zumbo is a consultant. He and his chef Thomas devise cakes, macarons and chocolates to sell at the two month old cafe. He visits the cafe a few times a week to iron out any problems, try out any of the staff's experiments and oversee any issues they may have.
Adriano Zumbo and Cheeky Chocolate Cafe Head Chef Thomas Mitchell
His head chef Tom shows him an issue with the new self cleaning oven that appears to be leaking. It is here that Zumbo eats his first food of the day and it's a "Becka Dome" filled with apricot jelly, almond crumble and pistachio brulee covered in marshmallow. The cakes that are designed for Cheeky are simpler than the ones bearing his name as they have a smaller kitchen and they come in a straight round, square or rectangular shapes. I try some and it has a lovely crunchiness with several soft moussey layers which is a nice textural contrast.
Becka Dome (centre)
9:16am
It's time for working out the costings for the desserts and each dessert must be dissected down to the cost of salt, packaging and the time needed for someone to sell it. He sits down in the main cafe area which is closed at this time, and works out the costs with Tom.
9:52am
The costings complete, Zumbo reaches for a non cake breakfast, a banana which he eats while discussing two creations, one by pastry chef Mey Mey and another from another pastry chef who isn't there at the moment. The first dessert is too salty-there is salt in the salted caramel and then in another layer and Zumbo is direct with his feedback. With Mey Mey's creation, he likes the idea of the multi layered jellies at offset angles but says that with a cup of dessert, the person eating it should be able to dig their spoon into it and get a taste of everything in one spoonful.
To test for the flavour he runs the cup under hot water and removes it from the cup and the he and Tom try it. The latte panna cotta is a hit while the coffee jelly and nuts have a bitterness to them from the coffee.
10:30am
It's back to the Rozelle office and factory via another turbo charged ride. By now, the cafe part is in full swing and people are coming and going. There is supposed to be a staff meeting at 11am but chef Dean is frantically trying to get his 20 lots of 1,000 macarons done. I watch as a girl separates egg after egg to get the egg whites for the macarons. Two young work experience girls in High School help out and the kitchen is in full macaron making mode.
Macarons being packed for transport
11am
**
The staff lunches arrive and they're filled bread rolls and sandwiches which are delivered daily. The staff meeting is called between the store managers and the head office staff and Zumbo. Manager of Balmain store Hector leads the meeting and they discuss any issues that the stores might be having with stock-Manly store manager Hannah says that they often sell out early in the afternoon of cakes and asks for a second delivery but Rosalba and Zumbo are firm that there is just to be the one delivery as logistics prevent a second delivery. There is talk of  a loyalty program and how to best deliver this.**
11:40am
The meeting has run over time and before he heads off to his next meeting he does a quick lap of the kitchen and talks to Dean. The next meeting is with Mocopan who are trying to woo Zumbo over to using their coffee. He met them two weeks ago at the Fine Food show where he tried their coffee. Eugene from Mocopan is eager to sign Zumbo to his books. We head for a cafe in Balmain and walk past a real estate agent who is grilling sausages for a sausage sizzle for his staff. He yells out a greeting to Zumbo-everyone seems to know him and I'm sure he could run for mayor of Balmain and win. Or just be the Willy Wonka of Balmain as the tattoo suggests.
We sit down at Hangry Cafe where the friendly owner Sam knows Zumbo (of course!). Food is ordered and Zumbo and Eugene discuss moving over the coffee from the current brand to Mocopan. They discuss his coffee cup colour preference (black) and other possibilities of working together at Masterchef Live. The food arrives and it is a chicken burger and chips for Zumbo who laments that he is trying to lose weight for Summer coming up.
Zumbo talks about growing up in Coonamble where his parents owned supermarkets and a range of other businesses and how they would fix the businesses up before selling them on. In the course of the meeting and conversations he also talks about his lucky numbers being 6 and 11 - the date that he was born and a tattoo on one arm shows the birthdate of 6-11 for the 6th of November. It also has a significance with his house number, the fact that the Balmain and Rozelle shop numbers include these numbers and how 6 and 11 are generally lucky numbers for him. In fact it extends to supermarket shopping. For example when he is shopping for chicken fillets he will buy the pack that somehow involve those two numbers in either the weight or the price e.g. if they cost $6.92 "I know it sounds strange" he mumbles.
Eugene and Rosalba discuss the logistics of providing coffee
12:40pm
The deal is done and Eugene slides over the written contract and apologises for making it so formal but Zumbo says that he likes contracts as there is no ambiguity about obligations. They return to the office where they discuss Masterchef Live with Rosalba. She plays the role of protective elder sister for Zumbo well. She is  tough and direct and talks to Eugene about whether they can provide the coffee at the stand. There are restrictions in place which make it difficult. Also Zumbo will be away when the changeover to the Mocopan brand takes place. He is hoping to be in France for the World Chocolate Masters from the 19th to the 21st of October this year as his former boss is part of the jury and he also wants to keep up with trends in chocolate and catch up with the people that he met in Brazil earlier this year.
12:50pm
**
A return to the Rozelle branch where Dean is eating his lunch while directing the delivery of an order of cakes in a refrigerated van. He makes his way up the stairs through the cafe and a girl eating at the counter with her boyfriend hits her boyfriend in excitement "Mmmmph!!!" she says with a mouthful of food pointing at Zumbo.
12:55pm
Natasha gives Zumbo some prices for flights to Melbourne on the weekend. Every weekend on a Sunday he flies down to Melbourne for his weekend off which he takes on a Monday and Tuesday. Melbourne is also where his girlfriend lives (sorry ladies!) and a couple of months ago he made the decision to travel to Melbourne every week to spend the two day there. While in Melbourne, he still answers emails and phone calls but the difference he says is that he takes the time to go out for lunch and dinner and see friends and he now considers it vital to help recharge his energy. Today he tells Natasha that he wants to fly down on Sunday night as it will be a sunny 27 C degrees in Sydney so he wants to stay here as long as possible before flying out.
1pm
Gloria an events PR arrives. Zumbo doesn't have a permanent PR person but he has hired her for the launch of his new venture at The Star and the cake walk fashion parade. They discuss ideas for clothes and she tells him fashion brand Farage is eager to work with him as she feels that their image fits with his. They look through the brand's website to see Farage's current collection and if the clothes will suit models. He mentions a lingerie store that he walked past that he liked the look of which is near his store at The Star. Gloria asks him to give her a list of media that he would like to be invited to the show which he promises to complete and send over during the weekend.
13:30pm
**
Back in the car as he needs to show Gloria his new location at The Star. He was rapped over the knuckles by The Star management for tweeting a picture of the halfway completed store. He shows us where the cake train (like a sushi train) will be and it will seat sixteen diners.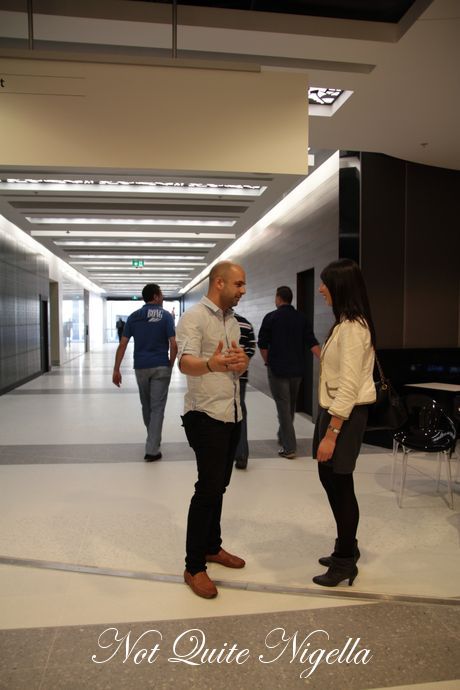 They go outside and he shows Gloria where the catwalk will be. His store faces David Chang's new Momofuku which has not yet opened. In the centre will be the runway. The cakewalk is something that he says that he always wanted to do. Last year it was done for the SBS television show Zumbo and he tells us that it was more of a staged event for the cameras with many stops and starts whereas this will be a real catwalk with music.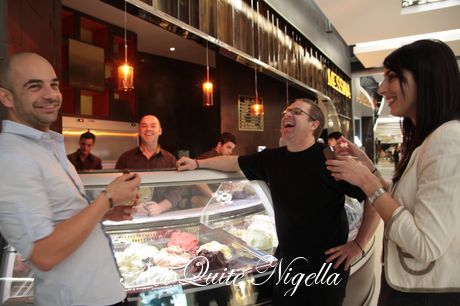 13:45pm
They're on the search for this lingerie store and on their way wandering around they walk past Gelato Messina where he knows the staff. "They have the best gelato here" he says and he and the staff have a chat. They offer us some ice cream and I can't resist the new flavour-a leche meringue which is a milky ice cream with cinnamon and lemon oil and studded with tiny pieces of meringue. Heaven. They talk shop and about opening of the other stores.
14:00pm
**
The lingerie store is found and it is I.M. lingerie. Gloria talks to the woman in the store and explains the idea of the cake walk and about the possibility of becoming involved with the fashion show. The woman explains that her name is Irene and her last name is Michaels and she is the owner or I.M. Lingerie and is happy to be involved. She tells them how she was sitting on a table with Ricki Lee and how she came in to buy a piece and shows it to them. It's a stunning black elastic number-like a slashed version of a Herve Leger bandage dress and Zumbo loves it. Gloria is to give Irene a list of themes and colours and she will coordinate a range of lingerie.
14:30pm
**
We're back at his house in his kitchen where pastry chef Natalie is busy testing out his new creations for the new collection. He writes concepts down for the new collection in a notebook and she tests out his ideas for him. Natalie used to work for Zumbo but then moved to Perth but he flies her over to test each collection here as it means that no staff are taken out of the Rozelle kitchen and she can test it all here in relative quiet without drawing any resources from the main kitchen. Every day during the three week testing period he comes home to taste and discuss the results of the testing. She then writes the recipes up with notes and after that he takes over and finalises the designs in the main Rozelle kitchen.
Recipes and notes
He looks at a range of containers on the benchtop and they are a range of "crème pats" or creme patissiere which is like a custard that each have differing amounts of raspberry added to them. Natalie is busy whisking a custard on the stovetop and they discuss the flavours of the creme pats while she is stirring. She has also made a watermelon crème pat for him to try and it reminds us of fresh, cooling cucumber.
"How is the cake?" he asks and she tells him that it is in the back fridge. The kitchen is large as befits a chef and he actually expanded the kitchen out when he moved in sacrificing a bedroom to make a larger kitchen. The cake that he is curious about is an experiment which involves steaming meringue on top of a baked cake. Natalie explains that you line the cake tin with meringue and then top it with the cake batter and then steam it. I try a little and it is fabulously moist and the meringue has a good texture to it too. The baked version is good but out of the two the steamed meringue has a much more pleasant texture.
He tries some custards set in pastry shells and the lychee and coconut with sago is a winner but he is less enamoured with the raspberry and suggests trying it using a little butter. He points out that the shell of the lychee and coconut one was  a little wet so they have to work on that-each cake must retain its integrity, flavour and texture for two days. On the third day all cakes are tossed out. He sticks his finger into some caramel-it is to be a cake inspired by the dessert floating island with quennelles of poached meringue.
All of these experiments are done in plain round, square or triangular tart molds and they will be refined into more unusual shapes once he starts refining the designs. He starts rubbing his hands together as if he were freezing but as it is a warm day I look him quizzically. He explains that he rubs his hands together when he is really excited about something and the results of today's experiments have got him all excited.
14:55pm
**
Zumbo returns to the Rozelle base where he works for the rest of the afternoon and a lot of time is taken up by thinking time as well as talking to the chefs downstairs. There are emails and questions to answer but he also needs time to think up any ideas for the next season's collection as well as brainstorm the cake walk show. And a final count of the macarons that day was 16,000 - 4,000 short of the 20,000 aim.
The store room
6pm
**
At 6pm it's the official end of the work day. Some nights, he heads home for an early night. However this Friday night Zumbo heads off to the Cherry Bar at The Star and then to the Piano Bar.
So tell me Dear Reader, what sort of hours do you work? And would you ever want to be a patissier? And who would you like to follow around for a day?
Adriano Zumbo
296 Darling Street, Balmain - (02) 9555 1199
114 Terry Street, Rozelle - (02) 9810 7318
Shop 1A, 40 The East Esplanade, Manly - (02) 9810 7318
Cafe Court, The Star, 80 Pyrmont Street, Pyrmont (the retail store is open but the cake train is not open yet)