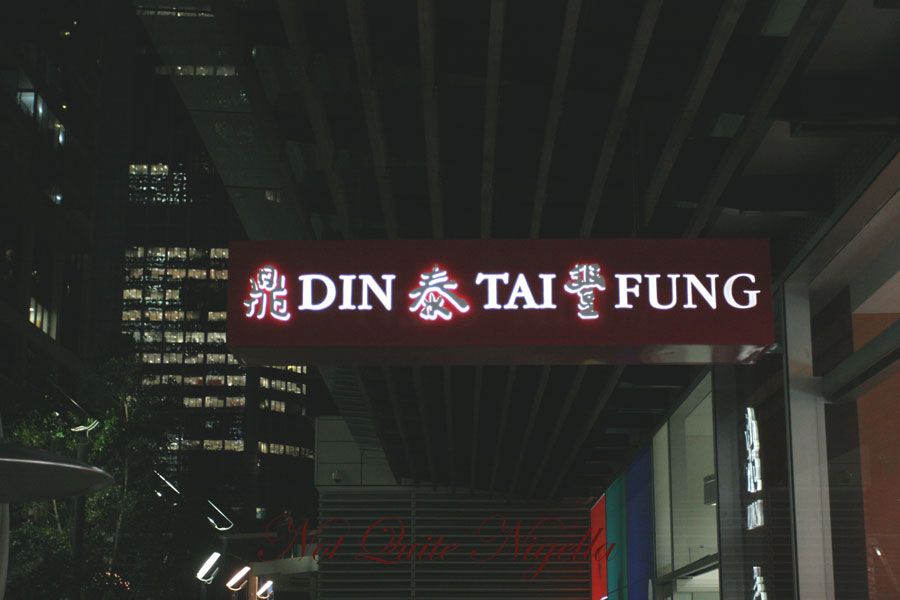 There was a whisper, no more a shout, that world famous Taiwanese Dumpling chain, Din Tai Fung, the one said to have queues day and night, had just opened in Sydney. It's pretty much brand spanking new, opened only 2 weeks ago and already attracting a crowd. The reason? Xiao Long Bao, the soup dumplings that are so loved by so many, taking over as the popular alternative to Shao Mai or Gow Gees. Apparently, it started many years ago as a shop that sold oil with the owner Bingyi Yang selling dumplings on the side, these becoming so popular that a chain was spawned across the seas and accolades from the New York Times declaring it one of the Top 10 places to eat were bestowed. Sure it was about 10 years ago that they declared it that but given the queues, no-one seems to care.
We had just finished seeing a movie at the Academy Twin Paddington and were starving as it was late for us to eat (we always eat early, like pensioners at 6pm) .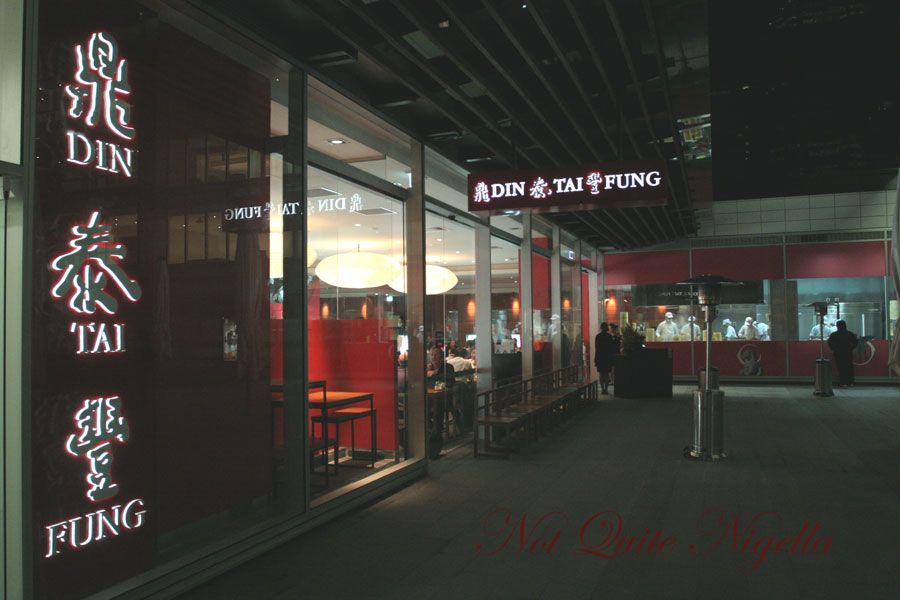 We arrive at World Square at 8.30pm and go up to Level 1, where we've never been before and where there doesn't look to be much. Outside there are two girls with earphones. I tense immediately, it's like those stony faced Yum Cha women who give you a number and tell you that they'll "call your number soon" before turning away to give the next customer their ticket stub only to summon you 1 long hour later. However I am greeted with a wide smile and a singsong friendly voice asks me if I have a reservation. I say no and she asks me if I mind sharing a table as that will be quicker. That's fine by us but after a little flurry and some talking on the earpiece and it seems like they have a table just for us and she giggles "Lucky, you came at the right time, good timing!". I find myself looking back bewilderedly, was that just friendly service at a Chinese restaurant? How very strange.
Sitting down at our table in theright most section of the restaurant, it certainly looks stylised and sleek. Adorned with displays of repeated white chinese soup spoons, small bowls and a wall full of different sized steamer trays. It is a weeknight and the crowd is almost exclusively Asian and mostly young types in suits and corporate clothes.
Menu: Large enough to hide behind should you require some stealth action
We're given our huge menus and peruse them. I ask where the ladies room is and the waitress, also an obliging and very friendly type points and describes the way and then offers to show me. Hmmm this service thing might be catching. Our waitresses and waiters (yes plural, there are at least 20-25 staff on floor at one time) are ready to take your command at any point. If you look like you want anything, they appear or glide up to you with a smile. It's a bit strange being in a Chinese restaurant and being given such deferential service. It makes me want to check under the table for a Candid Camera.
The menu has several items not available scattered amongst the snacks, dumplings and soup. There are also two pages full of fruity desserts and ice creams where the entire pages aren't available. We order a some Xiao Long Bao (Pork Dumplings), Shrimp and Pork Shao Mai, Fried chicken chop noodles and Shrimp pork dumplings in soup and for dessert, Taro Dumplings.
The food arrives very quickly, one member of the staff brings the bowl or steamer to the table and another takes the lid off the reveal the goods inside and then bows and leaves. The front of the restaurant is a glass sided dumpling room where all of the staff wearing Din Tai Fung caps and surgeon's masks keep the hot buns coming.
_ Shrimp and Pork Dumplings with noodles in soup $12.80_
The soups arrive first, the Shrimp and Pork Dumplings in soup is a slight mistake, we actually wanted the ones without the noodles but we get the ones with noodles. I take a sip of the soup, it's mild flavoured and I hate to say but not particularly exciting. I add some shredded ginger for flavour as it needs it. The noodles however are perfectly al dente and delicious. Just like Ryo's perfectly textured noodles, these are unlike the usual soft noodles that you tend to get. There is a lovely texture to these, firm but not uncooked. The Shrimp and pork dumplings are also good, the skin also the perfect texture, not too soft as some can be.
Fried Chicken Chop Noodle Soup $11.80
The other soup, the Fried Chicken Chop Noodle Soup arrives noodles with the same broth and same noodles as the earlier dish. There is a small rectangular plate of fried chicken chop which is crispy and glistening with oil. The chicken needs some spice via a mix of soy and chili oil and with that, it tastes much better.
Xiao Long Bao (pork Dumplings) 6 for $8.80
The thing that has drawn us here is next, the Xiao Long Bao (Pork Dumplings). Din Tai Fung say that each of their dumplings has at least 18 folds on top, thus being beautifully hand crafted with care. They are beautiful indeed and a paler shade than Shanghai Night's and they're also pleasingly plump with soup. We take a bite and the skin is lovely and delicate.
And the million dollar question? How do they compare to Shanghai Night's? They're certainly more perfect and unlike Shanghai Night's the skin is soft yet unyielding and perfect with no holes. At Shanghai nights you can easily get 3-4 of the lot that burst when you pick them up with chopsticks. None of them do here. However we both agreed that the gingery taste of the Shanghai night's filling is delicious and of course the price of Shanghai Night's Xiao Long Bao is a lot better with 8 dumplings for $5.80 versus 6 dumplings here for $8.80. If only we could combine the two and make a.... Super Xiao Long Bao!
As the food is arriving so quickly, I ask the waiter if we can get the taro dumplings after we've finished all of the savoury foods. He smiles and obliges by personally letting every single staffer working in our area know to serve it to us later. He's certainly leaving nothing to chance!
The Shrimp and Pork Shao Mai 4 for $9.80
The Shrimp and Pork Shao Mai arrive, looking like four exotic coral specimens swaying in the water. Curiously, and this is bizarre, they taste like the Shanghai night's Xiao Long Bao as there is a bit more flavour in these and there is a pool of soup inside. Very curious and I have to say these are my favourite.
Taro Dumplings 4 for $5.80
Our taro dumplings arrive, they're a tad smaller than the other dumplings and the 4 look a little lonely in the steamer. We bite into them, the pale purple taro is beautifully smooth, creamy and perfectly mashed and surprisingly good. Surprising as we ordered these mostly for curiosity value but found that these really worked as a sweet dessert.
Service is very efficient, as soon as the last dumpling is lifted from the cloth liner it is swept away instantly. My husband finds the service a little too efficient, he actually likes the lack of pretense of the service at Shanghai Night. He and I differ, I like this type of service and could get used to it although I'm sure I will be shaken back to reality on my next visit to a regular Chinese restaurant. Indeed, when we get up to leave, and when anyone gets up to leave, the staff gather and bow and there are plenty of "Sher Sher" (thankyous) all round.
Din Tai Fung
Shop 11. 04 Level 1
World Square Shopping Centre
644 George St, Sydney NSW 2000
Ph: +61 (02) 9264 6010
Open 7 days
11:00am-2.30pm
17:00pm-22:00pm (last order 9.15pm)
http://www.dintaifung.com.tw/en/index.asp