"Whaaat cuisine?" My friends ask when I tell them of our next proposed eating adventure. I'm talking to Queen Viv and Miss America and telling them about the restaurant I've pegged for our next outing. They've never heard of it and to be honest I hardly knew about it, which only added to it its allure. We're told that stuffed lungs and tongue are on the menu so on that tenuous basis, we book. We also have Michael and Terri along for the ride. Michael is excited about the idea of trying lung, Terri decidedly less so.
We're booked in for 7pm this Saturday night and the place is packed. There is a table of 6 next to us that fits on a table of 4. A man at the table is wearing a patterned jumper in a most ...unusual pattern, which catches Queen Viv's eye. "Look at his jumper!" she whispers. Yes it is indeed an eyesore. The restaurant has the requisite grapevines with bunches of grapes on the ceiling as well as tapestries on the walls and pictures of people that we're not sure the identity of.
There's a self serve fridge where Michael brings back a bottle of Coke for Terri and a Prune drink for himself, not for any dietary need but because the bottle looked so interesting. It's not like a typical prune juice, the scent of sweet Osmanthus giving it a peachy or apricoty scent.
We're searching the huge double sided menu for the lungs and there don't seem to be any. We're out of luck apparently, it's not on the menu anymore so we order what seems to be a lot of dishes but we're fascinated by so many of them and the kitchen delivers these literally within minutes.
The first to arrive is the tongue, it's cold and grey and nowhere near as grotesque as the squeamish amongst us would believe. It's like a deli meat, salted and tasty with a bit more bite to it. Not bad at all to start.
_Shopanji, stir fried chicken and vegetables with Himir (pasta noodles) $18
_
The next dish to arrive is enormous, the Shopanji, stir fried chicken and vegetables and said to be a Uighur Speciality. We'd ordered the small but from the size of the plate, it looked like the large and we check and yep that's the small. The chicken, still on the bone, are cut into small bite size pieces and stir fried along with capsicum, potato, onion and chili in a thin, almost soupy spicy chili sauce. The thick rough cut white pasta noodles are slippery with the sauce and a perfect foil for the chicken. It's too spicy for Terri although the rest of us cope just fine.
The lamb skewers arrive (Koy Gosh Kawapi) and they're smokily sweet and succulent. I adore these and wish that I had another, the smoky flavour evident as soon as the dish is laid on the table.
The next dish to arrive is the Laghman Saomian noodles -Uighur hand made noodles with stir fried vegetables and meat (chicken, lamb, beef). It's not as spicy or exciting as the Shopanji although in a similar vein with the noodles being thinner. There is also not a lot of meat, we count 3 pieces in total which is disappointing. It is said to be one of the most popular dishes in Uighur cuisine and Laghman (the noodles) is like pasta to Italy, a staple and it is said that Marco Polo took the Laghman back to Italy which became pasta.
What is vastly more impressive is the Eggplant, the Pidigan Kormisi $7.80, described simply as stir fried eggplant but being so much better. The medium sized cubes of eggplant are crispy on the edges and soft on the inside with a gorgeously rich slightly spicy vinegarey sauce, reminiscent of a cantonese sauce. It's everyone's favourite and every drop of the sauce is used for flavouring other dishes.
The two sets of dumplings arrive and the Paramash, $10 for 5, simply described as Special Fried dumplings are prettily shaped fried dumplings stuffed with seasoned lamb mince and onion. There is just the right amount of stodge to meat and are among my favourites of the night.
The other dumplings, Kawa Samsa or Pumpkin samosa, $10 for 5 are also good, the golden shortcrust pastry housing a tasty combination of pumpkin, lamb mince and onion. There is a communication breakdown as we explained that as there were 6 of us, we just wanted 1 extra Kawa Samsa and 1 extra Paramash as there were 5 in the serve but the waitress brings out a whole new plate of them, an extra 5, to our already stuffed table. We try and explain but they are insistent on giving us the plate of Paramash. We fear that another plate of Kawa Samsa pumpkin samosas is on its way so we tell them we only wanted 1 single dumpling of that. There's a bit of a keruffle and they tell us that we need to take it as they've already cooked it. We tell them that we can't fit it in so they, looking quite unhappy, retreat. We later learn that we have been charged for this extra plate on our bill, although we didn't receive the food. There is also a miscommunication when we ask for enough rice for 3 people as a lot of us didn't want rice but receive rice for 6 people, 3/4 of which goes uneaten.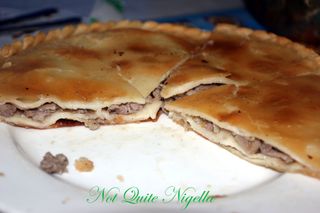 The Gosh Nun, a flat pancake stuffed with lamb mince arrives and it's reminiscent of a Turkish Gozleme. It's quite greasy and muttoney in taste and the mutton smell puts Terri off. I don't really mind but I think it needs some lemon wedges to cut through the grease.
We're nearing the end of our lamb and pastry Uighur fest and we get the last of our meals, the Yangak Samsa, the walnut filled pastries. The outer pastry is multi layered and extremely thick and dry whilst the walnut and sultana inner is delicious. There's just too much outer pastry for the small amount of sweet filling and most of us leave a pile of pastry behind having picked out the delicious centre morsels.
It's 9.30pm and the restaurant by now had emptied and the staff are having their meal, an enormous plate of Tawa Kawapi (Uighur style chops). We get our bill and as the writing is a little hard to read and they use shorthand we don't notice that we've been charged for the extra dish but not eaten it or received it to takeaway. However the damage is only $21 per person not including the tip, although I think I would've loved a Pumpkin Samosa for breakfast or lunch the next morning!
Uighur Cuisine
Shop 1/8 Dixon St, Sydney
Tel: +71 (02) 9267 8555
Monday: 5-10pm
Tuesday-Thursday & Sunday: 11am-10pm
Friday-Saturday: 11am-11pm