Sometimes, when you're having the laziest of a lazy 4 day weekend, all you can manage to travel is Chinatown for a loadup of Chinese dumplings. Shanghai Night in Ashfield is my husband's favourite place to eat, probably in the whole of Sydney but we just couldn't muster up the energy to drive there so it was to Chinese Noodle Restaurant in Chinatown, half an hour closer, that we went. Its an unusual setup, all geared to get maximum table turnover in a tiny but crowded space. There are plenty of people outside waiting for a table and you order from the menu while waiting outside and when your table is ready, so is your meal, or at least most of the dishes you have ordered. None of this wasting 10 minutes precious table space umming and ahhing over what you want. Its strictly eat and go but unlike Shanghai Night, the service is pretty friendly.
We order the Juicy pork buns (like the Shanghai night mini pork buns) $8 for 10; a half serve of 5 pan fried pork buns $4; Pork and seafood steamed dumplings, 16 for $8; Fragrant Spiced noodles $8; Braised Eggplant and Potato $9.80 and Mushroom and chinese vegetables $8.80. Prices are a dollar or two higher than Shanghai Night which is understandable given that its in the city. Like Uighur and Northern Chinese restaurants, there are grapevines stretching out across the ceilings and wall tapestries.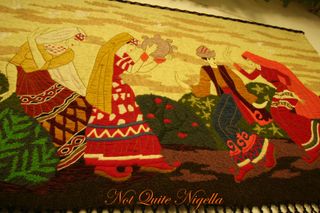 I have to duck off to the ladies while my husband and the Assman wait for our table outside. I have to be escorted there-they don't give you the keys, they take you there. When I return a few minutes later, they're already seated and we already have two dishes on the table.
The braised eggplant and potato is full and flavoursome-the eggplant is crispy on the outside and soft inside and coated in a delicious spicy garlic sauce. The potato is similar to roast potato chunks in a chinese sauce.
The mushrooms with chinese vegetables by comparison is more low key. Not bad by any means but following such a full flavoured dish does not do the mildly flavoured dish any good.
Our Juicy pork buns come in two steamer baskets with 5 dumplings in each-which is one serving we are told. They're juicy and very full of liquid but they're not particularly gingery like Shanghai night's ones which we prefer. Still its a generous serve of 10 for our $8
My husband loves the pork and seafood steamed dumplings, the less glamorous, dumpy cousin to the showy mini pork buns. The dumplings are a little bigger than Shanghai night's and the filling has a distinctly different taste although I wouldn't have necessarily proclaimed it to be seafood. It doesn't matter what I think of these though, my husband is fiercely loyal to these and devours every one except for the one I try. Yes luvvies, that's 15 dumplings as well as his share in other dishes.
I try the mini fried pork buns, 5 large upturned golden bottomed wheat flour dumplings with thick chewy skins and pork inside. They're decent but I admit here that I prefer Shanghai Night's version better.
Lastly I try the fragrant spiced noodles. These are a huge disappointment flavour wise and are not really fragrant, unless you count the scent of oil, soy sauce and chili flakes abundantly scattered on top. The thick, endlessly long noodles are rather fun to play with though and hooking them with your chopsticks and trying to get them into your small bowl is quite a challenge. When Assman tries to hook his in from a great height, we see the staff watching him to see whether he will make it in and of course he doesn't as they break halfway and they laugh good naturedly. There is no meat in this dish, just a lot of chinese greens so he makes a quick meal of it and all that is left is a soup with 1/2cms of oil floating at the top and a lot of chili flakes.
We watch the noodles being made from the square window into the frantically ordered kitchen and watch them rhythmically loop the handmade noodles into a bundle before plunging them into the boiling water. Dinner and a show indeed!
Chinese Noodle Restaurant
Shop TG7, 8 Quay Street Haymarket NSW 2000
(Entrance from Thomas Street, next to Burlington Centre)