"We need one of those signs that tell them that we don't want any more food!" Rita, Flo and I agree as we are converged on by eager trolley ladies and waiters.
"Would you like this?" "Or this?" "Or this?" "How may drinks?" "No Chinese tea? Are you sure?" "Mineral water, coke and lemonade?" "How about some dumplings? Or spring rolls. Or duck?" The atmosphere in The Eight in that of frantic feeding and I feel like an adventurer that has been lost at sea and people are throwing food at us in an effort to quickly feed us. We almost feel like we have to scoff the food down instead of eating at a leisurely pace.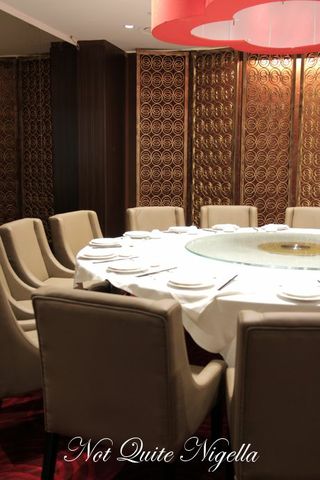 I recently told you about my very first parking fine as a newly minted driver. Well on my first visit to The Eight (from the same people that own Zilver), the new Chinese restaurant in Market City was marked with another auspicious occasion, my first car prang. There I was, waiting at the traffic light when another car backed into me from the side. When I finally make it to The Eight I am mid mini meltdown. And as they've just sat down they are already the subject of much attention and fussing. Service in yum cha restaurants is never brilliant let's face it. Here they're certainly friendly but sometimes a girl needs calm, especially if you've got a table burgeoning with food!
I'm the first to admit that whilst I adore peanut butter I'm not a huge fan of it with dumplings or with savoury items. These are lightly crispy on the outside and are served with a thick molassasey sauce paired with a runny peanut sauce. Not bad but not what I feel like.
Now this is my kind of people. Plump flavoursome dumplings filled with large, tender but not mushy prawns. It is served with a soy, sesame and chilli sauce and I ate at least 4 or 5 of these. Comfort food, you do see...
The Eight bills itself as a Modern Chinese restaurant so with that in mind we were going for the more unusual items. This is a large prawn with tail wrapped around with minced prawn. It wasn't bad but firmer and tougher when compared with the other dumplings. And a word of warning, don't pick these up with the prawn tail and swing them about because I did and they fell down onto my bag. But it was that kind of a day...
The servings of crab is very generous and the meat is very plentiful although the crab is a tad on the over salted side.
The prawn flavoured rice paper rolls are slippery with 2-3 prawns per piece. The sweet soy sauce always pairs well with this and I always like the pieces at the bottom as they tend to soak up more of the sauce.
The chive dumplings, always a favourite are perhaps in need of more garlic in them but are still good with a nice amount of filling and a delicate outer.
The greens are absolutely perfectly steamed with that thick oyster sauce to dip it into. And these are always great for the dietary offset program where you negotiate making amends with your diet due to the excessive ingestion of dumplings. I think I have a future in politics... ;)
Har gow, the plump prawn dumplings with ginger and a pretty translucent skin are my favourite dumplings and because I love them do much, I always measure a yum cha establishment on the quality of their har gows. These are fat specimens and therefore quite full of prawns although the prawns are a little on the mushy side. Not the best and not the worst ones and I'm glad that they are generous with the prawns.
Instead of two tarts here they have three smaller tarts per serve. They're rich and eggy  although the pastry lets them down a bit. I always like the tarts where you marvel and go cross eyed trying to count the number of pastry layers.
I'm really too full to contemplate much more. We finish with a bowl of mango soup with sago and mango balls inside. It is cool and refreshing although I usually like more sago in my sago pudding.
So it's not really that different as far as the food goes and the offerings as far as yum cha are concerned are quite similar to other establishments. As we leave, calmed and refreshed and fed, I notice the sign that tells me that if I had eaten between 11am-2pm the parking fee would be a mere $5 instead of the $17 that I've just paid. Sometimes, you just aren't meant to drive...
So tell me Dear Reader, have you ever had a car prang?
The Eight
Level 3, Market City Shopping Centre, 9-13 Hay St, Haymarket, NSW
Tel: +61 (02) 9282 9988
If you dine between 11am-2pm parking is $5 or if you dine at night, parking is $3 (check the night parking times)