"Please don't give me a mullet, please please!" I pray silently to myself one afternoon sitting at the hairdressers. The reason apart from justifyingly fearing that particular haircut? I was speaking on a panel of the We Blog The World Event held by Klick Communications where my lovely friend The Second Wife works. I would be speaking alongside Ben Groundwater "The Backpacker" blogger from the Sydney Morning Herald and Tim Burrowes from Thumbrella. And the last thing I wanted was to have the haircut from hell.
Renee Creer, Trina (aka Foraging Otaku), me and Ben
Some pics from We Blog the World taken by Klick Communications. I didn't take any photos as I was too busy being nervous...
At 6.20pm at the Sir Stamford we answered some questions from our fantastic moderator Kim who runs Klick and then fielded questions from the audience. And by 8pm we were done and dusted and retired to the bar. By 10:30pm we realised we were all starving and so a collective gaggle of us jumped into 3 taxis and high tailed it to BBQ King - stat! Yes we were starving and it suddenly hit us that we had to have food and have it now. Dining with me were Trina, The Second Wife, Naomi, Tess, Ben, Alice and Glen.
A food lovers version of an art gallery?
We're shown to a large table on the ground floor set among a gallery of photos all celebrating BBQ meat and meaty goodness. There are some curious BBQ King Fashion photos with some models with China doll haircuts posing in the restaurant. But these are a mere distraction for us as we peruse the menu determined to try the best they have to offer. I have strange memories of BBQ king from many years ago when we were asked to share a large, round table with strangers and a Peking Duck that was expensive but not very exciting so I was a bit apprehensive but hunger got the better of me. And keen photographers take note, BBQ King has deceptively difficult lighting. It's incredibly yellow and hard to photograph in so please excuse the photos.
Yes that's a ceiling full of Ducks!
Complimentary watercreess and pork soup
To whet our appetites, they give us a big bowl of watercress and pork broth. It seems to be self service here and I have to apologise to my fellow diners for doing such a terrible job of ladling this up. It's delicious and warming and certainly whets the appetite.
_Spring rolls $12 ($6 for 4)
_
The Spring Rolls, an item I am usually hugely disappointed in are really tasty here with a great mix of flavours and they're not too dry with a good amount of filling in them.
Braised Chicken Fillets in Scechuan sauce $19.80
This resembles sweet and sour chicken with the pieces of capsicum. It's spicy and sweet but not particularly exciting.
Steamed Chinese broccoli with Oyster sauce $12.80
These are nicely steamed with a nice texture to them and simply flavoured with Oyster sauce.
"Suckling Pig" and Roast Duck $42.80
Hmm see that pork? It's not Suckling Pig but Roast Pork which is so much less exciting (and cheaper). I've never liked Chinese Roast Pork done this way as it's a bit too fatty for me (yes I really did say that) but the roast duck is good. And if you are interested a whole suckling pig which needs to be ordered in advance is $480. Let's just hope they don't substitute it with Roast Pork...
Braised Eggplant hotpot $19.80
I didn't expect this dish to be my favourite but it was. With delicious, beautifully textured eggplant strips, it was full of flavour and a soft texture.
Crispy Shredded Beef in tangy sauce $19.80
Sometimes called Imperial Beef, we asked the waiter what his recommendation was and he suggested this dish. It's not bad with a sweet almost sweet and sour taste to the sauce (a similar sauce is a Peking Pork Chop sauce) although I find it a touch dry and I have to admit I rarely order this because of that reason but I was hoping that it would be done differently here.
Salt and pepper Tofu
The Second Wife's favourite restaurant item is tofu and so we order the salt and pepper tofu which comes as large, soft pillows of tofu strongly salted almost to the point of being too salty but not quite.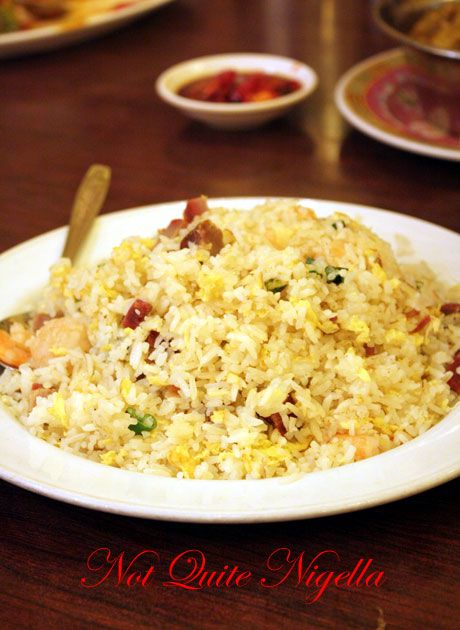 Fried Rice $9
The fried rice isn't bad and has plenty of prawns and char siu in it_
_
As we leave, I am holding the camera and I notice a glass box above the register counter that shows a  diorama scene of Chinese chefs chopping barbecued pork and duck. I point to it and the man behind the counter swtiches it on and it springs to life with the cleavers chopping and the figures moving. It's totally and utterly transfixing and of course I want one for my home.
So tell me Dear Reader, what sort of Art do you have hanging around your home?
BBQ King
18-20 Goulburn Street, Chinatown, Sydney, NSW
Tel: +61 (02) 9267-2586
Open 7 days from 11:30am until 2am