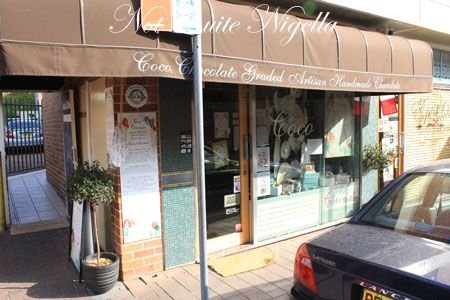 I always think of male chocolatiers as a little bit Willy Wonka and female chocolatiers as a little bit Vianne (played by Juliette Binoche) in the film Chocolat. Female chocolatiers would have a softer, deft touch with the customers and sense intuitively what their needs and wants are as soon as they walk in the door. Profiling via chocolate if you will.
We were hot and a touch cranky when we were walking through Kirribilli. It was an unseasonably warm day and I had dressed all wrong.  The car was parked a bit further away than we wanted as it was Kirribilli Market Day. I had my parents with me and I wanted my mum to choose a gift for her birthday from Coco Chocolate, a newish chocolate shop that had only opened up a few months ago. I had also forgotten to write down the address for it so I was cranky at myself more than anything. Then out of nowhere, there was a pretty sandwich board on the main street of Kirribilli and it pointed us in the right direction. I went from lost-at-sea-with-parents to a purposeful guide within seconds. I looked up and what had to be one of the prettiest, girliest shopfronts greeted me in a little side street of Kirrbilli.
Tattoo Collection
I opened the door and was greeted with cold air conditioning which was most welcome on this hot day and the whole store was just what I needed. It's a tiny shop absolutely, not enough room to swing a cat really and come Easter I'm quite positive that the store will be knee deep in North Shore socialites buying sweet things for their families and friends. There is a steady stream of customers and the owner Rebecca greets us and lets us know that if we want anything to let her know. Phew, no hard selling. Originally a shop in Edinburgh Scotland, Coco Chocolates is also stocked in London at Harvey Nichols and Selfridges. We learn that whilst she is Australian, Rebecca moved overseas to Europe to learn the art of chocolatiering and opened up shop in Edinburgh but the urge to return to Australia was too strong.
_Artist's Collection: Paint Splattered Sugar Coated Dark Chocolate $20
_
On the counter there are samples of cognac soaked raisins coated in chocolate in olive green and brown as well as samples of pretty flecked chocolate fondant covered in a crisp shell which are like an upmarket Smartie or m&m. Rebecca notices me eyeing them off. "The Art Gallery of NSW are stocking the Picasso range" she says excitedly. The packaging is actually what first drew me to the shop. The drawings are gorgeous and I ask her how they come up with them. She tells me that she draws the initial sketch and then two artists that she works with then develop the sketches into the final designs. Additionally, six times a year they work with Edinburgh Art students to come up with a new design and the winning student has all of their supplies paid for and they also receive a Siren collection and an A4 sized publicity poster in the window.
Cockatoo eggs $13.50
Hot Cross Bun flavoured chocolate bars in white, milk and dark chocolate
Most of the Easter goodies are selling out and there's a range of freckled eggs with a praline filling including cockatoo, magpie and quail eggs ($13.50). There are peanut butter eggs, rabbits for about $18 each as well as a hot cross bun chocolate bars in white, milk and dark chocolate. I love the sound of the hot cross bun chocolate and we sample some. The white chocolate is particularly good as it allows the hot cross bun spices to come through the most followed by the dark chocolate. Under the counter are the larger eggs which can be filled with your choice of champagne truffles, praline eggs or raspberry slab ($35 each).
Prices are very reasonable with a gorgeous little art box filled with two chocolate discs for $4. "We want to have something for everyone" Rebecca says. They use a mix of organic chocolate and Valrhona chocolate (not organic). We order a hot chocolate from the list of 11 varieties and since my mother likes white chocolate we order her a lemongrass, lavender and vanilla one in a small cup with cream and I order a black pepper hot chocolate in  a large cup without cream. There's the same amount of chocolate in both and the size determines how rich you want it and the choice is up to you.
White hot chocolate with lemongrass, lavender and vanilla $5
The white hot chocolate is lovely with a pronounced lemongrass and lavender aroma which we're all in love with which is a combination not often seen but it gives it an Asian (lemongrass) and European (lavender) aspect to it. We're given a sample of white chocolate bark with raspberry which is sweet from the white chocolate and tangy from the dried raspberry pieces.
Black Pepper Hot Chocolate
The black pepper hot chocolate is for those who like their hot chocolate less sweet and creamy as I did not ask for cream (but of course if you do it will be creamier). Here the black pepper is spicy, in fact it reminds me a lot of chilli hot chocolate. It's paired with a luxury cocoa dusted almond which is lovely and crunchy when I bite into it.
Minted water
Curry Leaf Balls
I get excited when I see packs of crystallised violets and crystallised roses for $4 each (cough cough much better than the $15-$20 I've seen them for!). They're imported directly from France in bulk which allows for the reasonable prices. There are also  fascinating little items like "Absinthe Grown up Lollies" from France as well as, very curiously, curry leaf balls which are said to taste like chilli with 70% Valrhona chocolate. And yes they do taste like curry spices with chilli!
Large Chocolate Siren Coins
Toasted Hazelnut and Sea Salt
Handmade Organic Rose & Black Pepper Chocolate $7
Below the counter along with the large eggs, is their chocolate bar selection priced at $7 per bar. There are 35 flavours to choose from and she tells us that the most popular flavours in Australia are: milk chocolate with caramel pine nut and salt; white chocolate mixed berry and vanilla and dark chocolate rose & black pepper and dark chocolate ginger & date. We try the organic rose and black pepper, the Taste award winning flavour in 2007 and it's fragrantly rosy with a spiciness from the black pepper. It's a bit like a dark chocolate Turkish delight with an unexpected kick from black pepper at the end. She tells us of a funny story of when a friend asked her if she had seen her husband standing outside her Edinburgh shop eating a Mars Bar. Suitably aghast, she devised the milk chocolate, caramel, pinenut and salt bar to replace his Mars Bar habit and we have a try of it. Inside is a gorgeous liquidey caramel and a touch of pine nut and salt (although the latter two aren't very strong). And yes it's much better than a Mars Bar, divine in fact.
Siren collection $40
Tattoo collection
The most popular selection is the Siren collection which features 18 of their most popular bars in a bite sized form with the designs made out of cocoa butter that melt away in the mouth. For guys there is the tattoo collection with dice and tattoos made with solid plain chocolate and then there's the Aphrodisiac collection with flavours like Lily of the Valley. And did you know that in France on the 1st of May you are said to pick a Lily of the Valley and present it to the person that you love?
Aphrodisiac Collection
The Liquor Cherries are a six month process from start to finish. They're soaked in kirsch and then dipped in organic fondant and then double dipped in organic chocolate. They're then placed in a cool room for five months in order for the sugar to invert. "Try one" she says and we take a stem and pop it in our mouths.  I'm not even a big kirsch lover but the sensation of the almost crisp cherry with kirsch bursting in the mouth with the dark chocolate is heavenly. The cover is funny too-it's an illustration of the character Madame Cherry, an example of what a 50 plus woman who ate a liquor cherries every day would look like (and she's thin too!).
Madame Cherry and the liquor cherries
There are connoisseur evenings once a month on a  Friday evening where up to eight customers can sit around the table and learn all about the chocolate process  from bean to bar.
The tiny shop holds a lot to see, eat and buy and I buy some cocoa nibs, sugared violets and roses, some chocolate and of course the chocolate curry leaves.
So tell me Dear Reader, which Easter food do you most look forward to? The chocolates or the Easter buns?
Coco Chocolate
Shop 12, 3a-9b Broughton St (corner with Bligh St) Kirribilli, NSW
Tel: +61 (02) 9922 4998
Opening hours: Monday-Saturday 10.00 - 6.00pm, Sunday 10.00 - 2.00pm
http://www.cocochocolate.com.au/